Office of the Provost
College of Science and Mathematics faculty represent JMU in national Active Learning Day event
---
"On Active Learning Day, we encourage educators to provide opportunities for each of our Nation's daughters and sons to engage in active science, technology, engineering, and math learning and discover firsthand the power they have to bring their bold ideas to life. By using active learning techniques in our classrooms and out-of-school spaces, we are not only enabling students to take charge of their education, but also equipping them with the tools they need to solve our biggest problems and chart our country's course." - President Barack Obama, 25 October 2016
A first-ever national event was organized by the White House Office of Science and Technology Policy (OSTP), to recognize the efforts of individual faculty across the country who are working to improve undergraduate science, technology, engineering and mathematics (STEM) education.  JMU faculty were right at the forefront, demonstrating their approaches to support the learning of all students in science and mathematics courses.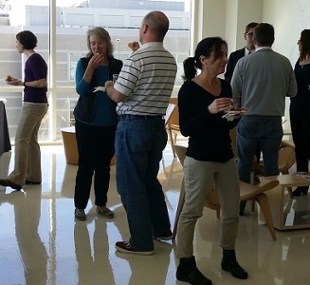 On October 25th, OSTP in conjunction with the Association of American Colleges and Universities (AAC&U) and Project Kaleidoscope (PKAL) sponsored Active Learning Day, in which STEM educators were asked to commit to spending at least 10 minutes implementing active teaching and learning strategies in their classrooms, and then to share their approaches with each other. STEM faculty from over 160 institutions signed a pledge indicating their participation in the day.
This event shines a spotlight on faculty who apply evidence-based instructional practices to ensure that our nation's classrooms are supportive and inclusive spaces for all students to learn.  The past decade has seen tremendous growth in the literature on how students learn science and mathematics, and this scholarship is starting to pay dividends in terms of faculty practice.  Gone are the days when didactic lecture–one "sage on the stage" and hundreds of students sitting passively - sets the standard for effective STEM teaching.  These days, STEM instructors make good use of in-class time by engaging students in hands on/brains on learning activities.
College of Science and Mathematics (CSM) faculty take seriously the college's mission to provide excellent STEM education through active learning, research opportunities, and a community that seeks to be a home for all students to learn about science and mathematics.  So it comes as no surprise that over thirty CSM faculty signed up to participate in the event on the 25th.  They implemented active and inclusive strategies in their class, and then came together for an afternoon reception to share with each other what they had done and how it worked.
Active and inclusive teaching practices are well established in the CSM, where faculty engage in a variety of high impact instructional practices as a matter of course.  In addition, some of the scholarship that informs this practice is generated right here on campus: each of the CSM's five departments includes faculty whose research is focused on how students best learn the concepts and skills that are central to their discipline. So for many of the faculty who participated at JMU, they didn't need to implement anything new, they simply taught their class that day as they always do.  For others, they implemented something they'd never tried before, and then had a chance to debrief with colleagues about their experience.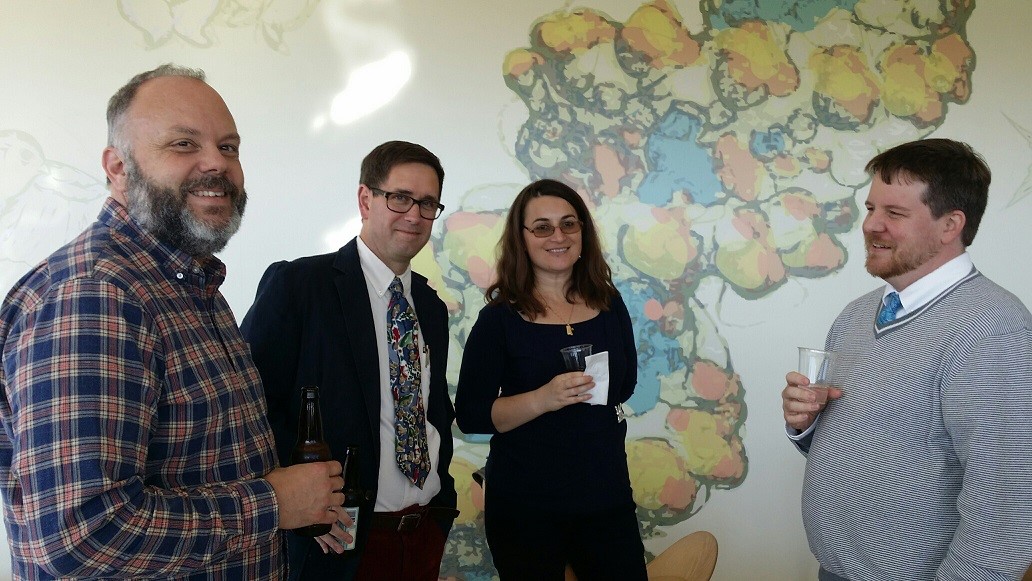 What does active teaching look like in the CSM?  In biology, it's providing first year students the opportunity to conduct investigations using "DNA barcoding," a powerful molecular technology for understanding phylogenetic relationships.  It's General Education students calculating the position of a basket to catch a ping pong ball fired from a table top, and then conducting the experiment to see if they got it right.  It's students working collaboratively to design an analysis to measure the amount of fluoride in toothpaste.  It's math students together at the chalkboard working through a math problem as their professor cheers them on.  Or geology students grappling with the distinction between experimental and observational studies and why that matters.
This year's Active Learning Day provided an opportunity for JMU faculty to demonstrate the best of STEM teaching, and to showcase the excellent environment we offer for STEM learning.  Congratulations to all who took part! 
Published: Monday, November 28, 2016
Last Updated: Thursday, January 4, 2018