Office of the Provost
New interdisciplinary graduate assistantship transforming digital scholarship and library collections through engagement
---
By Liana Bayne ('17M) and Caroline Hamby ('18M) 
Digital technologies are changing the way scholars create and engage with library collections in all disciplines. JMU Libraries & Educational Technologies' new two-year program, Madison Academic Library Associates (MALA), provides graduate students the opportunity to learn innovative ways to make library resources more visible to the JMU community through engagement with librarians, educational technologists, and various academic departments. Caroline Hamby ('18M), a graduate student in the clinical mental health counseling M.A./Ed.S. program, and Liana Bayne ('17M), a graduate student in the English program, have made this pilot program a successful model of interdisciplinary partnerships.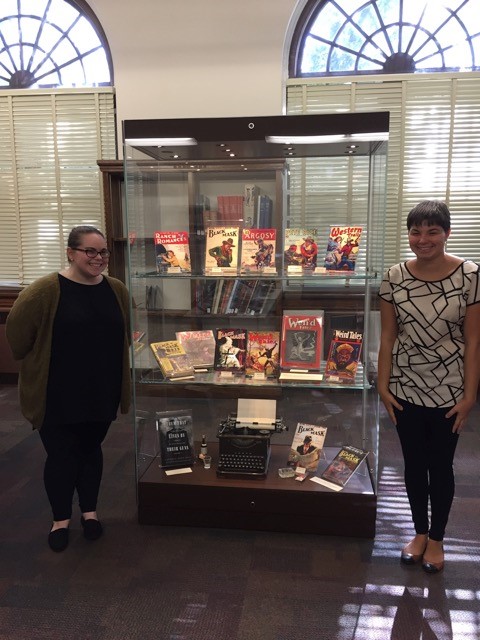 During the first year of the program, Hamby and Bayne received hands-on instruction through JMU Libraries & Educational Technologies (LET) and other campus programs, like the Digital Humanities and Social Sciences Institute, in many areas of primarily digital scholarship. Topics included tools for the creation and support of scholarly products, like Adobe Creative Suite, WordPress, and Omeka, as well as academic units on copyright, scholarly communication, marketing, and design. The instructional style combined academic lessons with real-world projects. An example of a project in which Hamby and Bayne applied their new skills is their work in April 2016 with Special Collections to design and produce the interactive digital exhibit celebrating the 400th anniversary of Shakespeare's death, available at: http://sites.jmu.edu/shx/. Combining different tools, their digital exhibit allows users to interact with events across a timeline, complete a self-guided tour of annotated images, and browse galleries of images.
Hamby and Bayne both said they find the interdisciplinary partnership a refreshing way to engage with the university community outside of their academic department and to develop skills for working with diverse teams.
"MALA is fantastic because it offers us an opportunity to work across different units in LET and to collaborate in projects with multiple departments," Hamby said. "If you have a broad, varied skillset, it makes it easier to collaborate with different departments."
Bayne agreed. "I have gotten to become involved in my greater university community in a unique way that I might otherwise not have," she said. "I think that's been such a positive overall when considering the holistic view of my grad school experience."
The MALA program also provides Hamby and Bayne direct benefits to their future career goals, despite their different degree programs. Hamby said she plans to use the skills she has learned in MALA in her future career as a counselor. "Looking forward to being a private practitioner, I need to market myself, maintain a website, and have my foot in a digital world to make my practice work for my clients, so I feel more confident moving forward having these skills," Hamby said. "Having digital skills on my resume is wonderful."
Bayne's career goals include going into academic librarianship. Bayne said "MALA is the best stepping stone I could ask for in terms of my career goals," especially since no library school program exists in Virginia. "I have gotten to collaborate with so many different people within JMU Libraries and beyond into the larger JMU community and the variety of experiences and viewpoints I have seen during my time with MALA is helpful and valuable when thinking about the kind of professional I want to be," Bayne said.
This year, Hamby and Bayne are working almost exclusively on larger, capstone-style projects, such as developing an oral history repository, creating exhibits for the inaugural Pulp Studies Symposium, and supporting the launch of a new open-access academic journal. Hamby and Bayne are also looking forward to helping to welcome the next MALA cohort, who will begin their residency with JMU Libraries in the fall of 2017. 
Published: Friday, November 18, 2016
Last Updated: Thursday, January 4, 2018