Office of the Provost
JMU English professor receives prestigious National Endowment for the Humanities grant
---
 By Dr. Mark Rankin, Associate Professor of English
William Tyndale was an English scholar, writer, and theologian. In 1526, his translation of the New Testament from Greek into English was printed, the first English Bible to be produced using the new technology of printing via moveable type. Tyndale produced his translation from exile on the European continent because he was not able to find a patron within England to support the work. A decade later, Tyndale was strangled and burned alive as a heretic by the authorities of Charles V, the Holy Roman Emperor.
During the ten-year period between the first appearance of Tyndale's Bible and Tyndale's death, he produced a series of very important books on a range of important topics. The Parable of the Wicked Mammon (1528) offers a full analysis of the Reformation position on justification by faith alone, rather than good works, one of the earliest of its kind. Also printed that year is The Obedience of a Christian Man (1528), Tyndale's most important work outside his translations. This book criticizes the Roman Catholic church for opposing the circulation of the English Bible and defends obedience to secular authority. The Practice of Prelates (1530) defends Henry VIII's marriage to his ill-fated first wife, Catherine of Aragon, whom he would divorce, and attacks members of the clergy for interfering in secular government. Tyndale also commented on the Sermon on the Mount (Matt. 5-7) and I John, and he wrote theological essays that appeared as prefaces to several editions of his scriptural translations.
Taken together, this material contains some of the most important writing of the whole English Renaissance on an individual's relationship to authority, on church-state relations, on education, and on the role of religion in public life. These topics have proven to be enduring and influential down to the present day. However, Tyndale's importance in shaping these ideas has been lost. The reason for the neglect of Tyndale comes largely from the fact that these books are not available. Tyndale's complete writings have been collected only three times, in 1573, in 1831, and in 1848-50, the last year that these books were in print. What is more, none of these editions apply the rigors of scholarly editing to Tyndale's writing, and for this reason they cannot be used to obtain a proper perspective on Tyndale's contribution.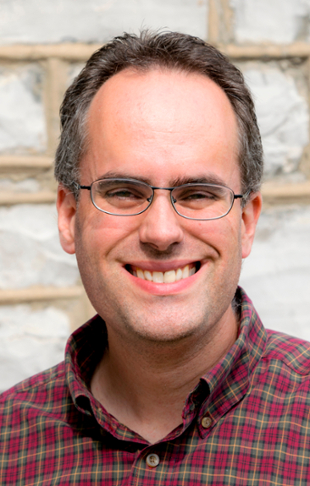 The research of Dr. Mark Rankin, Associate Professor of English, is helping to return Tyndale into his deserved place. This year he received a prestigious and highly competitive 3-year National Endowment for the Humanities grant, valued at $335,000, under NEH's Scholarly Editions and Translations program. Dr. Rankin is co-investigator on this project, which will produce reliable editions of Tyndale's writings that can be read and cited by scholars and used by students and the general public. The project continues The Independent Works of William Tyndale, an initiative that began in the 1970s but produced only one book: Tyndale's An Answer to Sir Thomas More's Dialogue, published in 2000 by The Catholic University of America Press. CUA Press will produce printed editions of the other books in this series, while an online edition will be produced and maintained in collaboration with the Institute for Advanced Technology in the Humanities at the University of Virginia.
Dr. Rankin is collaborating with seven professors and members of staff of a diverse set of institutions, as follows:
Dr. Tibor Fabiny (Károli Gáspár University, Budapest, Hungary)
Dr. Susan Felch (Calvin College, Grand Rapids, MI)
Dr. Gergely Juhász (Liverpool Hope University, Liverpool, UK)
Dr. Clare Costley King'oo (University of Connecticut, Storrs, CT)
Dr. Worthy Martin (University of Virginia, Charlottesville, VA)
Dr. Cathy Shrank (University of Sheffield, Sheffield, UK)
Dr. J. Christopher Warner (Le Moyne College, Syracuse, NY)
According to the NEH's website, NEH Scholarly Editions and Translations grants support the preparation of editions and translations of pre-existing texts of value to the humanities that are currently inaccessible or available in inadequate editions. Typically, the texts and documents are significant literary, philosophical, and historical materials. "NEH grants help bring humanities experiences to Americans across the country," said Chairman William D. Adams. "Our funding supports museums, libraries and cultural institutions, and the local state councils that create and sustain humanities programs in their communities. Through films, original research, and new intellectual insights, our grants strengthen the nation's cultural fabric and identity."
Published: Monday, November 14, 2016
Last Updated: Thursday, January 4, 2018