Office of the Provost
Educating and entertaining: Furious Flower hosts two-part event to honor Dr. Maya Angelou
---
By Elizabeth R. H. Sanchez, Karen Risch Mott, & Lauren Alleyne
Audience members in the Forbes Center for the Performing Arts' Concert Hall on Thursday, September 29 at 7:00pm will hear more than 20 nationally recognized authors and performers celebrating the work of one of America's most popular writers in Throw Your Head Back & Sing: A Tribute to Maya Angelou.   
"You will feel Maya's presence like no other; you will feel her spirit," remarks Dr. Joanne Gabbin, executive director of JMU's Furious Flower Poetry Center. "We cannot capture her life in an hour and a half—it was just too rich—but we do want people to experience her essence."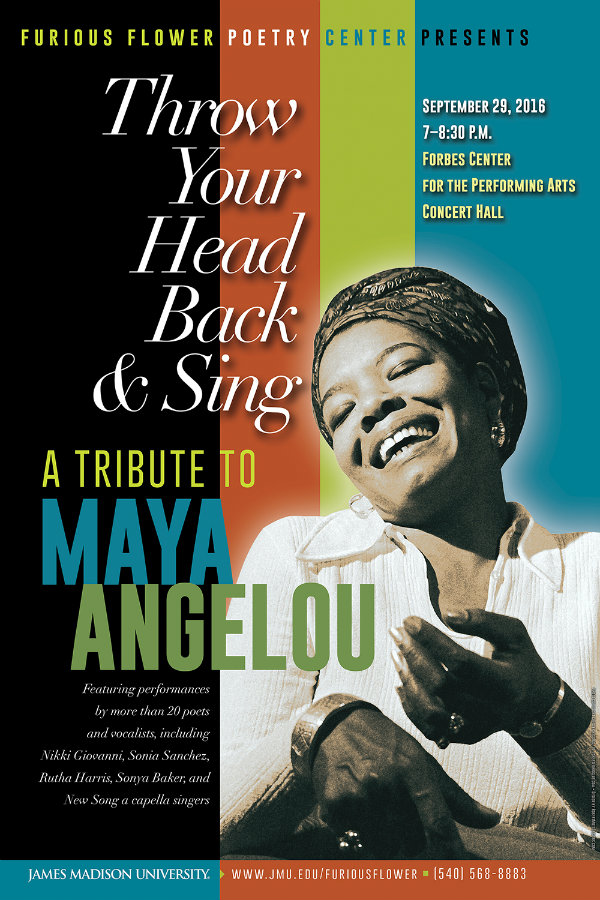 The performance, an idea conceived by Gabbin and Nikki Giovanni of Virginia Tech, features spoken-word poetry, music, and dance all arts Angelou herself practiced on stage and off. "Sitting and talking with Maya was just like being at a concert," Gabbin says. "She had a regal way of holding herself, and one minute she would be telling a story, and the next she would throw her head back and start singing a spiritual or gritty blues song."
The tribute concert happens one week after Furious Flower convenes a scholarly panel, Maya Angelou: Literature that Travels, in Madison Union, Taylor 405 on Thursday, September 22 at 4:00pm. Held during International Week at JMU, this discussion will explore Angelou's influence not only in the United States but also abroad. Attendees who may know Angelou only as "Oprah's friend," should gain a more profound understanding of her accomplishments worldwide. "I'm learning more about her myself," Furious Flower's new assistant director, Lauren Alleyne, mentioned. She notes, "Maya was proficient in four languages, and she sang calypso."
Dr. Sheryl Gifford, professor of Caribbean literature at Florida Atlantic University, will moderate the discussion. Panel participants include JMU African American poetry and literature professor Dr. Mollie Godfrey; Dr. Besi Muhonja, who teaches Africana studies, women's and gender studies, and East African cultures; and Gabbin and Alleyne, who are professors in JMU's Department of English and teach African American literature and creative writing respectively.
While the panel discussion aims to educate the community, the tribute concert "will summon some of Maya's energy," according to Alleyne, bringing the audience the "closest they can get to being in her presence today." Although Gabbin and her collaborating team intentionally designed the event so that "no one shines in this program but Maya," each of the performers possesses outstanding talents that could be recognized in an event of their own: Sonia Sanchez, Rutha Mae Harris, Daryl Dance, and Sonya Baker to name a few.
The majority of the spoken-word performers are members of the Wintergreen Women Writers' Collective, a group of nationally respected poets and literary scholars. Beginning in the 1980s as a gathering of friends and colleagues to welcome Virginia newcomer Nikki Giovanni, the collective is now an annual retreat and communal sharing of work for writers in the region.
Gabbin draws inspiration for the Furious Flower Poetry Center and many of her other accomplishments through the connections she's built and the high regard she holds for others. She attributes much of the work she does today to Giovanni, draws daily inspiration from Pulitzer-prize-winning poet Gwendolyn Brooks, and counsels writers to follow Toni Morrison's example: "If there's a book that you want to read, but it hasn't been written yet, then you must write it."
Certainly, Gabbin, Alleyne, and Furious Flower's communication specialist Karen Risch Mott are writing many books—literally and figuratively—that haven't been written yet. A nationally recognized two-part tribute to Maya Angelou, hosted by the first academic center dedicated to Black poetry in the United States, is just one example. As Alleyne imagines, "These events may be someone's introduction to poetry, to the Forbes Center, to Furious Flower, or to Dr. Angelou. Ideally, this will spark people to go out, learn more, and find more," just as Angelou did throughout her life.
Published: Tuesday, September 20, 2016
Last Updated: Thursday, January 4, 2018