Office of the Provost
Living the Mission
---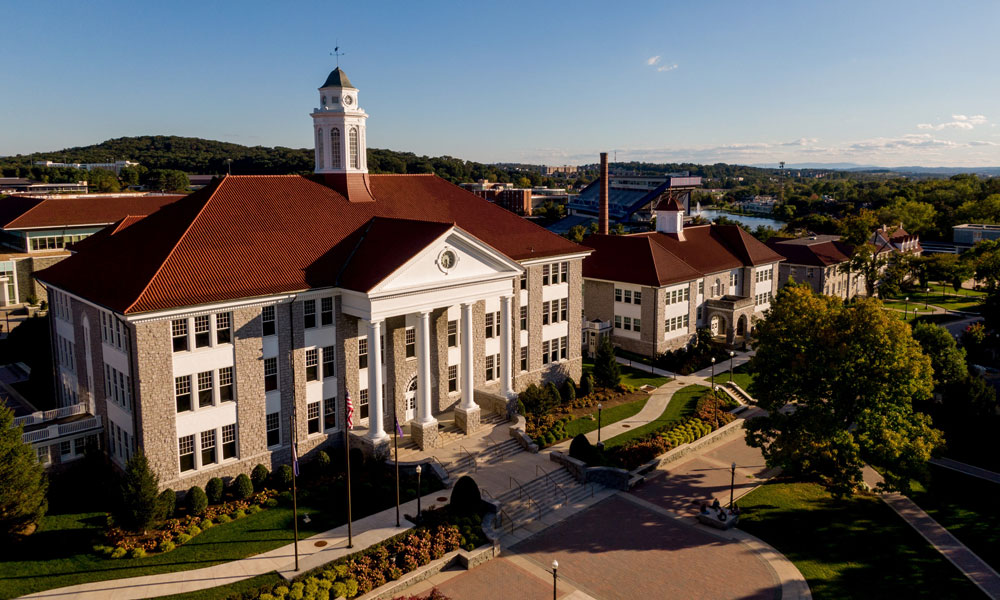 What makes someone choose a college? For senior Graham Hay, it was seeing the JMU mission statement in action.
The JMU mission statement says "We are a community committed to preparing students to be educated and enlightened citizens who lead productive and meaningful lives." Hay was able to see this first hand when his brother attended JMU. "I learned through him that JMU was big on community," said Hay. "Everyone here is looking out for each other, and people here want to learn from each other."
Hay is a senior undergraduate Justice Studies major with a concentration in Social Justice. He is also completing a minor in Women's and Gender Studies. His studies provide an educational background that he supplements by being active in his community.
Within JMU, Hay has worked as a Diversity Educator in the Center for Multicultural Student Services with the DEEP Impact Program for two years.  In this role, he facilitated discussions on campus and in the wider community and created events on topics such as intersectionality, microaggressions, the cycle of oppression and cultural appropriation. Hay served as one of the lead facilitators of the "We Are JMU" Diversity Program during Student Orientation and assisted in teaching the DEEP Impact Diversity and Leadership Course at JMU.
Hay has volunteered with JMU's LGBT & Ally Education Program for three years. He helped to design and to facilitate numerous events for the program, including a documentary screening of "Brother Outsider" and an Intergenerational Dinner. Hay, along with other students, staff and faculty, advocated for adding "gender identity" to JMU's nondiscrimination policy. Presently, Graham is advocating for the creation of gender neutral housing at JMU. 
He serves on educational panels as a member of Madison Equality, JMU's student LGBTQ+ organization, to help spread awareness on campus of the LGBTQ+ community at JMU. In 2014, Graham was presented with a Christopher L. Gatesman Service Award from the LGBT & Ally Education Program for his outstanding dedication and support of the LGBTQ+ community and for his work in creating and improving an inclusive, respectful and safe climate for the LGBTQ+ community.
Even situations like applying for a job have resulted in volunteer opportunities for Hay. Last year, he applied for a student worker position in the Office of Student Accountability and Restorative Practices. The staff that read his application were so impressed, he was asked to serve on the Student Accountability Board.
Realizing the importance of involvement in the wider community, Hay has expanded his volunteer efforts outside of the JMU campus. He has worked with a Harrisonburg community organization the Shenandoah Valley YES! Alliance, which provides a safe, youth-centered, confidential support space for LGBTQ+ youth. "The Alliance is a safe space for LGBT Youth to be themselves and be open, which is not a reality for them a lot of the time," said Hay. "Sometimes there weren't many people there. That space is important for few people, even if we didn't have huge numbers." He served on the Marketing and Outreach Board and as a liaison to JMU's LGBT & Ally Education Program.
Beyond JMU and the local community, Hay interned for a political campaign in the last Governor's race in Virginia, serving in a leadership role as Canvassing Captain. He was in charge of all canvasing that happened on campus. Hay personally registered over 500 people to vote, and his team of six registered 2200. Hay also accepted a fellowship with Students for a New American Politics, which trains students and other young people to be field organizers on congressional campaigns.
"I have a strong interest in politics,"said Hay, who worked on a U.S. House of Representatives campaign in Iowa related to economic justice, environmental justice, women's rights, LGBTQ+ rights, and racial justice. He hopes to work in the presidential campaign after graduation.  
Hay speaks authoritatively, compassionately and effectively about public policy issues affecting marginalized populations to multiple communities at JMU, the wider local community and beyond.  He plans to continue in these areas in the future, as he is considering, among other things, advanced education in diversity and higher education. Hay said, "It would be cool to work at a college." A fitting occupation for a student who has lived the JMU mission through his commitment to creating a more inclusive, just environment for all citizens.
Published: Monday, February 1, 2016
Last Updated: Wednesday, May 23, 2018