Office of the Provost
Physics Student Inspires Others at Planetarium
---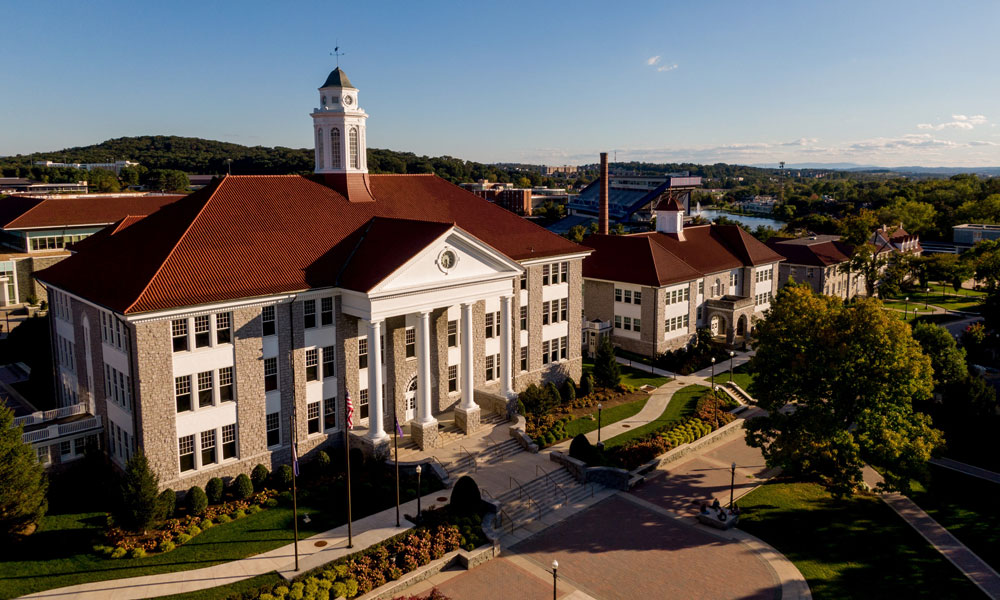 On Saturday afternoons, physics major Colleen Wallace operates equipment in the JMU's John C. Wells Planetarium while providing visitors a scientific talk about the stars, planets, and constellations that can be seen each night in our backyard.
The John C. Wells Planetarium is a two-million-dollar, state-of-the-art hybrid facility, the only one of its kind in the world. It hosts both an Evans & Sutherland Digistar 5 digital projection system and a Goto Chronos opto-mechanical star projector that provides visitors with a superior and realistic night sky. The digital system allows JMU to present full dome movies, as well as project the multi-wavelength universe. The Goto Chronos starball projects an authentic night sky for any location on the Earth's surface from the past 100,000 years.
When Wallace is not in the Planetarium, she can sometimes be found near the sundial in front of Burruss Hall. There, with a solar telescope or two, she provides community visitors with a safe way to view our Sun as the active, dynamic star that it is, rather than the pale-yellow circle drawn by elementary school children.
This past summer, JMU launched an inaugural summer Space Camp with the aim to engage, motivate and excite the next generation of scientists and engineers. Wallace became a camp counselor and led a group of about 10 explorers and provided hands-on science learning experiences to Valley children.
In the classroom and in the lab, Wallace has mastered the method of using gas chromatography to assess a mixture of hydrogen isotopes and has served as the group resource person for this measurement. When visitors from Jefferson Lab came to campus and wanted to measure samples, Wallace was the person who made this happen. She quickly learned the proper procedure for collecting gas from the hydrogen distillery system using liquid helium, compressing it into a small sample bottle and injecting the sample into the chromatograph, and finally analyzing the results to determine the concentration ratios. There are many steps to this process and it is easy to make errors, but Wallace does this all very well.
As an engaged student in the physics, Wallace continues to serve as an excellent role model for women in science and as an ambassador for James Madison University. Post-graduation, she plans to attend grad school, although for what and where are still undetermined.
Published: Wednesday, February 12, 2014
Last Updated: Thursday, January 4, 2018