Lessons learned from JMU
---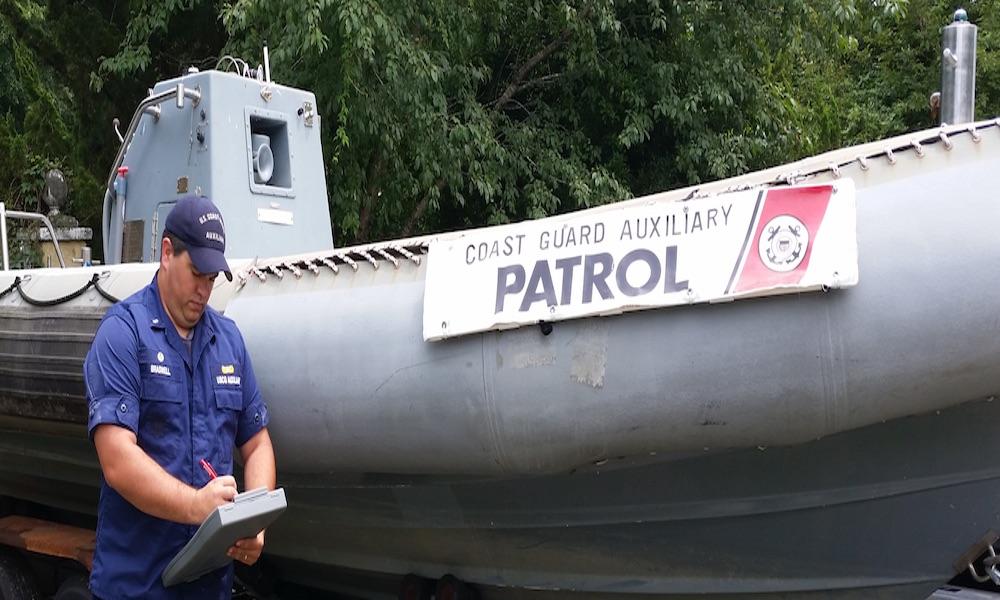 SUMMARY: Madison magazine talked with JMU alum Anderson Braswell ('06) about his time at JMU as a student and athlete, as well as his work the U.S. Coast Guard.
---
By Renée Rocco
In 2017, Flotilla 59 of Smithfield, Virginia, was selected as national flotilla of the year out of 1,500 U.S. Coast Guard Auxiliary flotillas across the country. Flotilla 59 Commander and JMU alumnus Anderson Braswell ('06) talked to Madison magazine about his time at JMU as a student and athlete, as well as his work with Flotilla 59. 
Madison: As a member of the football team at JMU working to win a national championship, how did that sense of teamwork and comradery carry into your career and your time with Flotilla 59?
Braswell: I could write an entire book on the life lessons learned from being a college athlete. You learn about overcoming differences, hard work, preparation and time management among other things. At the end of a very disappointing 2003 season, we were all called into a team meeting fully expecting to be told the program was seeking a new coach. The climb to the top in 2004 couldn't have started from a much lower point. To see the players and coaches come together as a team over that offseason and battle back from the very bottom to the very top taught me that "the impossible" is always possible if everyone does their job, works hard and has a little luck. Similarly, this Coast Guard unit was almost shut down five years ago. Taking lessons from my time at JMU, the first thing my leadership team had to do was change the attitude. The unit didn't believe that a small unit in a town of only 8,000 could ever compete with units from Tampa Bay, Miami or Los Angeles. Everyone is good at something, so you have to identify your players and put them in positions that play to their strengths. As our coach used to say, "players make plays." Just like in 2004, we changed up the way we did things in the unit and, over time, we changed the attitude from "hoping" for success to expecting success. Our coaching staff had a fantastic term for that level of confidence, but it isn't appropriate for print, ha-ha.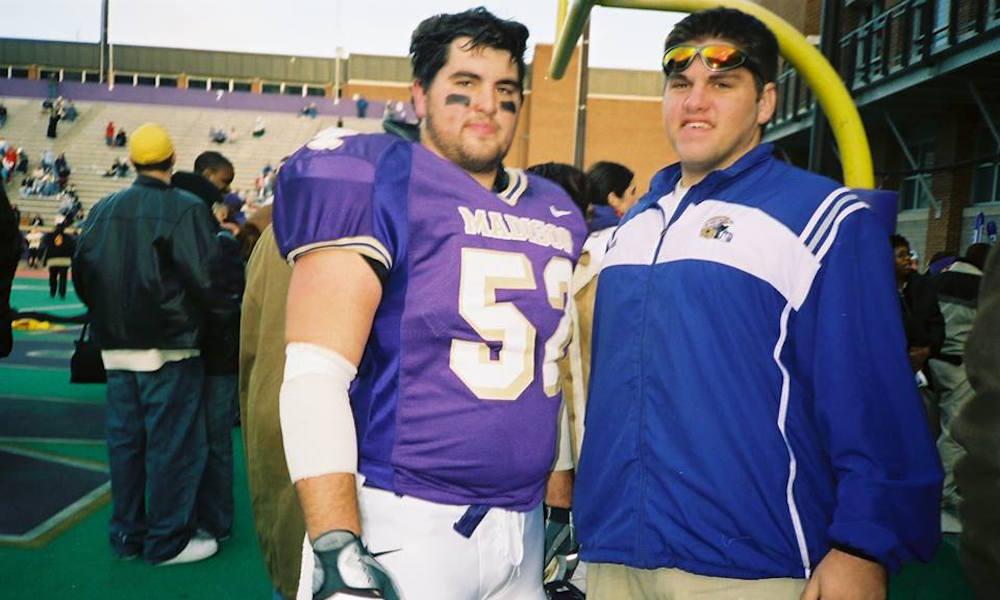 Braswell (left) was a member of JMU's 2004 championship-winning football team.
Madison: How did JMU and your Madison Experience prepare you for what you do today?
Braswell: If I had to sum up my Madison Experience, it would be "work hard, play hard." In addition to playing football, I majored in accounting and computer information systems, so five days a week I basically lived in Showker Hall and the Plecker Center, taking breaks to go to D-Hall (God rest its soul). JMU was nationally renowned for these academic programs, and it definitely paid off for me with 24 job offers right out of school. The most significant part of the Madison Experience to me, however, is the well-roundedness students develop at JMU. Outside of football season, I was able to spend my weekends either working as a ski instructor at Massanutten, going to parties with my friends or volunteering in the local community. Outside of our studies, UREC was always packed, intermural sports were huge and there was always some kind of charity event going on. Did I mention the parties? Believe it or not, that actually helps too. The ability to make everyone feel comfortable and have fun at a stuffy VIP cocktail party is a surprisingly critical career skill.
'The most significant part of the Madison experience to me, however, is the well-roundedness students develop at JMU.'
Madison: Was there any specific moment here at JMU that you would pinpoint as pivotal or eye-opening for your future?
Braswell: I swore I would never do this, but I have to credit Dr. Alexander Gabbin. I don't think a single student in the last 32 years has entered the accounting program without knowledge of his legendary toughness and expectations of students. Every semester I was very careful in selecting my professors. However the toughest course in the accounting program (Intermediate Accounting) was only taught by the toughest professor. As much as I wanted to run away, I had no choice but to face the challenge. I was afraid I couldn't make it; but I did, and I actually did well in the end. That was a very pivotal moment for me because I learned not to be intimidated just because something looks impossible. He showed me that I was capable of much more than I gave myself credit for if I worked (very) hard and remained disciplined. That single lesson has paid off in my career multiple times, as my teams have regularly accomplished things people said were "unrealistic."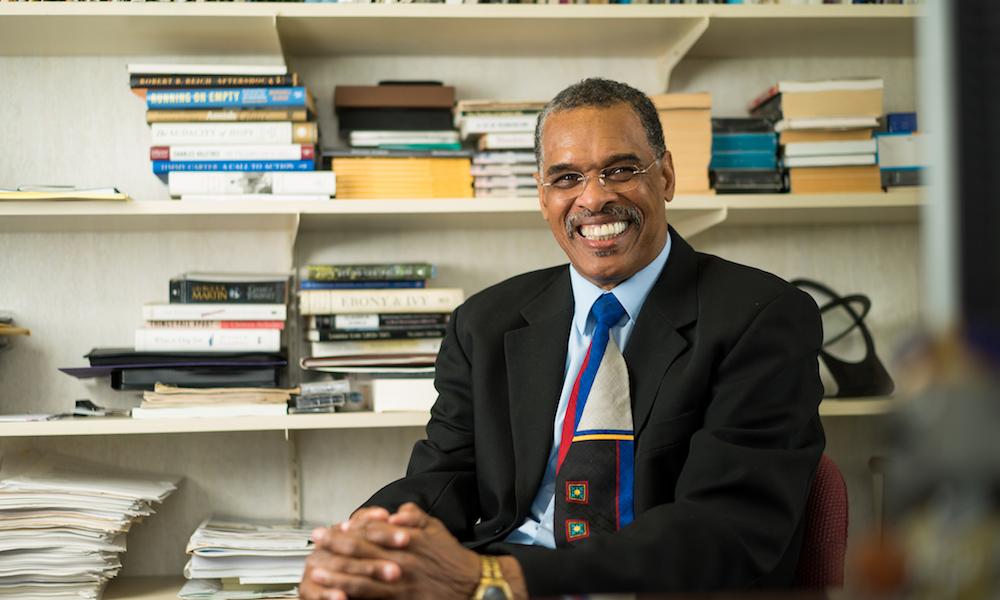 JMU accounting professor Alexander Gabbin."[He] showed me that I was capable of much more than I gave myself credit for if I worked (very) hard and remained disciplined," says Braswell.
Madison: JMU encourages all students and alumni to get involved and make a difference. Would you say that JMU influenced your decision to serve the Smithfield community with Flotilla 59?
Braswell: Absolutely! As I said, one of the things that separates JMU from other universities is the well-roundedness of the students. I was a member of Sigma Nu fraternity. We raised thousands of dollars every year for the Make-A-Wish Foundation, volunteered at the local free clinic and raised money for the American Cancer Society's Walk For Life. In the spring, the football team always volunteered with the Special Olympics. JMU pushed me to develop myself not only academically, but also as a citizen of the community. Being able to look into the eyes of a child and see that you actually made a tangible difference in their life is truly rewarding. When Hurricane Katrina hit in 2005, I wanted to do something. That feeling never left me, and I joined the Coast Guard in 2010. Since then I've been able to help with Superstorm Sandy and Hurricanes Irene, Harvey and Irma, as well as run search-and-rescue missions locally in Hampton Roads.
Madison: Why did you choose JMU?
Braswell: I actually chose JMU because they wanted me to play football. When my campus tour was hilariously pranked by some students, I knew I was entering a great atmosphere. I didn't know a lot about JMU at the time, but it totally changed my life. It has been amazing to see the university grow over the years. When I showed up on campus, the Walmart shopping center was a farm field, and we had some sweet 1980's astroturf in a 13,000-seat Bridgeforth Stadium. If I could do it all over again and choose any school in the country, I would choose JMU 100 times over. My daughter's favorite color is purple and everything she owns is some combination of purple and gold. We even own two English bulldogs—aptly named Duke and Daisy.
'Live for a higher purpose. Life is about more than just yourself, and the sooner you realize this, the more fulfilling your life will be.'
Madison: What advice would you give current students about getting involved and giving back to the community? 
Braswell: Live for a higher purpose. Life is about more than just yourself, and the sooner you realize this, the more fulfilling your life will be. JMU is unique in that it provides the balance to get a top-rate education, have a social life and get involved in your community at the same time. One of the biggest differences I have observed from hiring people out of different universities is that JMU produces leaders who understand teamwork. They understand that making a difference is more than just metrics or individual performance. Giving back to the community is critical in developing this mindset, as you gain an awareness of the full scope of the world around you and see the bigger picture. Take advantage of that and put yourself out there…Be the change. 
Madison: What advice would you give to future students considering JMU?
Braswell: You are not making a four-year decision; you are making a 30-year decision. What life do you want after college? If you want to be just another ID number among millions of alumni, go somewhere else. If you want to come back 20 years from now and have all the professors remember you, bump into old friends at every single tailgate party and be a leader in your career and community, JMU is the way to go. As a free bonus offer, the next four years of your life will be pretty spectacular. There is a reason a lot of us never went home in the summertime.

Published: Friday, February 23, 2018
Last Updated: Wednesday, August 8, 2018