Science and Technology
Projects get funding boost
4-VA doles out fall grants
---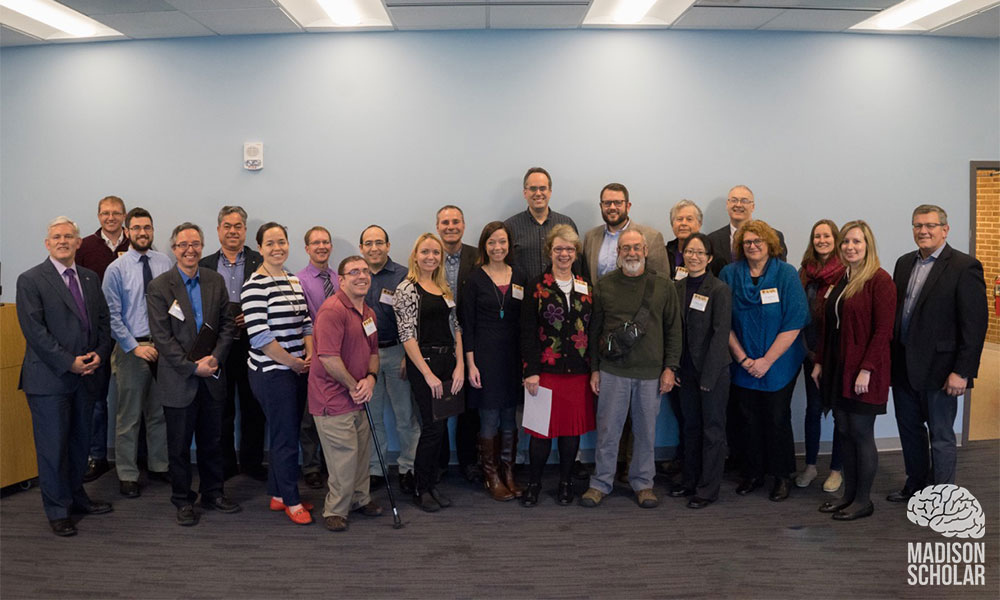 SUMMARY: The grants support faculty efforts that contribute to 4-VA initiatives related to research and instruction.
---
Faculty from eight departments, including English and kinesiology for the first time, received more than $70,000 in grants for collaborative research projects from 4-VA at JMU on Wednesday, Nov. 8.
An additional five faculty members received $16,000 in grants to redesign courses.
The largest grant, $15,000, was awarded to Stephanie P. Kurti, an assistant professor of kinesiology, who is collaborating with faculty at the University of Virginia to study whether acute and/or chronic exercise protects older adults from high fat meal induced lipemia, glycemic and inflammation.
Awards of $10,000 were made to Christopher Berndsen, an assistant professor of chemistry and biochemistry, who is collaborating with colleagues at Virginia Tech on using X-ray crystallography to support basic research into human and plant processes; and to Klebert Feitosa, an associate professor of physics and astronomy, who is collaborating with Marcelo Dias, a former JMU faculty member now teaching at a university in Denmark, on "Smart Surfaces for Tuneable Fluid-Structure Interactions."
"The point of this program really is about collaboration and engagement," President Jonathan Alger said before handing out the awards during a ceremony at Lakeview Hall. "It may be within your discipline or it may be interdisciplinary, but this is creating exciting opportunities for our faculty and for our students. This program has touched the lives of a lot of students over the last several years and hopefully many more to come. And I hope it has enriched your teaching and your scholarship as well."
The grants support faculty efforts that contribute to 4-VA initiatives related to research and instruction. Potential outcomes include shared courses, redesigned courses or collaborative research projects. Since the program started in 2010, 100 JMU faculty have received grants that are awarded in the fall and spring.
Nick Swayne, executive director of 4-VA at JMU, noted that this was the 12th cycle for the awards, bringing the grand total to more than $870,000. The money has provided a boost to more than 125 projects and 100 unique recipients across all colleges multiple times, he said. Swayne also said the projects have resulted in a $5 return for every dollar spent.
The 4-VA consortium was organized in 2010 in an effort to meet the needs of the Commonwealth identified by the Governor's Higher Education Commission and his Jobs Commission. The original members were JMU, George Mason University, University of Virginia and Virginia Tech. Old Dominion University and Virginia Commonwealth University have joined in the past two years.
Information about the program, including an application, can be found at http://4-va.org/rfps/jmu/.
"I know it takes time and effort to apply for this program, to do this kind of work," Alger said. "When you're collaborating, it adds an extra layer of complexity because you have to coordinate with others, but it's really worth it and it's really helping JMU to expand its horizons."
The full list of grant recipients: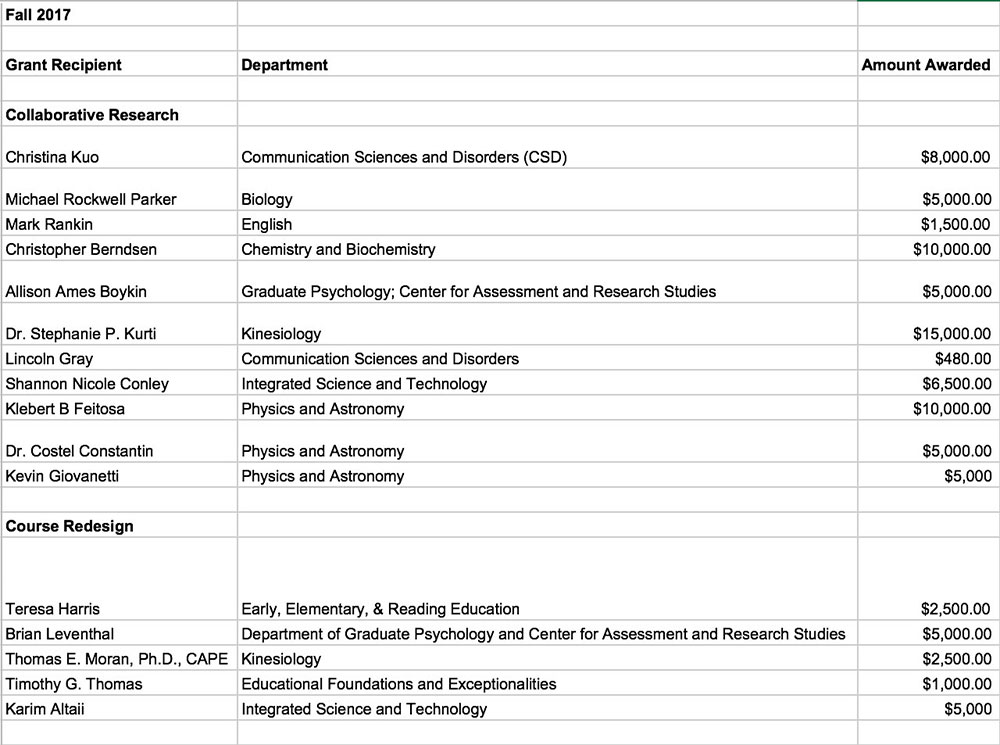 Published: Thursday, November 9, 2017
Last Updated: Thursday, January 25, 2018