Arts and Culture
So many stories yet to tell
New Jersey native dove in at JMU
---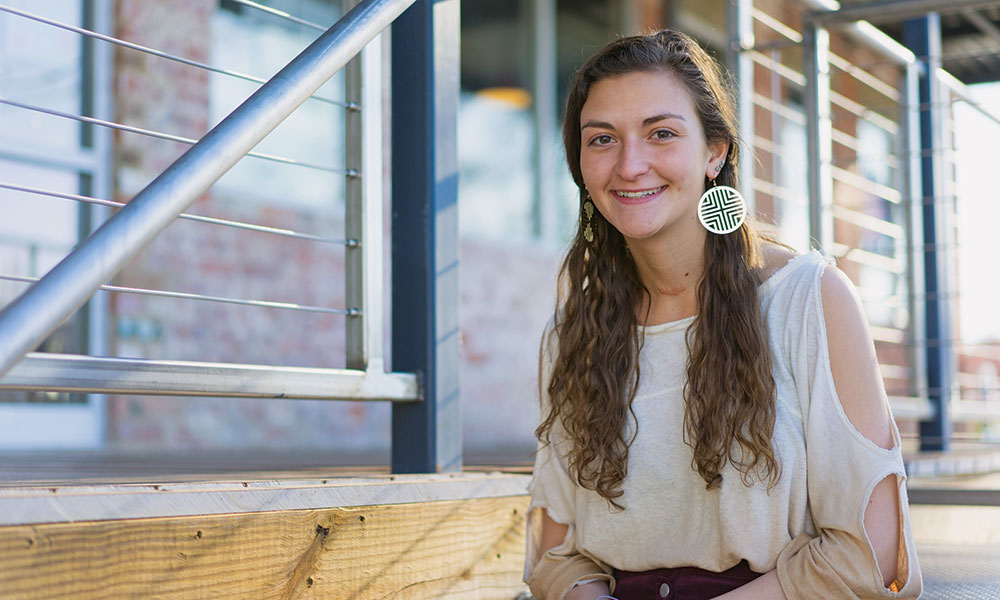 SUMMARY: Rachel Petty came here thinking that she might want to be a newspaper reporter. She ended up being the opinion section editor at The Breeze, JMU's award-winning news publication. The Honors College graduate also did a summer internship at the New York Post.
---
Rachel Petty
Class of 2017
Major
Media Arts and Design
Minors
Creative writing; Spanish
Hometown
Oakland, New Jersey
Highlights
Writer for all four of her JMU years at The Breeze, JMU's award-winning student newspaper; writer for pinkpangea.com, a women's travel blog; after graduation, is a Pantene intern at DeVries Global in New York City.
Has JMU met your expectations from high school?
JMU has exceeded my expectations in more ways than one. I knew I wanted to write for the JMU school newspaper, but I had no clue that I'd be a section editor, that I'd work in the university's communications and marketing office, that I'd be producing a magazine for my major field as my Senior Honors Project. I also had no clue that I'd meet all the amazing people that I've met. It has been really great here.
Are you a big reader?
I've always been into magazines. When I was in the second grade, I'd always ask my mom to get me magazines at the grocery store. I took a creative writing class in middle school, and then in high school I started writing for my school newspaper and also for a website called hercampus.com. I think that's how I decided that I wanted to be a writer.
'My dream job? Cosmopolitan magazine editor-in-chief. I am most interested in writing about content related to women and feminism, topics like that.'
Why did you choose JMU?
I knew I wanted to go a little away from home but not too far away, and then I looked into JMU's media arts and design and it just seemed like a really cool department with a lot of hands-on opportunities for students. I knew that I wanted to study journalism, and I thought that the School of Media Arts and Design — what we call SMAD — was a great combination of a few different things that I like.
So the academic program did it for you?
I also loved the campus. I just got a really good vibe when I was here visiting, and then when I came back again for CHOICES an admitted student open house. That's when I knew for certain that I wanted to come here.
Talk about your internship.
I worked at the New York Post this past summer. I worked for the Sunday team, which does longer-term stories than most of the reporters at the regular daily paper do. I had a part in a lot of investigative stories. I hadn't done that before, so it was really interesting to see that side of journalism. I also got to cover a lot of events, press conferences, those sorts of things. It was such great experience. Priceless, really.
Published: Wednesday, September 20, 2017
Last Updated: Thursday, September 21, 2017