Education
Poised to guide the future
JMU ignited a passion for teaching
---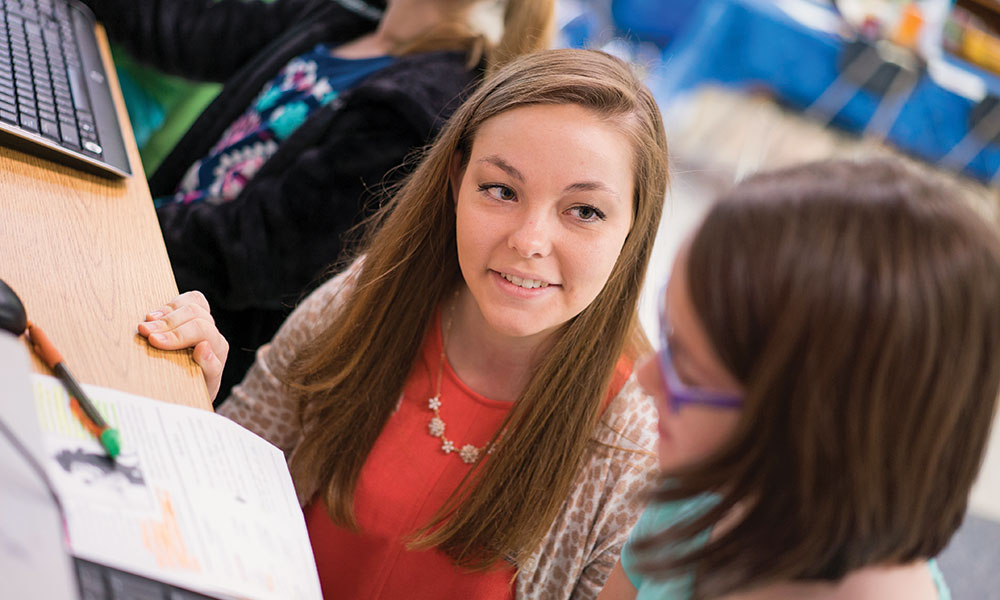 SUMMARY: Allison Rhoten switched from business to elementary education and now the former high school valedictorian hopes to return to her home area to help pay it forward for many, many years.
---
Allison Rhoten
Class of 2017
Major
Interdisciplinary Liberal Studies
Minors
Elementary Education
Hometown
Abingdon, Virginia
Highlights
Valedictorian of her high school senior class; will finish JMU with a master's degree in education in 2018; InterVarsity member; loves doing craft therapy at the JMU Counseling Center.
There's no major in education?
That's correct. You major in IdLS, which is interdisciplinary liberal studies, and then you minor in whatever grade levels you want to teach. There are elementary education, middle education and special education.
What's your area?
I chose elementary ed, so I'll be licensed pre-K through sixth grade. You also choose a concentration, and I am concentrating in mathematics. In addition to all this, I'm also getting a math endorsement so that I'll be able to teach mathematics all the way through high school algebra.
Have you found help here when you needed it?
JMU's Career and Academic Planning was really helpful for me. I originally came in thinking that I was going to major in one of the business areas, and then I got great help from CAP once I decided to go in a different academic direction. I took some career tests to see what areas might be the best for me based on my personality, and education came up among the areas I am well suited for. I was leaning toward a career in education, but wasn't exactly sure that was what I wanted to do. I have come to see that there are so many benefits to being a teacher, and I'm grateful to CAP for having pointed me in the right direction.
'I'm told that future teachers who go to JMU have more experience in the classroom than any other school in Virginia by the time they graduate. That was a huge draw to the program for me.'
Was the transition from high school to college hard for you?
The rigor of college was a little difficult at first, but time management was probably the most difficult part of the transition for me. I just think that, for most college students, you come in having been spoon-fed in high school. In college, you find out that you have to become responsible for your own learning—everything from doing the extra studying and preparation to being willing to go to professors for help when you need it. And JMU is really great in that regard because professors want to help you. All you have to do is ask.
So what's next?
I would like to go back home to southwest Virginia where I'm from to teach. There's a good school system there, but I'll be good with wherever I can get a job.
How far away from your hometown is JMU?
Harrisonburg is three and a half hours from where I'm from, but it's been easy to get back and forth. There are so many different ways to get home — the JMU Rides home page is a good example. It's really not a big deal no matter where you're from.
Has JMU been a good choice for you?
You meet a lot of new and different people if you choose to go to a college that is different from where all the other kids from your high school typically go. JMU has been that school for me, and it's been wonderful.
Published: Wednesday, September 20, 2017
Last Updated: Thursday, September 21, 2017