JMU News
'Trekking Twins'
---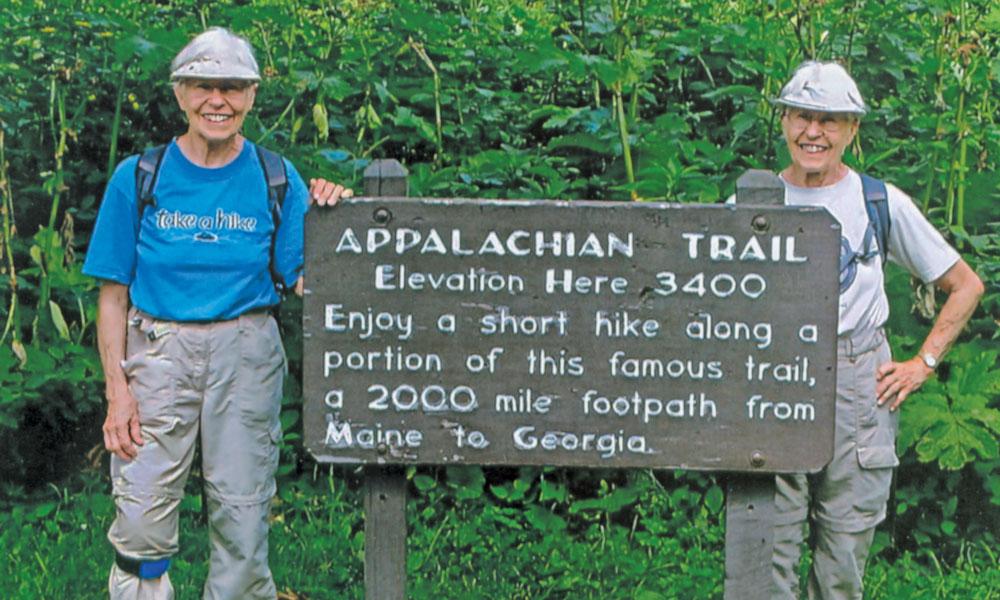 SUMMARY: Identical twins reach lifelong goal of hiking the entire length of the Appalachian Trail.
---
From Spring/Summer 2017 Madison
Class of 1958 alumnae and identical twins Sue Plentovich Hollinger and Elrose Plentovich Couric have completed a 14-year effort — hiking the entire Appalachian National Scenic Trail from Maine to Georgia.
'We couldn't imagine a life with­out hiking. It's our passion. It's our incentive to greet each day with enthusiasm and promise.'
When both were widowed in the mid-1990s, they merged their lives and purchased property on White Oak Mountain in North Carolina and moved into a remote cabin. Adapting quickly to their natural environment, they joined a local group, the Haywood Hikers, and began hiking in the Great Smoky Mountains National Park.
The pair accomplished their ambition to complete the Appalachian Trail by hiking the trail in sections. They saved the Virginia portion for last, ending their adventure on the Skyline Drive. The twins' trailblazing reputation has permeated the hiking community, and well-wishers and fellow hikers frequently remark on their tenacity.
The twins alternate their time between their mountainside cabin and a residence in the Florida Keys.
Fellow classmate Pat Lumpkin Rose ('58) reported on the twins' progress in the Spring/Summer 2012 Madison article, "Trailblazing twins tackle the Appalachian Trail." At the time, the "Trekking Twins" were more than halfway to their goal. You can read the entire article at issuu.com/jamesmadisonuniversity/docs/mm12spring.
Published: Thursday, April 27, 2017
Last Updated: Thursday, June 8, 2017