Nation and World
Filling a blind spot
---
SUMMARY: As part of his academic experience at JMU, James Prince explored intelligence analysis through the lens of religion and culture.
---
College changes you. Just ask James Prince ('14) who came to JMU imagining he would get a religion degree and then go on to graduate school for Biblical Studies.
The class Apocalypticism, Religious Terrorism and Peace with Associate Professor of Religion Dr. Frances Flannery prompted him in a new direction. Flannery teaches in the areas of Hebrew Bible, Judaism and religious terrorism. She is also director of the Center for the Interdisciplinary Study of Terrorism and Peace. "Dr. Flannery deeply influenced my academic career. Her commitment to her students' education and her immense interest in foreign affairs and religious terrorism really ignited my passion for this field," he says.
A chance to make a difference
He has since added a Political Science minor to complement his Interdisciplinary Religion major, enrolled in Arabic courses, and has immersed himself in the study of counterterrorism and international affairs. "I'm just enthralled by it all," he says. Prince feels religious studies can inform national security efforts and improve the chances of solving a critical problem in our global society.
"There's a great need to take into serious account religious motivations when analyzing intelligence and evaluating terrorist organizations' agendas."
"Religion and national security intelligence may seem unrelated, but there's a real need to put them to work together. There is a big blind spot in intelligence, and in public policy in general, because most analysts have backgrounds in intelligence analysis, in political science, or in international affairs. They typically don't have a background in specialized religious education that helps them view intelligence from the religious and cultural standpoint of a given area," he says.
"Unfortunately, many terrorist organizations have religiously motivated goals. All forms of religion typically have some kind of terrorist branch that the mainstream branch denounces as heretical," he says. "When you ignore terrorists' radical religious theologies, and think religious extremists are only motivated by political and financial goals, you've got a blind spot as an analyst."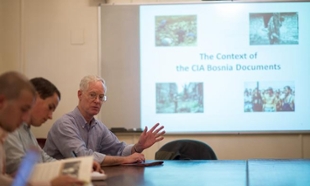 Academic opportunities
"My hope is that the declassification of the CIA documents can shine a light into the current Syrian conflict and that the lessons learned can somehow help find a peaceful path forward."
Prince's interests have led to an undergraduate teaching-apprentice position under the tutelage of Dr. John Newman, former Executive Assistant to the Director of the National Security Agency, in an upper-level political science course on counterterrorism.
He also conducted research in preparation for the 'Intelligence and the Transition from War to Peace Conference' held at JMU in March. Prince and other JMU students analyzed recently declassified CIA documents on intelligence and presidential policymaking during the 1990s Bosnian War that were the basis for the conference scholarship. Prince used the documents to produce a new analytical schema for understanding the origins of genocides, which he presented in poster-format at the conference.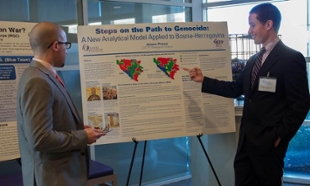 Religion and Intelligence Club
Prince put his cross-disciplinary training to work in another way, founding the Religion and Intelligence Club at JMU. "This semester we're reading through The Way of the Knife: The CIA, a Secret Army, and a War at the Ends of the Earth. Last semester we held a Zero Dark Thirty movie-night in the JMU Planetarium, and we've also functioned as a book club that meets over lunch. Our focus is not to debate about individual faiths," he says, "but rather to discuss how religion can play a significant role in the world theater when it comes to terrorists and their motivations. Often times, radical religious theology can be the catalyst for terrorists to push the envelope and do the unthinkable."
Career goals
After graduation, Prince is interested in a career in Peace Studies for a political think tank or academic institution and is currently weighing several job offers. What's his ultimate goal in combining his interests in religion and counterterrorism? "[Being] in the best position to hopefully make a positive impact for peace in this world."
Published: Saturday, November 1, 2014
Last Updated: Thursday, October 20, 2016