News
1787: The Week Ahead for First-Year Students
---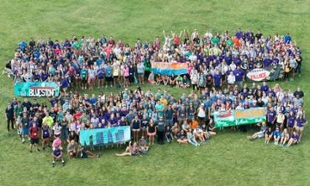 Together, more than 500 staff members from the Office of Orientation and the Office of Residence Life prepare for the arrival of first-year students. (Photo Credit: JMU University Marketing Photography Department)
Over the next two days JMU will welcome more than 4,300 first-year students to campus. In the days to follow, those students will take part in 1787 August Orientation, JMU's fall welcome week program.

From Aug. 19 to Aug. 24, students will kick off their JMU experience with a packed schedule of academic and social programming aimed at preparing them for the collegiate experience and acclimating them to campus. First yeaR Orientation Guides (FROGs) will lead student groups through a series of events, a few of which include:
University Welcome: President Jonathan R. Alger and Dr. Mark Warner, senior vice president, Student Affairs and University Planning, will officially open events by welcoming students to the JMU family.
Vendor and Resource Fair: Students will be able to meet with representatives from on-campus offices that offer services that support student success. The event will be held at JMU's new Student Success Center.
It's Complicated: This session introduces students to ethical reasoning at JMU and The Madison Collaborative: Ethical Reasoning in Action. Students will use "8 Key Questions" to evaluate ethical dimensions.
Major and Pre-professional Meetings: These major and pre-professional meetings provide important details regarding progression standards, application deadlines, degree requirements and much more.
Dukes Step Up: Current Dukes will teach their new classmates the knowledge and skills necessary to Step Up! should they encounter a person in need of help.
Block Party in the 'Burg: First-years will explore downtown Harrisonburg's shopping, dining and entertainment options while enjoying performances from JMU's a cappella and dance groups, food eating contests, games and more.
"While 1787 offers plenty of fun, entertainment and opportunities for students to make new friends, its vital function is to prepare students for the next chapter of their lives by providing the tools and knowledge needed to make JMU a successful and impactful educational experience," said Sarah Sunde, associate director of the Orientation Office.
Follow #JMU1787 for news and photos throughout the week.
# # #
Aug. 18, 2014
Published: Monday, August 18, 2014
Last Updated: Thursday, October 20, 2016