Business
Crunch, Shenandoah style
---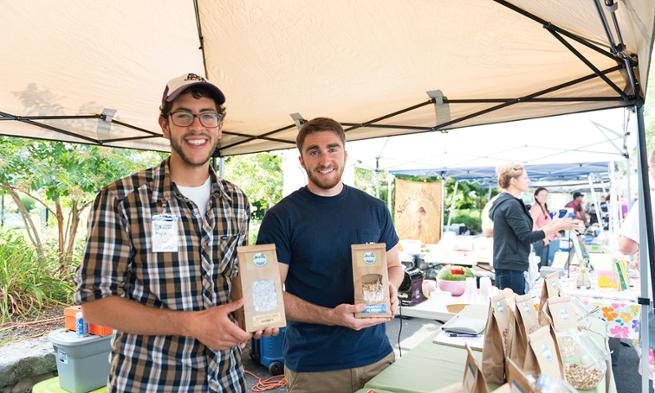 "Support your community, satisfy your appetite," is more than a logo for these two JMU student entrepreneurs
By Maggie Siciliano
Building a better granola
One day Ryan Gormley, a rising junior with an international business major and an Italian minor at James Madison University, was browsing the grocery store for granola and was not happy with any of the options; most of them were very high in sugar and filled with preservatives. So Gormley decided to buy the ingredients to make it himself. After he made the granola, Scott Goldschmidt, a rising senior with a health services and administration major and a business minor, had tried some and thought, "This is really good, we could sell this!"
That is exactly what they did. However, starting their own business was a little trickier than first perceived.
The challenge of startup
"Mostly, the time crunch was our biggest obstacle. We had this idea for a product at the beginning of February 2014, and by the time we settled on the idea and pursued it, February was already almost over. We planned to open on April 12 at the Harrisonburg Farmer's Market, so we had a lot to do in that time frame," Gormley, said.
'The College of Business provided the skills necessary to start a business of our own.'
Time management would be a challenge as each student was taking at least 15 credits while they pursued making their granola success. It meant late nights until 2:00 a.m. coming up with ideas, labels, and having to wake up early for class. They even had to switch up their name, which is still in the process of becoming trademarked, so that Shenandoah Crunch could come into being.
JMU was a huge help in the startup of their business, whether it was through friends, fraternity connections or the supportive faculty.
"Not only did the College of Business provide us with the skills necessary to start a business of our own, but the faculty and students were very supportive of our business venture. To name a few, Will Crain, winner of the 2014 COB Business Plan Challenge helped build our website from scratch, Casey Lynch provided professional product photography, 'Queen' Daphine Thomas provided us with entrepreneurial advice, and lastly Laura Atkins introduced us to new markets," Goldschmidt said.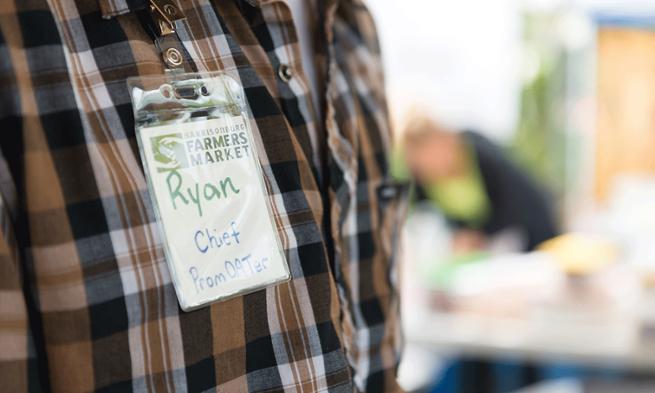 Both Gormley and Goldschmidt, Chief PromOATer and C.E.Oat of Shenandoah Crunch respectively, transferred to JMU at the beginning of the 2013-2014 school year, so last year was their first year as students at JMU.
"But so far we have learned that, like keeping our grades up, starting a business takes a lot of dedication. We've learned that networking is one of the most important aspects in running a business," Goldschmidt said.
The businessmen joined Delta Tau Delta Fraternity as founding fathers, where they not only found a great support group, but they also created a network of friends who were able to provide them with services and skills they otherwise did not have.
Having a positive influence
"We wanted to remove the negative stigma of fraternities and sororities, and be a good example for everyone on campus," Goldschmidt said. They want to be a good example for other people on campus showing that they don't need to party all weekend, they get up early to pursue this promising product.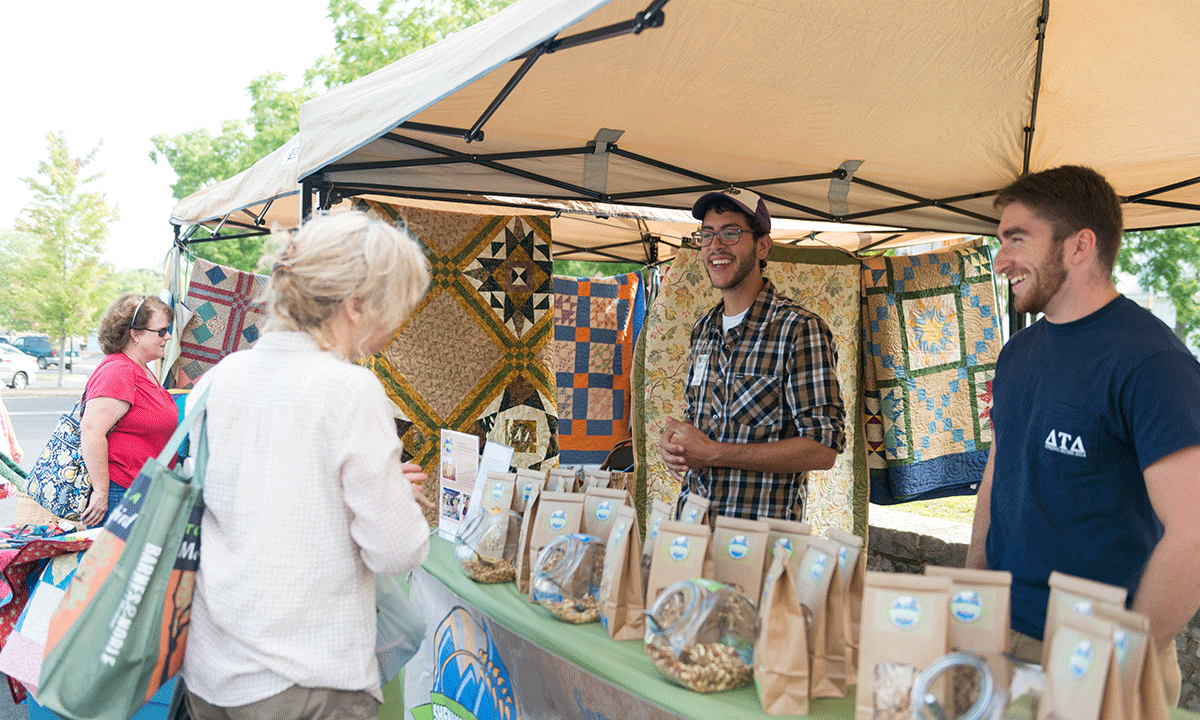 Currently, Shenandoah Crunch has five different flavors of granola: Wholesome Honey, Abundant Almond, Harvest Apple, along with a Gluten-Free version of Wholesome Honey and Gluten-Free Bountiful Berry. This is all loose granola, but they have a granola bar recipe in the works that with be introduced this fall.
Goldschmidt and Gormley continue to sell Shenandoah Crunch every Saturday morning at the Farmer's Market, and starting August 10 they will be selling at JMU's brand new Student Success Center.
Their CRUNCHCASH program supports Camp No Worries, a camp for children with cancer and their siblings.
"Our goals are not small. We are looking forward to selling through JMU's new Student Success Center. We'd like to be considered the new Campus Cookies, a business started at JMU, serving JMU students. While we think that the Harrisonburg community market is a great one, we are expanding to the Charlottesville market as well. With a website [www.shenandoahcrunch.com], we now have the ability to reach customers nationwide. If we succeed at JMU, we will look to sell to other universities. With the combination of our network, passion, and determination, we feel like we can be a household name nationwide," Goldschmidt said.
The pair believes in supporting charities that have meaning to them. Through their CRUNCHCASH program, this summer Shenandoah Crunch is donated $1 from every bag to Camp No Worries, a non-profit one-week overnight summer camp organized through the YMCA of Burlington County, N.J. Camp No Worries provides a complimentary week of fun for children with cancer and their siblings. Both Gormley and Goldschmidt volunteer one week each year as counselors at the camp.
For now Goldschmidt and Gormley are simply trying to live their logo and encourage others to join them: "Support your community, satisfy your appetite."
Published: Tuesday, July 1, 2014
Last Updated: Thursday, October 20, 2016