News
Sophomore biotech major lands internship at National Instittues of Health
---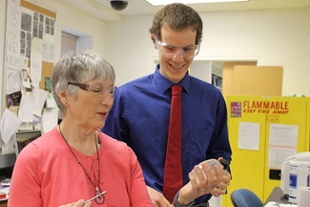 Joe Bannister confers with Dr. Louise Temple in the biotechnology lab.
How does a bike-riding, snowboard-toting sophomore get offered a summer internship at one of the most prestigious and competitive research agencies in the nation?
It takes a lot of hard work, a few undergraduate research experiences and some support and encouragement from professors.
Honors student Joseph Bannister, a biotechnology major, is spending a good bit of his summer working as an intern at the National Institutes of Health in Bethesda, Md., performing research in the Laboratory for Cell and Molecular Biology directed by Dr. Deborah Hinton. The NIH internship program is so competitive that in 2013, only 1,000 of 6,300 applicants were offered the opportunity.
Bannister is focusing on investigating how Bordetella pertussis, the bacterium that causes whooping cough, expresses its virulence genes at a molecular level. Understanding this process could provide a better basis for improving drug and vaccine design.
Bannister became interested in biology while growing up on a Shenandoah Valley farm. "I feel like growing up on a farm enabled me to be more aware of the environment and the processes that go on there," he said, noting that at an early age he began questioning how plants grow, why apples grow on trees and what helps them grow.
He began studying viruses his freshman year at JMU when he took a viral discovery class.  "In viral discovery you have the opportunity to learn techniques and make mistakes in an environment where you can learn from those mistakes and that gives you confidence in the upper level classes," said Bannister.
With his confidence growing, Bannister started working in Dr. Louise Temple's lab researching Bordetella avium, a cousin of Bordetella pertussis. Although students can't work directly with the pertussis pathogen in Temple's lab, having the opportunity to participate in undergraduate research and learn how a lab is run helped Bannister gain valuable hands-on experience that enabled him to land the internship position at NIH.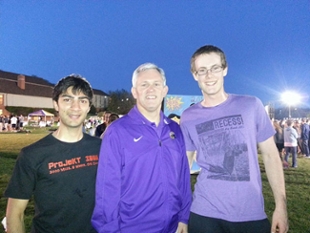 Joe Bannister (right) stands with JMU President Jonathan Alger and another Relay For Life participant.
Both Temple and Dr. Elizabeth Doyle, a lecturer in biology, recommended Bannister for the position.
"[Joe] is the genuine article, loves science, loves to think and talk, loves to do stuff. He will have a great summer at NIH. I'm quite sure it will be a life-changing experience for him," said Temple.
Temple hopes Bannister will continue working in her Bordetella avium vaccine development lab following his internship. "The work here will be quite synergistic with his summer work, which is a real advantage to everyone, as his broader experience at NIH will inform his work here over the next two years," she said.
Just as important as gaining experience, Bannister said he wants to set a good example of the kind of work JMU students are capable of and to develop a lasting relationship between NIH and JMU.  He looks forward to learning new techniques and skills that can be shared with classmates. "Being able to bring some of that back to JMU is important because JMU has given me so much," he said.
As for the future, Bannister said he is trying to decide whether he wants to pursue a degree as a medical doctor or get a Ph.D. and do research, or a joint program. "I want to see if full-time research is something I'm interested in. I like what I do during the semester, but I'm not fully submerged in it 8 hours a day. I will be this summer."
By Melissa Mowery ('14), JMU Public Affairs
Published June 20, 2014
Published: Friday, June 20, 2014
Last Updated: Thursday, October 20, 2016