Health and Behavior
Professor reporting from Winter Paralympic Games
---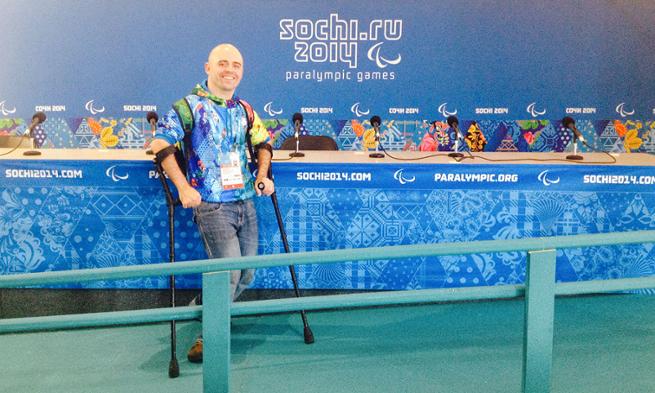 Dr. Joshua Pate will use the experience to inform his teaching and research at JMU
By James Heffernan
Dr. Joshua Pate, an assistant professor in the School of Hospitality, Sport and Recreation Management, will be covering wheelchair curling for the Paralympic News Service.
Dr. Joshua Pate, an assistant professor in James Madison University's School of Hospitality, Sport and Recreation Management, is in Sochi, Russia, for the 2014 Winter Paralympic Games, which get under way on Saturday and run through March 16.
Pate was selected to work at the Games as a volunteer reporter for the Paralympic News Service. In addition to his teaching and research, he has a master's degree in journalism and electronic media, and has worked as an interactive producer for Turner Sports as well as in athletic communications. 
Pate, who has been in Sochi since Feb. 28, answered questions this week via email.
As a professor whose research focus is disability sport and the Paralympic Games, what does the casual sports fan need to understand about the Games?
'[These athletes] are not competing at this level to be an inspiration or a great story. They are competing to win.'
These are elite athletes competing at the Paralympic Games, many of whom train full time or balance full-time training along with a part-time job or school. Many of them are sponsored or work to gain sponsorships. The Paralympic Games, both winter and summer, occur every four years at the same site of the Olympic Games, in the same venues and just a few weeks after the Olympic closing ceremony. It's elite sport, much like we view the Olympic Games; it's just not covered as much by media in the United States. I think the athletes will tell you — and the disability community will predominantly agree — that they are not competing at this level to be an inspiration or a great story. They are competing to win.
How many athletes from the U.S. are competing? 
The United States sent 74 athletes and six guides for athletes with visual impairments. That is a large contingency compared to other nations. It is the largest team the USA has sent to the Winter Paralympic Games.
How has your professional background prepared you for this assignment?
As a professor, I research disability sport and more specifically the Paralympic Games. I felt I was doing myself and my research a bit of a disservice having never even been in the Paralympic Games environment, and I have been fortunate to have this opportunity to do just that. My experience writing at NASCAR.com as well in athletic media relations at the University of Tennessee was very similar in many ways and allowed me to become extremely familiar with the role of a sports journalist. That is what led to me being selected for this position.
Was this the first time you applied to cover the Games? What is involved in the volunteer selection process?
I had applied to volunteer at the Vancouver Games [in 2010] and the London Games [in 2012] but did not get selected. For this process, I submitted my application two years ago and it required passport numbers, travel history, work history, current profession, etc. It was a fairly invasive process. Then last February I had a Skype interview for a position in the Paralympic News Service. The interview went well, and I was invited to accept a volunteer position as a flash quote reporter.
Talk about that role. Will you be covering specific events?
As a flash quote reporter, I will be interviewing athletes as soon as their competition is over and then the Paralympic News Service distributes these quotes to media worldwide. There are about 70 flash quote reporters on the ground here covering five different sports. I also get to write some news stories throughout the week when they are timely.
I'll be covering wheelchair curling. I was not very familiar with the sport and had to do quite a bit of research. Still, I have learned more about the sport while here in Sochi than I did in the months leading up to my trip. Wheelchair curling is similar to curling; it's just that the athletes cannot sweep the ice in front of the stone as it moves. That is the biggest difference viewers will notice. I did get a chance to work ice sledge hockey, which is hockey with athletes moving on sleds rather than using their legs. It is so intense. I worked one day as a flash quote reporter there during practice, and will go back on my off day during the Games.
Where can readers find your work? Will you be blogging about the experience?
My work as a volunteer will be anonymous. We work as a team to provide quotes and news stories for the Paralympic News Service. However, in addition to my volunteer work, I have been blogging for mpower-sports.com about the energy and environment here in Sochi. And finally I will be transforming my own experience into research, as I have been maintaining a journal throughout this experience and hope to create a qualitative manuscript from it.
What are your impressions of Sochi?
This is my first time in Russia and it was extremely difficult to adjust at first. Another volunteer offered to meet me at the airport, and without her I may still be at the airport. The language barrier was difficult to overcome for me at first when I was trying to get settled into a routine, and therefore it made social life a bit difficult as well. I found myself checking Facebook, Twitter and email all the time just for some familiarity and communication. After a few days and meeting my coworkers, everything got so much better because I was able to connect with people and do what I came here to do, which is work.
What are the conditions like for the athletes and others with disabilities at the games? Are there special accommodations?
Russia is a place in transition with regard to accessibility. The people here have been overly generous with help and concern for access. The systems within Russia, however, will still take some time to change. Sochi, from what I have been told, went through a dramatic overhaul to host the Olympic and Paralympic Games. In talking with locals, much of Russia is simply not accessible for a wheelchair or someone with mobility impairment, particularly in bigger cities. Many of the ramps into buildings here are temporary because the facilities are temporary, like food canteens or check-in and security locations. The sport venues have great accessibility, but small issues like sideway curb cuts or flat transitions still are absent. Sochi now has a chance to be a leader for Russia in showing other cities how to become accessible.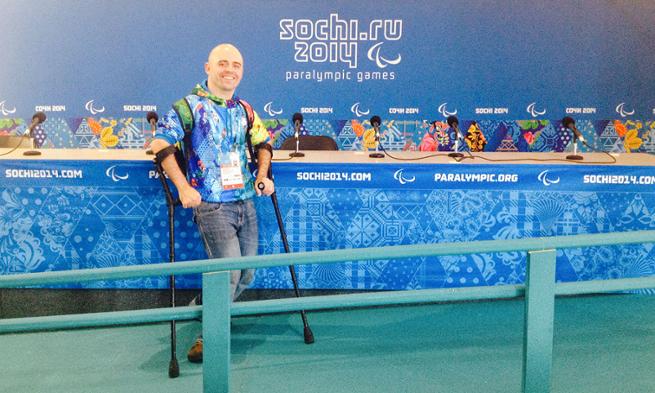 Where will the games be broadcast in the U.S.?
NBC and NBCSN will broadcast 52 hours of the Paralympic Winter Games, and this is of major significance in the United States. It is the most coverage of the Paralympic Games ever shown on television in the United States, so this will be a monumental moment for Paralympic sport in our country. Many of the events will be in the middle of the night because of the time difference, but some will also be shown on NBC, such as the opening ceremony and the gold medal sledge hockey game on March 15 at 1 p.m. Check out the full broadcast lineup. Additionally, all events can be seen live online at TeamUSA.org.
How will you involve your students at JMU?
Just being in Sochi has opened my eyes to many things about the Paralympic Games and events of this caliber that I can use in the classroom as well in the areas of event management, facility management, accessibility, sport communication and branding.
'I wanted to use this to inform my teaching at a higher level in sport management, ... I also wanted to be a more informed researcher. '
I teach sport sociology and sport communication, so my experience relates to both courses. When I return, in sport sociology we will use this experience to begin our discussion of disability in sport and how it is perceived. Typically, audiences label disability sport performances as inspirational or greater than they actually are. What these athletes want, however, is to simply be viewed as just that — athletes. In the sport communication course, we will discuss branding and broadcasting. The entire Olympic Park had to be rebranded from the Olympic rings to the Paralympic Agitos logo in a matter of one week. And while many crews packed up and went home after the Olympic Games, an entire international sporting event was staged in that same location and virtually ignored by comparison. Again, how can we bridge that gap?
What will you take from this experience?
I wanted to volunteer at the Paralympic Winter Games for the experience of being in the environment. I wanted to use this to inform my teaching at a higher level in sport management, and I feel I have achieved that already in many areas. I also wanted to be a more informed researcher, and I feel I have accomplished that as well. I can now say I have been inside the Paralympic Games environment and have a greater sense of the operational side of an event of this magnitude with more than 25,000 volunteers and a separate paid workforce.
What I did not anticipate gaining was a network of connections. Our faculty preach that to students all the time, and I naively came here without taking my own advice. Yet I will leave here with sport connections across Russia, France, Scotland, the U.K. and Canada as well as other parts of the United States. The people I have met have made this experience complete for me.
Published: Friday, March 7, 2014
Last Updated: Thursday, October 20, 2016