Alternative Winter Break
---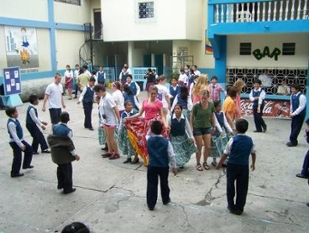 A dozen James Madison University students dressed in various purple and gold T-shirts stood crouched with their arms out in the final motion to the chant "J-M-U Duuuukes." In the final move to a dance they made up to the JMU fight song, the students looked out as hundreds of school children at Escuela Semillita in Gauyaquil, Ecuador, stared back at them in silence.  And then the cheering started ­­– the clapping, chanting and pure joy as the JMU students were welcomed into the Escuela Semillita family.

Culture shock

Like all JMU Alternative Break Trips, this venture started with months of planning.  Misty Newman, assistant director for Community Service Learning was scheduling a unique alternative break trip based on JMU students' four-week winter break.  The trip to Ecuador was planned in conjunction with Rosie McArthur, an administrative assistant in the Office of Residence Life.  McArthur, who has been a learning partner on several ABP trips, is a native of Gauyaquil and attended Escuela Semillita throughout her childhood.

Paige Ganger, a graduate student studying kinesiology, and Jackie Sams, a senior health sciences major, were chosen as the trip leaders based on their experience leading Alternative Break trips in the past.  The winter break trip was a challenge as neither had ever been out of the country and did not speak Spanish.  They both said that all of the research and planning did not prepare them for the culture shock of living in Ecuador for a week.  The 11 JMU students and McArthur lived at the school, even eating their meals there provided by a local woman who cooked for them all week.  McArthur described the week as a combination of cultural immersion, service work and touring.

Sams said it was difficult being the minority and not knowing the language or culture.  "You get so comfortable being at JMU or being in your hometown, coming here, going to the library, going to class, getting in your schedule," said Sams.  "So being really abruptly pulled out of that, I think, is something on this trip that was a lot different than any other trip that I've been on or led."

The JMU students said it took a couple days to adjust but the welcoming spirit of the students and teachers at Escuela Semillita inspired them.  Ganger said, "These trips really allow you to be completely immersed in their culture.  You have to allow yourself to do that and experience that."

In Country

Escuela Semillita serves children from kindergarten through 12th grade.  The JMU students were assigned to small groups of elementary school children.  Although at first the language barrier was severe, it quickly disappeared as both sides practiced their Spanish or English and communicated with gestures, smiles and hugs.  The school was celebrating Culture Week so there were daily presentations, dances and plays.

One of the highlights of the week was the dancing.  In Ecuador, dance is used to teach and tell stories of their cultural history.  The teachers taught the JMU students their dances, dressing them in colorful skirts and performing for the whole school.  Although they were new to the dance and "not very good at it" according to Sams, the kids loved that they tried.  "They absolutely loved it," she said.  "When we were done they were yelling and clapping and going crazy.  It was a lot of fun."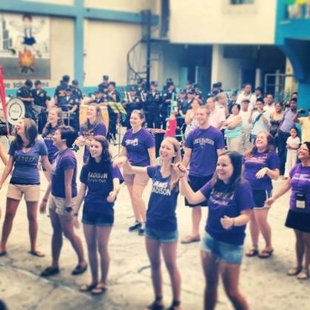 McArthur said she was touched by the JMU students' willingness to work so hard for a community they had just met.  "I always get a great group and I think it's because the group that usually signs up to do this kind of service is giving and kind," she said.  For example the students would tell her, "Oh, let's not go to the store this afternoon, let's just make sure every room is clean and everything is good."

The JMU students not only volunteered for the week but also brought supplies and money to donate for a scholarship to the school.  McArthur said, "The people of my old school were very welcoming, warm, helpful and exciting to talk to.   They continually expressed their gratitude for our coming there to be part of their lives."

Because the school day was only 7 a.m. to noon, the JMU group was able to explore the city, beach and Andes Mountains in the afternoon.  The people of Guayaquil refer to the the largest and the most populous city in Ecuador as the "Pearl of the Pacific."

A beautiful experience

A component of any alternative break trip is time each evening for reflection.  Ganger and Sams said the group at first highlighted the differences between the two countries but by mid-week were emphasizing the Ecuadorian's love of culture and family, their focus on education and the beauty of their country.

Sams said these kinds of trips are "so worth your time and money.  When are you ever really going to get another chance to go explore such a different culture, for a week with a group of your peers?"

"I have been simply astounded by the energy, commitment, enthusiasm, motivation and bonding that has taken place over the week," said McArthur.  "This trip was a once-in-a-lifetime experience that was shared with some of the best and brightest students at JMU.  The trip really touched my heart more than other trips because we not only spent it in my hometown, we spent it serving the people of the school I went to as a little girl and the community I was raised in. It was a beautiful experience."

For information about JMU's Alternative Break Program, including an interactive map showcasing past service trips and Community Service-Learning, check http://www.jmu.edu/service/.

 
###
By Paula Polglase, University Communications
January 24, 2014
Published: Monday, January 27, 2014
Last Updated: Thursday, October 20, 2016