JMU News
Graduate students lead community health education effort
---
Matt Lassen, a student in JMU's graduate Physician Assistant Studies program, looks on during "Ask a PA Night" at Our Community Place in Harrisonburg.
"Who thinks tobacco is a problem?"
Almost everyone listening to the "Ask a PA Night" presentation at Our Community Place in Harrisonburg raises a hand.
Jason Wilson, a physician assistant at Shenandoah Valley Surgical Associates, nods with a knowing smile and continues his presentation on tobacco use, as more than half of the audience floats in and out of the room to take post-dinner smoke breaks.
Throughout the presentation, Wilson touches on many issues related to smoking including health problems, "healthy" cigarettes, smokeless cigarettes and, most importantly, ways to quit. He stops frequently to answer questions from his attentive audience and several people admit they have tried to quit multiple times, but ultimately failed.
Wilson, a former smoker himself, encourages them. "After numerous tries, anyone can stop. I'm a testament to that," he says. 
The idea for the event came from two students in JMU's graduate Physician Assistant Studies program, Matt Lassen and Shay Fedewa. During the event, two PA students and one local, practicing PA present to the people who have dinner at OCP. Following the presentation, there's a question-and-answer session, during which the audience members can ask any health-related questions they may have.
Lassen and Fedewa also place a box inside OCP for community members to submit questions throughout the month. Before the event, the students look at the questions and include their answers in the presentation.
PAs work as part of a team with doctors. As licensed health care professionals, they can conduct physical exams, diagnose and treat common illnesses, order and interpret tests, prescribe medications, counsel on preventive care and even assist with surgery.
'Many individuals forgo health care because they either can't afford it or don't know where to go.'
Lassen first thought about creating an outreach program after attending a leadership symposium in Washington, D.C., this past summer. The four-day symposium is for recipients of the prestigious Paul Ambrose Scholars Program. During the symposium, Lassen and 45 other pre-professional health students visited community health clinics in D.C. He says the experience "gives you a different perspective of health care and the population. They really need to be served."
After the symposium, Lassen came back to JMU with the goal of creating a community-based health education program. He and Fedewa chose Our Community Place for their outreach efforts after their health sciences instructor, Sharon Maiewski, mentioned it in class.
Maiewski has been volunteering at OCP for years and knew that the faith-based community center would be excited to collaborate with JMU.
"We care about the whole person," says Philip Fisher Rhodes, executive director of OCP. "We want people who are spiritually and physically healthy."
During her volunteer experience, Maiewski had seen first-hand the difficulty that many people have with accessing affordable health care because most people don't think about their health until it is too late and have to go to the emergency room.
"The people in the community who have the least amount of ready resources to pay for something, end up going to the most expensive place there is to get care," Maiewski said.
This issue inspired the students to focus their first event, which took place in October, around health care knowledge in the community.
"Many individuals forgo health care because they either can't afford it or don't know where to go," Fedewa said. "By providing the community information on affordable alternatives, they will be able to take advantage of preventative care services as well as improve their overall health."
The students hope to continue these monthly events and eventually let future classes of PA students take over.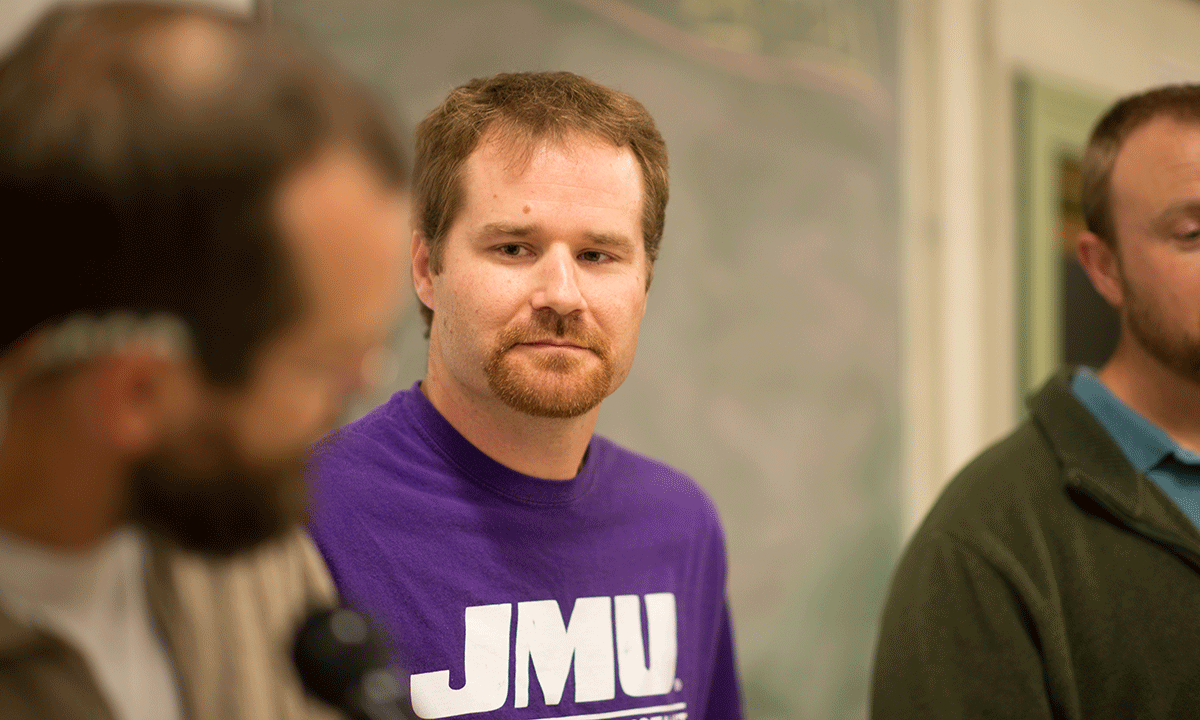 Lassen says visiting community health clinics in Washington, D.C., convinced him of the value of creating an outreach program in the Harrisonburg area.
"It's a great way to utilize the medical knowledge I have learned so far and have an opportunity to apply it," Fedewa said. "During the sessions you are on the spot being asked questions, and have to be quick on your feet with a response."
Maiewski believes that leading these events comes naturally to most PA students because of their desire to work with and educate the public. This aspect of the profession is what drew Lessen to JMU in the first place. After working as a researcher at SRI International in Harrisonburg for two years, he left with the hope of becoming involved with the "human element" of medicine. He chose the PA program because he knew he would be able to complete his degree and be out in the field in only two years.
"I think that their hearts are more about having an effect sooner," Maiewski says.
###
By Jen Eyring ('14)
Dec. 27, 2013
Published: Friday, December 27, 2013
Last Updated: Thursday, October 20, 2016