News
JMU senior strives to mitigate conflict between lions, Kenyan pastoralists
---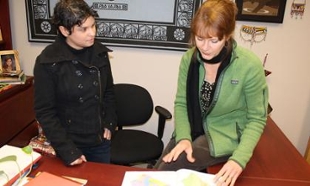 Gabriela Fleury (left) confers with Dr. Jennifer Coffman about her research on mitigating conflicts between lions and pastoralists in Kenya.
When lions attack livestock, the best way to deal with them is to . . . well, there are lots of possible solutions. Finding resolutions that benefit both the lions and the livestock herders is complicated, especially when considering the customs of a foreign culture.
But that's the challenge driving Gabriela Fleury, a senior honors student who is putting the finishing touches on a 50-page thesis exploring ways to mitigate human-wildlife conflict in the Amboseli region of southwestern Kenya.
"It's really interesting because I've never done anything this massive, this academic," said Fleury, a geographic science major. "I write books for fun, so this is completely different."
Researching the conflict between lions and pastoralists—people in Kenya who practice pastoralism, a social and economic system based on the raising and herding of livestock—has been a valuable experience, said Fleury, who is interested in saving Kenya's large felines while also protecting the livelihoods of the Maasai pastoralists who live there.
An increasing human population and changing land-use practices are creating more contact between pastoralists, their livestock and the predators. "There is a historical basis for lion hunting where it's kind of a rite of passage, but because of conservation efforts that has been declining. But there's this whole other side of it where people go and retaliate against lions that kill their livestock," Fleury said.
While lions are not the only threats to livestock, in some regions they regularly attack and kill cattle, the most valuable livestock for the pastoralists in Amboseli, Fleury said.
Along with shooting and spearing lions, some pastoralists have resorted to poisoning them by spreading carbofuran, an herbicide that is outlawed in Kenya but available in neighboring countries, on carcasses of animals killed by lions and other predators. But that method also kills other animals that feed on the carcasses, which creates a bigger ecological problem, Fleury said.
A number of strategies have been used with varying degrees of success to try to reduce the conflicts, including better fencing around livestock and a private fund to compensate pastoralists for livestock kills. For the most part, the conservation efforts have led to frustration among pastoralists who feel the government is imposing more rules on them and cares more about the lions than the people, Fleury said.
The best ways to address the problems, Fleury said, may be ecological education programs and wildlife tourism, which would provide an incentive for keeping the lions alive. "If they're getting income from these animals, they're going to be less likely to consider them something that can be eliminated," she said.
Her favorite part of the project has been interviewing people from Kenya, some of them via Skype and others who are at JMU. "It's interesting talking to different people with different generational backgrounds and they have completely different ideas and perspectives," she said.
In addition to working on her thesis, Fleury has applied for a Fulbright Scholarship that would send her to Kenya, where she has never been but is eager to visit. If she gets that scholarship, her research will involve cheetahs. After graduating from JMU, she plans to pursue graduate school for a degree in conservation biology.
Published: Tuesday, December 24, 2013
Last Updated: Thursday, October 20, 2016