News
California Pizza Kitchen head shares recipe for success with JMU graduates
---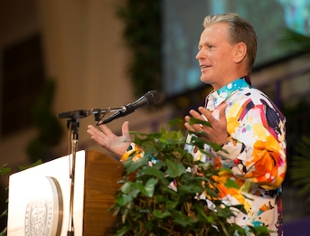 JMU alumnus and California Pizza Kitchen CEO G.J. Hart.
Commencement speaker G.J. Hart, executive chairman, chief executive officer and president of California Pizza Kitchen, celebrated the more than 700 students who graduated from James Madison University Saturday, Dec. 14, for their great achievement. Approximately 588 undergraduate students and 141 graduate students – 137 master's degree, three educational specialist degree and one doctoral degree recipients – joined family and friends in the JMU Convocation Center for the program.
In an engaging speech, Hart offered advice to the graduates as they continue their path onward. He encouraged them to become self aware in order to develop an internal compass. "Self-actualization will allow you to truly adapt and adjust your expectations as well as your attitude in all situations that you might encounter," Hart said.
"Be that go-to person," he continued. "What I mean is, be that reliable, accountable and dependable person every time, every day." Developing a "get to" attitude, rather than a "have to" one is important. "Every single day is an opportunity for each and every one of us to adjust our attitude and create our own destiny," Hart said.
JMU President Jonathan R. Alger described Hart, who attended JMU 30 years ago, as "an inspirational leader, supporter and friend of JMU." Hart is a member of the College of Business Executive Advisory Council and is chairman of the College of Business Research and Development Board. Alger encouraged the graduates to embrace Hart's lessons of leadership, service and passion to dream big about how they can use their gifts and talents to address challenges and issues facing all communities.
 # # #
 Dec. 14, 2013
Published: Saturday, December 14, 2013
Last Updated: Thursday, October 20, 2016