News
JMU alumnus, industry leader to speak at December commencement
---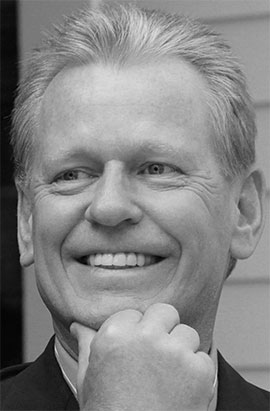 G.J. Hart (Photo credit: Bill Lohr)
More than 700 students will become James Madison University alumni Saturday, Dec. 14, during a commencement ceremony in which they will hear words of advice and encouragement from a man who sat in their place three decades earlier. The program will begin at 10 a.m. in the JMU Convocation Center. Doors will open at 8 a.m.
G.J. Hart, who attended JMU, currently serves as executive chairman, chief executive officer and president of California Pizza Kitchen, an international chain with more than 250 casual dining restaurants in more than 30 states and 11 countries. He joined CPK in August 2011 after serving as president and CEO of Texas Roadhouse, where he oversaw the growth of revenue from $63 million to more than $1 billion in a ten-year period.
Hart, who grew up in Staunton, Va., started his career as a trainee at the Shenandoah Valley Poultry Company when he was an undergraduate student at JMU, then climbed to roles as general manger and minority of the company in just eight years. Since then he has grown to be a respected industry leader in foodservice operations and management, serving in positions as president of Al Copeland Investments, New Zealand Lamb Company and Trifoods International.
Hart's contributions to the industry have earned him numerous awards, including the President's Award from the Incentive Marketing Association, an award from the Professional Convention Management Association, the 2010 Restaurateur of the Year award from the Kentucky Restaurant Association and an award as one of the best CEOs for investor relations by IR Magazine in 2011.
Originally from the Netherlands, Hart and his family immigrated to the United States when he was 5 years old, first settling in New Jersey and finally in Staunton, where his father was a police officer. Hart honors his father's career by supporting police officers across the nation. In 2006, he and other community leaders created the Louisville Metro Police Foundation, a nonpartisan partnership that garnered Hart recognition by the Kentucky Women's Law Enforcement Network for his support of police officers in the state.
Hart shares his expertise by serving as an active member of the JMU College of Business Executive Advisory Council. He is active in many philanthropic organizations, including Habitat for Humanity, Special Olympics, United Way, the American Red Cross and the Young Presidents Organization.
Approximately 588 undergraduate students and 141 graduate students – 137 master's degree, three educational specialist degree and one doctoral degree recipients – will join family and friends in the JMU Convocation Center for winter commencement exercises.
As part of December commencement celebrations, 60 students will receive pins signifying their entry into the nursing profession at the traditional Nursing Pinning Ceremony at 2 p.m. Friday. The ceremony is open to family and friends of nursing graduates. On Saturday, five ROTC cadets will receive commissions as Army second lieutenants. The 2 p.m. ceremony in Memorial Hall Auditorium is open to the public.
# # #
Dec. 5, 2013
Published: Thursday, December 5, 2013
Last Updated: Thursday, October 20, 2016