News
Students spend Thanksgiving serving
---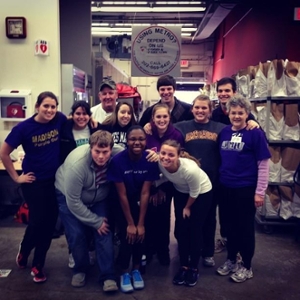 "Everyone in this world deserves to know what Thanksgiving feels like, the joy it brings to families and the fantastic memories that last forever," says James Madison University junior Eliana Jerez-Givre. She and 20 other JMU students will be putting these words into action this Thanksgiving by participating in an Alternative Thanksgiving Break. Instead of returning home to their families and celebrating over turkey and mashed potatoes, these students will help mentor at-risk children, deliver meals and spend time supporting patients living with HIV/AIDS.
The students will be looking forward to a week of long travel, hard work and most importantly rewarding experiences of helping others. The Alternative Thanksgiving breaks planned by student leaders are in Orlando, Fla. and Washington, D.C. during JMU's Nov. 22–30 break.
JMU's award-winning Alternative Break Program provides learning opportunities for students outside of the classroom where they focus on social issues by interacting with a local nonprofit, living simply and reflecting on the critical issues faced by the people they serve. Trips occur at Thanksgiving, spring break, in May and on various weekends throughout the year. In 2014 JMU is adding an Alternative Winter Break to Ecuador, Jan. 4–11.
The two Thanksgiving trips are as follows:
Food & Friends is an agency located in Washington, D.C., which originally started in a church basement providing meals - confidentially - to members of the community with HIV/Aids. The agency further grew to serve those suffering from cancer, other life threatening illnesses or those with disabilities. This Thanksgiving JMU students will help Food & Friends deliver 3,500 complete holiday dinners to sick adults and children around the region.
Students participating in the Heart of Florida United Way to Orlando, Fla. will work on a variety of daily projects aimed to help Floridians who are less fortunate. Projects could include painting, playing with kids, cooking, serving food, tutoring or building.
Jerez-Givre volunteered at Food & Friends in Washington, D.C. last spring break. "All of the faculty and volunteers throughout the week, time and time again told us to come back and experience what Food & Friends is like during Thanksgiving," she said. "After being blessed for the past 19 years of having incredible Thanksgiving meals with my family, I wanted to be able to give back to others on a holiday that means so much to me."
The JMU Alternative Break Program was the Break Away National Program of the Year for 2010 in recognition of the university's commitment to active citizenship. The program earned the same award in 1999 from Break Away, a national nonprofit organization that supports the development of quality alternative break programs at colleges and other nonprofit organizations.
Published: Monday, November 25, 2013
Last Updated: Thursday, April 27, 2017