News
JMU Marching Royal Dukes make third appearance in Macy's Parade
---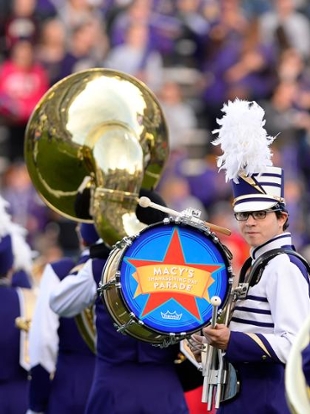 A Marching Royal Dukes drummer proudly displays the Macy's Thanksgiving Day Parade logo. 

The Marching Royal Dukes will represent James Madison University in the 87th annual Macy's Thanksgiving Day Parade® in New York City on Nov. 28. The marching band is slated to lead the parade when it kicks off at 9 a.m. Local audiences can view the parade on NBC-TV.
This year marks the third time the JMU marching band has appeared in the parade. The band previously performed in the 2001 and 2008 parades.
The band will perform three pieces while marching down a route that is over two miles in length through the city. At the end of the route, the band will perform "My Favorite Things" from "The Sound of Music" in front of Macy's in Herald Square.
JMU is one of 11 marching bands performing in the parade, and one of only two college bands – the other is the University of Massachusetts Amherst - that were invited to perform. The Marching Royal Dukes were selected from more than 150 applications sent to Macy's Parade Band Selection Committee.
"We are one of the largest college marching bands in the country and we have a great program at JMU," said Scott Rikkers, director of the Marching Royal Dukes and assistant director of bands at JMU. "The Marching Royal Dukes represent the best that JMU has to offer students. We are a very visible example of the process of education."
The 485-member band, the largest in JMU's history and the largest band in the entire parade, will travel to the city on Tuesday, Nov. 26, and return to Harrisonburg on Saturday, Nov. 30. The band will have an open rehearsal on Wednesday, Nov. 27, in the Sheraton New York Times Square Hotel Metropolitan Ballroom from 1 to 3 p.m.
The Marching Royal Dukes date to 1972 when JMU established a football program. Membership in the marching band is open to all JMU students, regardless of their academic major. The 2013 band's members represent 47 academic majors. More than 400 Marching Royal Dukes are non-music majors.
The band performs at all home football games, travels to select away games and represents JMU at local and regional high-school exhibitions and community events. The Marching Royal Duke's final performance of the 2013 regular season will be at the Harrisonburg Holiday Parade in downtown Harrisonburg on Dec. 6.
For more information, check the Marching Royal Dukes website for parade-related content at http://www.jmu.edu/mrd/macysparadeinfo.shtml.
# # #
Nov. 20, 2013
By Kelly Vingelis ('14)
Published: Wednesday, November 20, 2013
Last Updated: Thursday, October 20, 2016