JMU in the Community
Saving the day, and career
---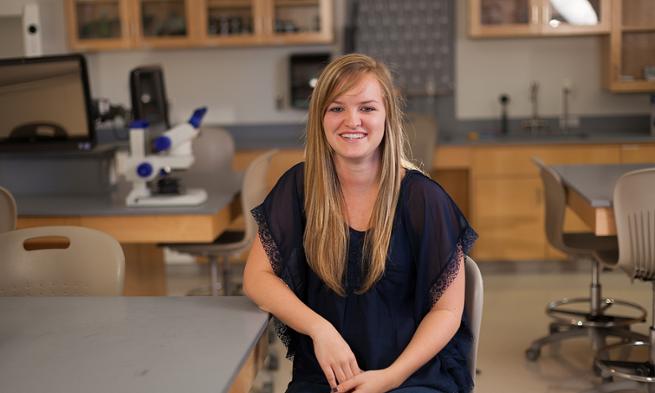 For Alecia Epp ('14), life at James Madison University was taking a predictably meandering path for most of the first three years.
Lots of friends. Amazing professors. The challenge of a health services administration degree that she thinks will one day lead her to a top hospital administration job.
All in all, pretty good times for the Eldersburg, Md., native.
Good times that came to a screeching halt when her father was diagnosed with and eventually died from cancer. As very nearly did her JMU academic career.
However, thanks to gifts from donors to Madison Forever Scholarships, Epp is managing to stay the course and finish her undergraduate degree.
For Epp, it's about reaching out to those in need of help.
"I want to help people, and I feel as if health services administration is the perfect fit for me. At the end of the day, it's really about helping people as opposed to doing a job just to make money."
For Epp, the emergency aid scholarship help "really has changed my life." And even with her wealth of friends from freshman year and also all the learning and support she has gleaned from the health services administration faculty, her family's tragedy nearly forced Epp to leave JMU at the start of her senior year.
Enter a Madison Forever Scholarship to help save the day.
"This scholarship is awesome to me. It helped me stay here. I'm just so grateful for it. It really has changed my life," she says. "If I hadn't gotten this Madison Forever Scholarship, I probably would have finished my degree – but it would have been somewhere else and not JMU," she says. "On top of all the other stuff, that would have been pretty awful. JMU is like my second home. I love it.
Want to help more students stay at JMU?
Published: Monday, September 30, 2013
Last Updated: Monday, September 10, 2018