JMU News
Strong showing for CSI products
---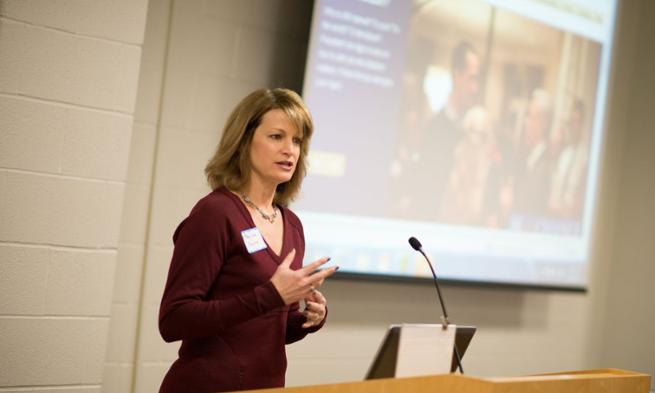 Strength and conditioning products invented at JMU get glowing reviews at trade show
By Eric Gorton ('86,'09 M)
Products invented by coaches at James Madison University received glowing reviews this spring at a trade show for strength and conditioning coaches.
The three products are being marketed by a JMU startup company, Collegiate Strength Innovations. The company launched earlier this year and is operating with a business plan developed by JMU undergraduates who took a venture creation course in the College of Business.
Companies and coaches who attended the Collegiate Strength & Conditioning Coaches Association show in Kansas City "really liked that this was coming from coaches at a university," said Mary Lou Bourne, director of technology transfer at JMU. She said customers who stopped by the CSI booth at the show also liked that coaches and students were involved in starting the company. "The feedback all around, from how we're doing it to what we're doing was really good," she said.
Bourne said 27 colleges and three companies filled out pre-order forms for the products, which have patents pending. All three products are designed to improve safety, effectiveness and efficiency in strength and conditioning workouts. The products are:
Bruzer Board, an exercise attachment for barbells that offers weight lifters a varying range of motion within their exercise. It is a self-correcting work out tool that enhances lifters' performance and allows certain rehabilitation athletes to continue exercising.
Power Heel, a shoe attachment that can transform any style shoe into Olympic weightlifting shoes by elevating the heel and providing substantial traction and support.
Band Sleeve, a removable cover that protects resistance bands from wear and tear and also protects athletes if a band were to break during their workout.
James Madison Innovations, Inc., a nonprofit corporation established in 2009 to transfer intellectual property produced at JMU into the commercial sector, provided startup funding and management for CSI, Bourne said. In addition to the business plan, JMU students and recent graduates have been involved in creating the company's website and marketing the company.
Friendship Industries of Harrisonburg, a United Way agency that provides employment and training opportunities for persons with disabilities, is manufacturing Bruzer Board. Other Virginia manufacturers are producing Power Heel and Band Sleeve, Bourne said.
Bourne said the next step for CSI is finding an entrepreneur who is interested in growing and running the business. "Some CEO is really going to have a lot of fun with this," she said.
Published: Monday, September 9, 2013
Last Updated: Thursday, October 20, 2016