News
International professor makes mark on Madison
---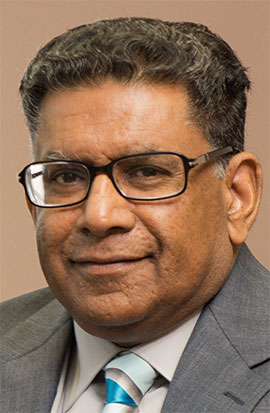 Dr. Ehsan Ahmed came to the United States in 1975 unsure if he would ever be successful. Thirty years, thousands of educated students and the creation of an entire Islamic community later, it's clear that he has indeed made a difference.
When Ahmed, now head of the economics department at James Madison University, left Pakistan and made the more than 7,000-mile journey to the U.S., he had to leave his family and friends behind.
"I didn't know anyone, really," he said. "I created my own world … it took a while."
This world centered around academia during his time at Roosevelt University and Michigan State University, where he received his master's degree and Ph.D., respectively. 
But, when he came to Harrisonburg, he had to fight a little harder to create a place for himself.
"In 1983, when I came here, you could look at the telephone book and there would be one Ahmed in the whole region," he said.
Not only were there fewer ethnic groups than Ahmed was used to, but there were also less people in general. The population of Harrisonburg in 1983 was slightly more than 26,000. The population of Lahore, Pakistan, where he grew up, was estimated at almost 3.5 million.
"When I came here in 1983, this school was half its [present] size," Ahmed said. "Harrisonburg was the smallest place on the planet for me."
Instead of simply accepting this and remaining within the world of academia, Ahmed decided to spark a change in the community.
He teamed up with about 20 other families in the area who shared his Islamic faith and started thinking about developing an organization and building a mosque.
"We were a small community," Ahmed said. "It was just a dream at the time."
But in 1997-98 Harrisonburg saw a large influx of Muslims who were coming here to escape the persecution of Saddam Hussein.
Suddenly, they had the manpower necessary to make their dreams a reality.
"We didn't have a lot of money, but we had significant human capital — people who could work," Ahmed said.
He helped organize the project, and together, the group worked for over a year to hand-build the mosque that is now the Islamic Center of the Shenandoah Valley.
Ahmed estimated that the once 20-family group has now grown into a 300-family community.
Ahmed said after 30 years, much effort from the Islamic Association and the commitment from JMU to bring in more international students and professors, there is a visible difference in both the Harrisonburg and JMU communities.
"A student was just talking about taking Arabic classes," Ahmed said. "Ten years ago there were no Arabic classes. There was hardly anything about Islamic studies."
He believes this is why it's so important that JMU has international professors and students.
"People bring in their experiences and it enhances the quality of education here and quality of life in general," Ahmed said.
Ahmed's students seem to agree. Kaitlyn Paonessa, a junior international affairs major, was in Ahmed's macroeconomics class.
"I do believe that having an international professor at JMU has enhanced my overall experience," Paonessa said. "International professors bring a new and fresh perspective to the classroom."
Although once hesitant of his ability to make this kind of impact, Ahmed is now secure with his place at JMU.
"I was never sure that I would be successful in making the transition," Ahmed said. "But I made it." 
###
By Jen Eyring ('14), JMU Public Affairs
Sept. 24, 2013
Published: Tuesday, September 24, 2013
Last Updated: Thursday, October 20, 2016