News
It's Complicated
---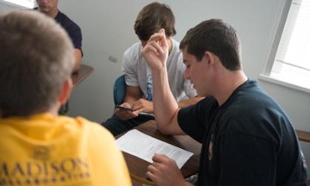 A category 5 hurricane, Sharon, strikes the northeast coast of the United States devastating New York City and the northern coast of New Jersey.  Millions are without water, electricity and basic survival needs of food and shelter.  Thousands are totally isolated and hundreds are presumed dead.  As part of James Madison University's 1787 August Orientation first-year students took on the role of the Federal Emergency Management Agency's regional response task force, assigned to direct the rescue and recovery of those whose lives remain at risk.  There are more requests for immediate assistance than resources to help.
Students debated sending aid to families who chose not to evacuate but are now in peril, a prison that is flooding whose inmates are in danger, personal friends who called to request assistance, government officials demanding resources for their constituents and residents with limited access to public transportation who are at risk.
The point is, "It's complicated."
JMU is introducing The Madison Collaborative: Ethical Reasoning in Action this year at orientation.  At the University Welcome for the 4,200 first year students on Wednesday evening President Jonathan Alger emphasized the importance of this new initiative to the students.  "It's a program that is going to help you think about and manage ethical decisions in your personal, professional and civic lives," he said.  "You'll become familiar with questions and processes to help you make good decisions and that's a skill we want you to carry with you for the rest of your life."
The Orientation office collaborated with The Madison Collaborative to develop "It's Complicated," a 75-minute program designed to introduce students to the importance of ethical decision making and provide a tool to facilitate the reasoning process ­– eight key questions that can be used to evaluate the ethical dimensions of a problem.  The key questions explore outcomes, fairness, authority, liberty, rights, responsibilities, empathy and character.
After watching a video and reading the Hurricane Sharon case study students worked within small groups to make hard ethical decisions about who to aid.  Each small group sat in a circle and used a "talking piece," a gold coin with the JMU seal on one side and The Madison Collaborative logo on the other, to allow for respectful discussion.
"Orientation seemed like the perfect opportunity to create a common experience that would lay the foundation for what students can expect from The Madison Collaborative throughout their JMU career," said Director of Orientation Tisha McCoy-Ntiamoah.  "Introducing students to ethical reasoning as they enter JMU sets the expectation for the learning they will experience, what we value in our community and the impact it can have on one's personal, professional and civic life at JMU and beyond."
Over 160 facilitators from all divisions of the university were trained to lead the "It's Complicated" session.  Facilitator Stefanie Warlick, assistant director of Rose Library, said the students went from yawning and sending signals that it was 10 a.m. and they would rather be anywhere else to being so engaged in the discussion that they had to be interrupted to keep on schedule. "The students were so thoughtful in their consideration of the eight key questions as it related to the Hurricane Sharon scenario. I was amazed at how willingly and deeply each group explored the issues surrounding decision making," said Warlick.
First-year student Jake Mulholland of Swedesboro, N.J., said the hurricane scenario hit close to home for him so it was interesting to hear from other students in his group.  "It was challenging because we were all debating from different perspectives," said Mulholland, "but it also helped that we were a diverse group and had differences and opinions."  Katie Hunt of Virginia Beach, Va., said she liked that the session gave students a chance to think of real world situations and how they would respond.  "It's already really different from high school – you're not just a kid anymore, you're in the real world," she said.  Hunt said the eight key questions will help her think more about the decisions she's making.  "It won't be such a reflex but I'll actually think about it and try to make the best decisions for me and everyone else."
McCoy-Ntiamoah said she hopes students develop an appreciation for the fact that the most challenging situations in life rarely have an absolute right or wrong outcome.  She challenges the Class of 2017 "as a student and a citizen of a greater community it will now be incumbent upon you to use the tools you have been provided to evaluate and resolve challenging situations. In a world where we predominately react on reflex, I challenge you to react with reflection using ethical reasoning."
To learn more about the It's Complicated session and view the video: https://www.jmu.edu/orientation/its-complicated/index.shtml
To learn more about the Madison Collaborative: http://www.jmu.edu/mc/
By Paula Polglase ('92) '(96)
###
August 22, 2013
Published: Thursday, August 22, 2013
Last Updated: Thursday, October 20, 2016