News
Life Lessons
---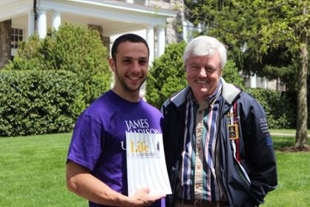 At James Madison University the phrase "Be The Change" exemplifies members of the Madison community who strive to make a difference in the world.  Senior Andrew Mortillo has gone above and beyond to change the lives of JMU students.  What started out as an independent semester class his junior year turned into something much more than three credits.  Mortillo created a magazine for students titled, Life lessons from JMU professors.
"The idea came partially from my own personal change at JMU and from a book I read over the summer," said Mortillo.  After struggling and feeling lost his first two years at JMU, the psychology major decided to create an independent study that would address his doubts, concerns and questions.  Mortillo created a list of questions that addressed issues for which he wished he had guidance and ones he knew would help other students in similar situations.  From there, he chose professors and staff from JMU to answer the questions based on his own experiences and recommendations from other students.  "I tried to think in terms of: If I could meet my ultimate role model, what were some burning life questions I would want to ask them?" said Mortillo.
Although it started out simple, the project soon evolved into a 28-page magazine with a team of four students working on the finished project including a graphic designer, photographer and public relations student.  The team secured funding from the Student Government Association for an initial run of 2,000 copies.  Based on the positive reception and the excellent content, JMU's Orientation office announced it would cover the costs for a second run – 5,000 copies distributed to incoming freshman and transfer students for fall 2013.  
Mortillo said that getting class credit for the project was just a perk.  Like many students he was passionate about a topic that was not necessarily offered as a part of his curriculum – so he designed his own independent study course.  Independent study advisor and Associate Professor of Psychology Bill Evans said independent study courses are a unique experience for professors as well as students. "Independent study projects allow me to get to know the students one-on-one, or at least in small groups of three to four people."
Offered in every academic unit at JMU, independent study courses give students an opportunity to design their own faculty-supervised course.  Evans noted that his independent study advisees meet every three weeks during the semester to discuss their topics in-depth.  "The great part about independent study courses is that projects like Mortillo's have a chance to be created."  Evans said, "It is projects like Andrew's that really affect the JMU community. The magazine is inspiring, motivational and a clear challenge for students to live a more meaningful life and to give themselves to something beyond themselves."
Mortillo is thrilled with the way Life lessons came together and that so many JMU students will be exposed to the excellent advice offered by faculty and staff in the magazine.  Mortillo, for one, has been changed by his experience with the project.  "When I first came to JMU I had all of these expectations of how college life would be, what I would get out of college and what would happen after college," said Mortillo.  "I began to realize that I couldn't just expect things to happen or be handed to me. I had to take action and responsibility for the type of Madison experience that I wanted, which included developing as a person and leaving a lasting impact. College is only worth as much as you put into it, and I wanted my college education to be worth much more than just a piece of paper."
Copies of Life lessons from JMU professors can be picked up from magazine stands in both Carrier and Rose libraries.
###
By Cassandra Lenski ('13), JMU Public Affairs
August 19, 2013
Published: Monday, August 19, 2013
Last Updated: Tuesday, April 17, 2018