Arts and Culture
Dress and Identity in African Cultures: A great IDEA
---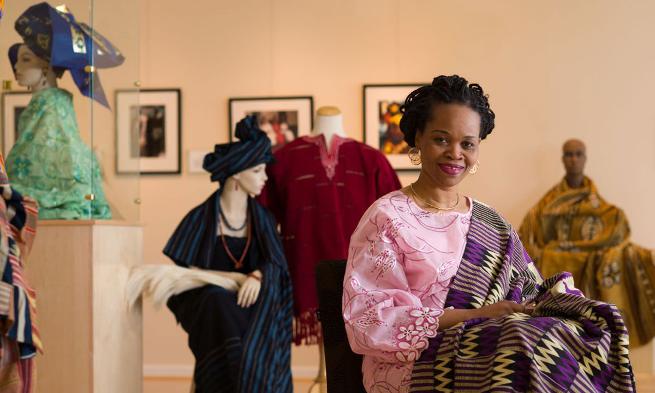 A professor's vision and JMU's Innovative Diversity Efforts Award program come together and provide students with real-world experience and a window into cultural diversity
By Kelley Freund ('07)
Aderonke Adesanya, Assistant Professor of Art History in the School of Art, Design and Art History, was eager to share her knowledge about, and give others the opportunity to explore, the diverse traditions found in Africa. In particular, she wanted to share ideas about African dress and culture¿she just needed the resources to bring her idea to life.

That's where JMU's Innovative Diversity Efforts Award program entered the picture. IDEA grants provide funds to students, faculty and staff members who want to enrich the diversity of JMU. Adesanya's idea? To have her ARTH 491 Exhibition Seminar course culminate in an exhibition entitled Dress and Identity in African Cultures. Adesanya applied for, and won, an IDEA grant. "This grant was the launch pad," says Adesanya. "It was pivotal to what we did."

The focus of the exhibit seminar class was very important to Adesanya. She wanted students and visitors to the exhibit to see firsthand how diverse traditions are reflected in African dress and culture. There are major regional differences in Africa's dress traditions just as there are diverse cultures on the continent. There are also similarities. Students learned what constitutes dress in Africa, how dress embodies identity and the types of identities signified by African dress. For instance, dress is used as a reflection of religion, sexuality and leadership as well as other ideas.

The students' task in the class exercises led to an integrated approach incorporating discussions, digital story telling, writing assignments and creating an exhibition as the concluding event of the class. "We surveyed the continent taking samples from all four compass points," says Adesanya. "We conducted in- and out-of-class exercises that ensured that students carried out research on some of the traditions in the survey. These culminated in their essays featured in the exhibition catalog."

Staying true to the hands-on nature of academic experience at JMU, Adesanya assigned roles for the different aspects of the exhibition so that the students would have ownership of the project. Everyone became responsible for something in the program. There were roles such as exhibition floor manager, mannequin manager, and publicity manager. Other students coordinated exhibition labels. The students also designed the T-shirts they wore for the exhibition opening.

"This department has a tradition of allowing students to really participate in projects going on in the school," says Adesanya. The programs and activities involved in preparing the Dress and Identity in African Cultures exhibition even got support from people who were not enrolled in the class. For instance, a senior graphic design student created the catalog to go along with the exhibit.

"We really used our own resources," says Adesanya. "Faculty in the school were also involved and supportive. I have such high regard for and a sense of gratitude toward my colleagues."

Career preparation was one reward of the students' experience. As they participated in the numerous components necessary to create such an exhibit, they received valuable gallery and museum experience. "This was such a good preparation," says Adesanya, "especially for those who wish to explore museum studies and pursue career tracks in museums. The whole exercise from the exhibition seminar to the final exhibition was intensive for both the students and me. It was so much hard work; however, at the end of the day; the success achieved was worth all the trouble. We sweated, and then we smiled."

But there was another reward¿Adesanya feels the experience was very insightful for her students. "They saw people (not only Africans) and identities as onions that you keep peeling to reveal yet another layer," says Adesanya in her introduction to the exhibit's catalog. "By their individual studies and group collaborations, they have acquired new skills, taken great strides in increasing their awareness of and care for other cultures, and have promoted the diversity culture of JMU ... At JMU there is a growing effort to nurture diversity. We are open to diverse cultures and ideas and we welcome students of different cultures. JMU has that spirit of multiculturalism."
Published: Wednesday, May 15, 2013
Last Updated: Thursday, October 20, 2016