News
69 years later, Normandy matters
---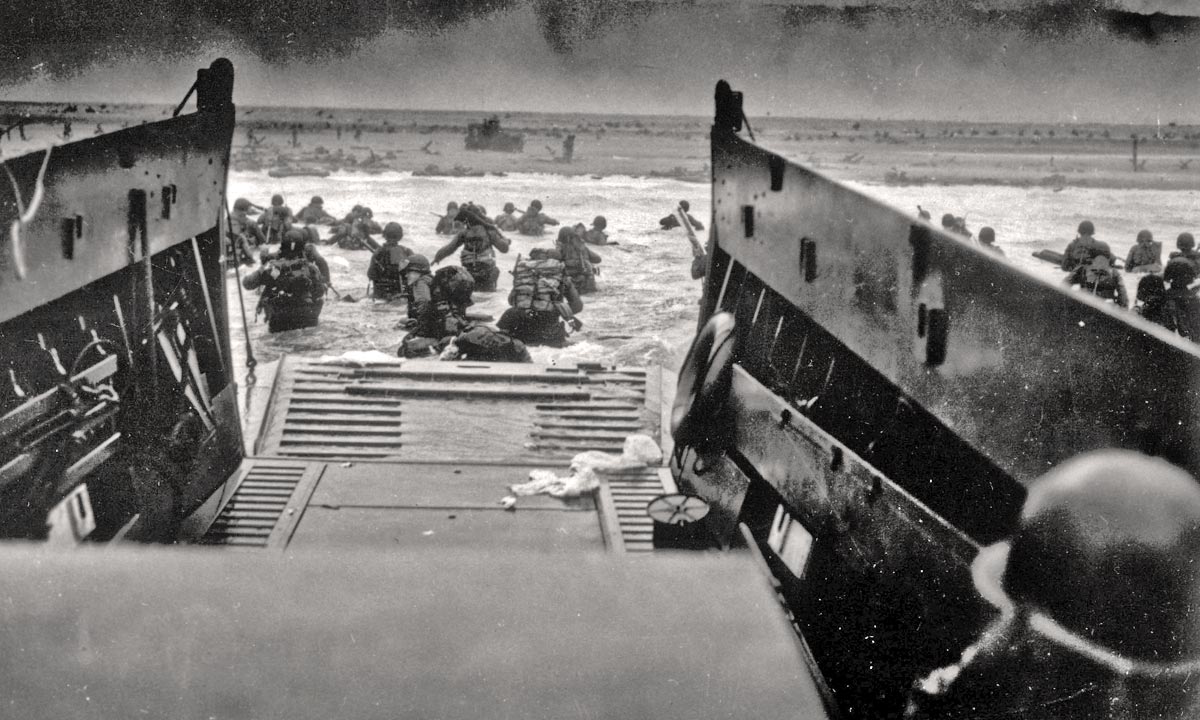 D-Day amphibious landing on a beach at Normandy, France. (Copyright Associated Press)
More than two generations removed from an event, even one as monumental as World War II's D-Day, how do you grasp the reality of history to ensure that people today and in the generations to come remember sacrifice that turned back evil?
Organizers of a James Madison University study abroad trip, Civilization, Culture and Memory: Paris and Normandy, believe equipping future teachers with first-hand accounts of the events of June 6, 1944, and the ensuing weeks of the Normandy Invasion is the answer.
Dr. Michael J. Galgano, professor of history, and retired Lt. Col. Peter S. Combee, a 1980 JMU alumnus who teaches American military history in the Department of Military Science and who serves on the board of directors and as military historian for Normandy Allies Inc., are leading the July 6-27 study trip, a partnership between Normandy Allies and JMU.
Galgano believes the courses and travel experiences will benefit each of the 10 JMU undergraduate students and one University of Virginia student participating in the trip. "For those who are going to teach, I'd like to see more of a presence of the study of World War II and the importance of what Tom Brokaw calls 'the greatest American generation' in their classrooms. It seems that one way of preserving memory is through the classroom for the next generation of young people.
"For all of them, as American citizens, I'd like to see them have an appreciation and an understanding of the sacrifices Americans and people from other countries made to bring about an end to the Nazis. That's a very important lesson to learn that the collective confrontation of evil is important. It represents one way in which active citizenship is still a great value."
The students will begin their journey in Paris, where Galgano will teach history and culture through several walking tours of the city and visits to Rouen, Chartes and Mont St. Michel. "They'll get a sense of the prehistory, the history of World War II and the reconstruction of this region since then," Galgano said. "What stands out to me most vividly about the reconstruction is in many cases authorities went out of their way not to restore buildings to cover up what happened in the war," noting that marble structures were often repaired with concrete to preserve the structural integrity of buildings without completely restoring the appearance.
Students are doing much of their reading and research prior to the trip. "I don't want them carrying textbooks," Galgano said. Referring to oral histories on a BBC website and Library of Congress materials, students are writing several academic papers while they are stateside so they can immerse themselves in the French culture in July. One assignment is in preparation for participation in a ceremony at a British and American cemetery where students will present reflections on individual soldiers buried there. In the Canadian sector, students will place maple leaves on a monument to soldiers who were executed by German soldiers.
Such memorials are important in France. An estimated 10,000 French citizens maintain the graves of Allied and German fallen, Galgano said. "We want to study a combination of what happened during the Normandy invasion in the various sectors and the ideas of what happened, why it happened, how it happened and then how it is remembered in French memory. For me, that has become one of the most significant aspects, and I think it will be one of the most meaningful for the students. It's very much a part of the living French memory."
Combee, whose 22-year career in the Army has instilled a deep respect for Normandy and all it represents, said, "They understand loss and the sanctity of individualism and their own uniqueness as a country."
Drawing from his 20-plus trips to Normandy and details from a book he wrote for use by Normandy Allies, Combee will teach a separate course about the military operation. "Over 11 days we're studying the whole complexity of the battlefield," he said. Landing 150,000 troops on that June day, "it was a massive operation to coordinate."
"It's really a study of the tenacity of the American, British and French commandoes that went in on D-Day and their ability to fight through all the odds that were against them," Combee said. "A lot of the units were green, had never been bloodied in battle and experienced."
A lieutenant named Alvin Ungerleider was one of the young men who landed at Omaha Beach. He survived the onslaught, served in the Army, achieving the rank of general, until he retired in 1978 and helped establish the first Normandy Allies program. When JMU's partnership with Normandy Allies was established, Ungerleider's son, Daniel, a JMU alumnus, contacted Galgano to offer scholarship assistance to make participation in the program possible for a student and to honor his father's memory and service in the pivotal campaign at Normandy.
The study trip "is a very good mix of military history – planning, logistics and the execution of a historic event – but equally important is the historical memory and the blending of an American and French alliance that I think is very important for students to understand," Galgano said.
The history professor anticipates the trip's experiences will enlarge his students' perspectives of the host country. "I think we have a gross misunderstanding of France in our country and a very negative impression of France and the French," Galgano said. "I want my students to come away at least questioning that prejudice because the experience they will have will contradict it without any question. I think they will be amazed at how open, how friendly, how warm, how welcoming the French are."
# # #
 May 31, 2013
Published: Friday, May 31, 2013
Last Updated: Thursday, October 20, 2016