News
JMU engineering students on team attempting record crossing of U.S.
---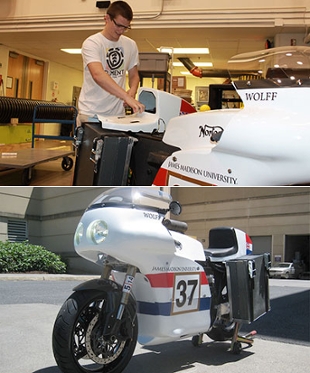 Will Hays (top photo), a sophomore engineering major, works on the instruments that will be collecting data during the 2,500 mile trip.
Engineering students at James Madison University are getting some hands-on experience in support of an attempt to break the world record for crossing the United States with an electric vehicle.
On Monday, June 3, a 1966 Norton Atlas motorcycle fitted with battery packs and monitoring equipment tested by JMU students, will leave Jacksonville, Fla., for what is hoped to be a three-day, 2,500-mile ride to Santa Monica Pier in California.
The JMU students, under the guidance of Dr. Robert Prins, assistant professor of engineering, have been testing batteries and building a harness to attach the batteries to monitoring equipment. One of the challenges, Prins said, is dealing with batteries that charge at different rates. All the batteries need to be charged to the same voltage.
The team also has been modeling energy usage and testing equipment to make sure it will work on the trip. The bike, to be ridden by former AMA Superbike champion Thad Wolff, has been fitted with two battery packs and will draw power from one pack at a time.
The bike will make about 20 pit stops for recharging by a generator that will be carried by a support team. Sophomore engineering major Will Hays and engineering lab manager John Wild will be part of the support team. Other JMU students involved with the project are senior John Edinger, senior Sam Osterhout, sophomore T.J. McKeever and sophomore Matt Lewis.
Moto Electra Racing of Blue Grass is leading the attempt. "Our goal is to challenge perceptions about the useful range of electric vehicles, and set a world record in the process," said Brian Richardson, manager of Moto Electra.
Prins, who has worked with Richardson on other projects, received a $5,000 4-VA mini grant in February to fund the students' work and travel costs. The 4-VA consortium was organized in 2010 by the presidents of JMU, George Mason University, University of Virginia and Virginia Tech, in an effort to foster collaboration and to meet the needs of the commonwealth identified by the Governor's Higher Education Commission and his Jobs Commission.
# # #
Published May 29,  2013
Published: Wednesday, May 29, 2013
Last Updated: Thursday, October 20, 2016