News
Semester in Salamanca program turns 25
---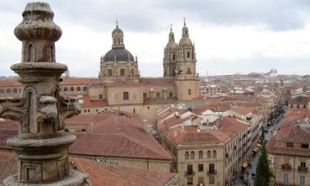 The city of Salamanca, about two hours west of Madrid, has a rich and storied history. For many JMU students, it's also the perfect size.
The University of Salamanca was founded in 1218 and began welcoming international students in 1474 during the Renaissance. The first group from James Madison University didn't arrive until five centuries later, but since then more than 2,000 JMU students have experienced their own rebirth in Salamanca and emerged with a deep and lasting appreciation of the language and culture of Spain.
JMU's Semester in Salamanca program, which was pioneered by former professor of Spanish Dr. Carmenza Kline, celebrated its 25th anniversary in April with special events including a reunion at Madison for past participants and a reception for JMU administrators at the University of Salamanca that included a press conference to announce plans for a new joint master's program.
"Any relationship that lasts 25 years requires hard work, dedication and nurturing," JMU Provost and Senior Vice President for Academic Affairs Dr. Jerry Benson said.
"We're blessed to have such a wonderful partner, and not just a prestigious European university but one that is supportive of JMU and our efforts," added director of study abroad programs Felix Wang.
For many participants, the Semester in Salamanca program was life-changing.
"I think it was where I learned how to learn," said Alli Alligood ('88), a member of the first JMU study abroad group in Salamanca in the fall of 1987. "To be in a class where someone is poetically describing architecture and art and then to walk out into the city and see it was awesome. It was the first time I was exposed to that much culture, that much art, that much history and language and a whole different social order all at once. I appreciated every morsel of the experience."
"We were studying hard during the day, taking tests and writing papers in a language that was secondary for most of us, and then in the evenings we were exploring a new city and a new country and taking historic tours," recalled international affairs major Ashley Basmajian ('02), who studied in Salamanca in the summer of 2000.
"Without the trip I don't know if I would have gotten my Spanish degree and gone on to be a teacher," said Monica Boyd ('88), a member of the 1987 group who taught high school Spanish for nine years. "It very much improved my reading and writing as well as my understanding of the culture."
Psychology major John Ehlers ('06), part of the spring 2005 group, uses Spanish in his work as a family counselor in Northern Virginia. "Because of my language abilities my agency is able to work with Spanish-speaking clients. I got a real basis for the language [in Salamanca] that I could apply to any dialect."
Because classes in the Semester in Salamanca program are taught entirely in Spanish, applicants are required to have a certain level of proficiency with the language. Another unique aspect is that students live with host families rather than in residence halls.
"To eat the food and to establish relationships with the families and see how they lived was something that should be a part of all study abroad programs," Boyd said.
The city of Salamanca, about two hours west of Madrid, has a rich and storied history, counting among its famous residents Hannibal, Christopher Columbus, Fray Luis de Leon, Cervantes and Unamuno. The city has retained its medieval charm. For many JMU students, it's also the perfect size. "It's big enough so that the students always have something to do, but small enough for them to be able to walk everywhere and feel safe," Wang said.
During the semester, students also travel to other cities in Spain, including Barcelona, Madrid and Grenada, to broaden their understanding of the Spanish people and culture.
"Seeing the Mediterranean lifestyle was striking and wonderful because it gave me a glimpse of a different way to live," Ehlers said. "The people I met there were warm and worldly and they didn't define themselves by their work. It's more about community and visiting with family and friends and just enjoying life." 
Noemi Dominguez, vice rector for international relations at the University of Salamanca, said the success of the partnership with JMU lies not only in academics and cultural exchange, but also in the lifelong friendships that develop among participants. "I think that speaks volumes about our program," she said.
"Our students are extremely motivated, they're very bright and their Spanish is very strong," said Dr. Lee Sternberger, executive director of JMU's Office of International Programs. "Having that level of language skill really allows them to delve into the culture. The faculty in Salamanca are tremendous and our faculty in residence there are equally involved, so it's a real partnership."
From its inaugural Semester in London program in 1979, JMU has become a national leader in participation in study abroad. In fact, JMU ranked second in the nation in 2010-11 in the total number of students who studied abroad and second in participation in short-term programs, which are generally offered during the summer.
Today JMU students enjoy literally a world of opportunities for international study, including semester programs in Salamanca; Antwerp, Belgium; Florence, Italy; Beijing; and London; graduate programs in Florence and Malta; and more than 60 short-term programs spanning the globe. 
### 
By Jim Heffernan ('96), JMU Public Affairs
May 28, 2013
Published: Tuesday, May 28, 2013
Last Updated: Thursday, October 20, 2016