News
Accessing your disability
---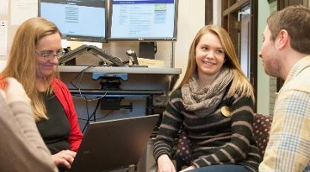 Junior Jenny Schmit (center) works on the Accessible Media program with her colleagues. 
[Jump to Disability Awareness Week schedule]
James Carter knows the struggle of living with an invisible disability but he also knows the joy of asking for and receiving help. After years of being labeled "stupid" and being told by educators that it was unlikely he would make it through school, James was diagnosed with dyslexia in high school. Fifteen years later he decided to further his education at James Madison University through the adult degree program. Knowing he would need help, he reached out to the Office of Disability Services. 
"The type of dyslexia that I have means that I have to see and hear to be able to remember things," said Carter. In order to retain information from his textbooks he would record himself reading and play it back so that he could hear the words while simultaneously reading. Carter describes this as "exceptionally time intensive."
ODS works tirelessly on behalf of JMU students with disabilities to create an environment as free from barriers as possible. Matt Trybus, disability services specialist, says ODS believes a disability is an interaction between a person and the environment.  "So there are definitely limitations that people will have as a result of their disability but if you design the environment in a certain way it will remove the barrier for the person," said Trybus.
In Carter's case it was connecting with the Accessible Media and Technology program within ODS. Accessible Media serves more than 50 students each semester who request help with converting print and video into a format such as E-text, large print, audio, accessible PDF or braille. The office also focuses on helping staff and faculty ensure that software, class materials and websites are accessible to people with disabilities. 
Trybus said the Accessible Media program has developed dramatically in the past couple of years and attributes much of the success of the program to the student employees who bring fresh ideas and updated technological skill to the program. Jenny Schmit, a junior media arts and design major, has worked for Accessible Media and Technology for several years. She has used the knowledge she's gained from her major to caption videos and to start a twitter account, @JMU_Alt-Text. Schmit said the student staff meets one-on-one with the student requesting help and they often hear what a difference they are making to that student.
For Carter the process of submitting a request form online to downloading a PDF document and mp3 file for each chapter from blackboard only takes a couple of days. "The combination of reading and hearing increases my retention dramatically," said Carter. "Without this service there is no way I would be able to process the volume of reading required to complete my classes."
Students, faculty and community members are encouraged to learn more about overcoming barriers during Disability Awareness Week, March 26-30. A highlight of the week will be motivational speaker, author, entrepreneur and athlete Kyle Maynard. Maynard was born with congenital amputation, meaning he has arms that end at the elbows and legs near the knees. Maynard has wrestled for one of the best teams in the Southeast, set records in weightlifting, fought in mixed martial arts and most recently became the first man to crawl on his own to the summit of Mt. Kilimanjaro, the highest mountain in Africa.
Spurred by his parents' drive for him to be as independent as possible, Maynard strives for the "pursuit of normalcy." Maynard has won dozens of honorable awards such as GNC's World's Strongest Teen, 2004 ESPY award for Best Athlete with a Disability and the Highest Recognition Award of the Secretary of Health and Human Services for his efforts as a life role model, motivational speaker and humanitarian.
The JMU community is invited to participate in Disability Awareness Week:
March 25: ODS Open House, 11 a.m.-1 p.m., Rooms 103, 104, 107 and 208, Wilson Hall: An interactive tour showing how ODS provides access and accommodations for JMU students. 
March 25: Panel Discussion, 3-5 p.m., Room 405, Taylor Hall: Sponsored by Deloitte Services.
March 25: Movie Night, "The Hammer," 7 p.m., Moody Hall Auditorium:  A coming-of-age drama following the life of Matt Hamill, the first deaf wrestler to win a National Collegiate Wrestling Championship.
March 26: Keynote Address, Kyle Maynard, 7 p.m., Wilson Hall Auditorium:  Kyle Maynard is a motivational speaker, author, entrepreneur and athlete.  
March 27: Adapted Sports Showcase, 4:30-6 p.m., Godwin Gymnasium: Back by popular demand, the Disability Sports Showcase is an event where students can learn about and participate in adapted sports. A few feature events will include wheelchair basketball, beep baseball and goal ball. 
March 28: Movie Night, "Ray," 6 p.m., Transitions, Warren Hall: The profile of the life and career of the legendary music pianist Ray Charles.
Related Links:
Office of Disability Services http://www.jmu.edu/ods/
Disability Awareness Week http://www.jmu.edu/ods/awarenessWeek.shtml
Report Barriers http://www.jmu.edu/barriers/report.shtml
# # #
March 22, 2013
Published: Friday, March 22, 2013
Last Updated: Thursday, October 20, 2016