News
Mattern dispels the chill of Madison
---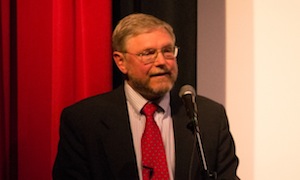 Dr. David Mattern, associate editor of The Papers of James Madison at the University of Virginia, presents an engaging lecture, "Beyond the Marble Man: Who was James Madison?" as part of Inauguration Week at JMU. 
The cold, hard image of James Madison as interpreted in a statue located within the James Madison Memorial Building at the Library of Congress provoked Dr. David B. Mattern to ponder "Beyond the Marble Man: Who was James Madison?"
Speaking Thursday at Court Square Theater in downtown Harrisonburg as part of JMU's Inauguration Week festivities to celebrate the presidency of Jonathan R. Alger, Mattern shared some of his findings from his role as associate editor of The Papers of James Madison at the University of Virginia. "My intent today is to reveal a little about the private James Madison that I've discovered after 25 years of editing his papers," Mattern said.
"The public Madison, the 'marble man,'" as Mattern described him, was the public servant of 40 years who labored for his nation and state as president, Father of the U.S. Constitution, one of the authors of The Federalist, a member of the Virginia General Assembly, the Constitutional Convention, Continental Congress, among other roles. "This is why we celebrate Madison," Mattern said.
Madison guarded his privacy in later life, ruthlessly editing papers and letters that did not pertain to public transactions. But despite such efforts, the study of Madison's papers has yielded glimpses of Madison the man.
Madison was first a Virginian, Mattern said. He benefited from the plantation culture of central Virginia that allowed him the flexibility to engage in local political service that eventually led to higher office. He was a farmer at his Montpelier estate, which made him a slaveholder, despite his acknowledgment of the inequity of the system.
While he was silent about his religious views, Madison was fiercely convinced of the right of religious liberty rather than viewing, as some of his contemporaries did, it as a privilege.
Madison was dignified to the point of severe in his attire and desired to be inconspicuous, Mattern said. But once the day's work at hand was completed and he was among family and friends, Madison enjoyed puns and somewhat bawdy stories. Written recollections of visitors to Montpelier portray Madison as a teller who had the gift of "well-timed and well-told" jokes and stories.
Madison was an affectionate husband to Dolley and an indulgent father to his stepson, Payne Todd. Correspondence between James and Dolley reveals an intimacy that may surprise people who think of them as President and Mrs. Madison, Mattern said. Madison's love for Dolley led him to shield her from some of her son's gambling and drinking consequences. It is estimated that Madison paid $40,000 – without Dolley's knowledge – to cover his stepson's gambling debts.
"Contrary to his own comments and how he wanted to be portrayed, Madison was more than the sum of his public acts," Mattern said, "He was more flesh and blood than marble man."
Following his formal lecture, Mattern weighed in on the enduring question of James Madison's height. The best information comes from the writings of Edward Coles, Madison's private secretary during his presidency, Mattern said. Coles reported that President Madison was 5 feet 6 inches tall but with a small bone structure that made him appear smaller in comparison to others, including his wife, Dolley Madison, who Coles described as equal in height.
Mattern's lecture was supported by the Rocco Forums on the Future.
Mattern highly recommends Ralph Ketcham's biography of James Madison for students of the man JMU honors in name and memory.
# # #
By Janet Smith
March 14, 2013 
Published: Thursday, March 14, 2013
Last Updated: Thursday, October 20, 2016