News
Virginia Nursing Student of the Year focused on saving lives
---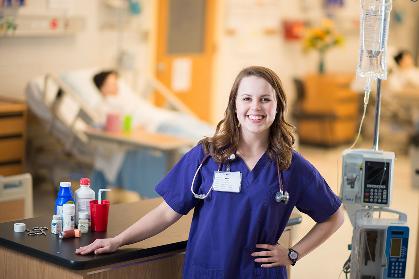 JMU senior Marlee Flynt, of Forest, Va., is the third consecutive Duke to be named the Virginia Nursing Student of the Year. 
Marlee Flynt, a senior at James Madison University, faced a tragedy in her past that helped shape the compassionate nursing student she is today.
When her boyfriend committed suicide the summer before her senior year of high school, Flynt struggled to find direction. "I applied to JMU to study nursing because I like caring for people," she said. "Since coming to JMU and becoming a part of the nursing profession, I have seen how my past has led me to this point."
"While my interest in science and desire to care for others is the foundation of why I originally wanted to become a nurse, my compassion for my patients, life experiences, and my understanding of the value of life is what I feel defines my decision to be the best nurse I can possibly be," Flynt said. "I am excited about the opportunity to make a difference in people's lives whether small or big."
Flynt, from Forest, Va., is the third consecutive JMU student to receive the Virginia Nursing Student of the Year Award, following Miriam Daoud of Poquoson, Va., in 2012 and Alexa Greenstein of Plainsboro, N.J., in 2011.
According to Flynt, "a big part of why I believe JMU students have been chosen three years in a row is that our professors stress the importance of being involved in professional organizations, which gave me the opportunity to go to [Nursing Student Association] nationals last year. Experiences like that take education beyond the classroom and show you that there is so much more to nursing. JMU does a really good job of making us stretch beyond what we are expected to do."
Flynt has been an active member of JMU's NSA for four years and has previously held the positions of media chair and treasurer. As the chapter's current president, she helped lead a mental health awareness campaign on JMU's campus. Flynt and other NSA members disseminated handouts and set up a suicide awareness event that attracted over 200 students.
"Ms. Flynt is an extremely bright, dependable, organized and capable young woman," said Dr. Sandra Annan, assistant professor of nursing at JMU, who nominated Flynt for the award. "Her greatest strengths are her enthusiasm and her ability to rally others behind her."
To complete her nursing degree, Flynt will participate in a capstone project this semester in the emergency department of St. Francis Medical Center in Richmond. Throughout the experience she will be caring for patients from different populations in a dynamic environment.
Flynt's advice to nursing students, which is appropriate for every college student regardless of their major, is, "Do not just focus on your school work. You need to get out and get involved on campus, get involved in organizations and make sure to take time for yourself, whether that is time spent working out, baking or something else. Nursing is very stressful and you are going 100 percent all the time. You need to take a break to take care of yourself so you can turn around and do it again the next day." 
# # #
By Katie Casey ('13), JMU Public Affairs intern
March 5, 2013
Published: Tuesday, March 5, 2013
Last Updated: Thursday, October 20, 2016