Health and Behavior
Suitcase clinics
---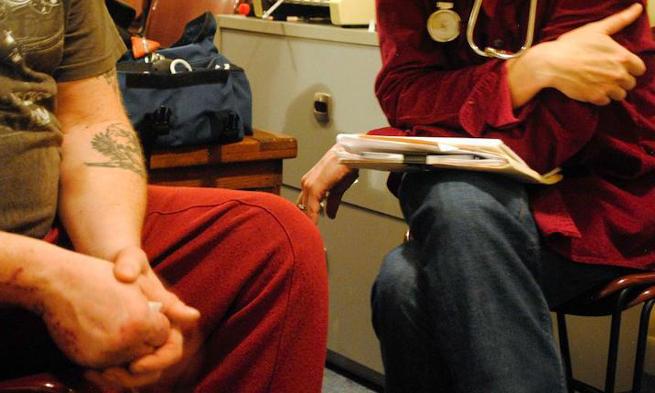 In a back room of the local Salvation Army shelter, Tara Haley pulls a stethoscope and a blood pressure monitor from a suitcase and drapes them around her neck. She takes a seat opposite her patient and leans forward, arms folded.
"Did you make the appointment at U.Va.?"
William's eyes quiver in their sockets as he tries to focus on the visiting nurse practitioner. "No, I haven't."
"Tell me why I'm worried about that."
"Because I'm going blind."
"Do you want to go blind?" Haley asks.
"Not really."
"So make the appointment," she says, reassuringly. "It has to come from you."
William, 47, suffers from diabetes and hypertension. Left untreated, he is at risk of not only losing his sight, but also developing heart disease and kidney failure. If not for Haley's regular visits, he would likely end up in the emergency room. His blood sugar levels have been hovering in the 400s — more than four times that of a normal healthy adult.
William's chronic health problems are compounded by the fact that he is homeless. Like many of his fellow residents at the shelter, he has little to no income and must depend on the generosity of others in the community for necessities, including food. His lunch consisted of a bag of cheese curls.
Haley asks to see his feet, which are swollen. She pricks his toes, one by one, but William barely notices. "If you can't feel this, you can't feel pain," she says. And as a diabetic, he really should be wearing socks with his tennis shoes to keep blisters from forming, she informs him.
"So what are your two homework assignments?" Haley asks. 
"Make the appointment at U.Va. and get some socks."
Haley and a part-time case manager have been making house calls like this twice a week at area shelters since the summer of 2011. The program, known as "suitcase clinics," is a collaborative effort between James Madison University's Institute for Innovation in Health and Human Services and the Harrisonburg Community Health Center.
An innovative approach to delivering primary care services to a vulnerable population, the program is designed to help break the cycle of homelessness by improving patients' health and moving them one step closer to permanent housing.
"Their life circumstances make their health care a complex, layered situation," says Haley, a practicing nurse for 15 years whose passion for caring for the less fortunate was shaped by her time with Mother Teresa. 'The state of poverty affects every aspect of their lives."
There are an estimated 300 men, women and children in Harrisonburg and Rockingham County who are homeless. The five shelters and organizations that are served by the suitcase clinics program — the Salvation Army, Mercy House, First Step, Our Community Place and the seasonal Harrisonburg and Rockingham Thermal Shelter program run by area churches — currently have about 175 residents.
Almost 70 percent of homeless patients suffer from chronic illness, substance abuse or mental health issues. In addition to lacking the money to pay for their medications, or health insurance to seek preventative care, the homeless often feel stigmatized by their condition and may face a lack of compassion in traditional care settings.
Many people are homeless through no fault of their own, says Jane Hubbell, associate director of IIHHS, which coordinates resources and funding for the suitcase clinics program. "They need someone to be supportive and an advocate who can help them walk through the system."
The program was hatched in 2009 when JMU nursing professor Dr. Linda Hulton approached Hubbell with the concept. Their conversation led to the formation of the Healthcare for the Homeless coalition involving JMU and Eastern Mennonite University nursing students, the Harrisonburg Redevelopment and Housing Authority, and local shelters. Student volunteers have put on health fairs and handed out bus passes, and free counseling is available to residents through JMU's Counseling and Psychological Services clinic.
"It's care in its purest form," Hulton says. "By bringing health to a community, you're also bringing hope."
All of Haley's medical supplies fit in a suitcase on wheels, and she carries a tablet computer to link with the community health center's electronic medical record system. The case manager coordinates referrals and helps resolve any barriers to care such as transportation. The program relies on grant funding from the RMH Foundation, the Merck Foundation, the city of Harrisonburg, Columbia Gas Foundation, the Blue Ridge Area Health Education Center and private donors.
The results have been overwhelmingly positive. Patients report a high level of satisfaction. In a survey conducted last summer, 80 percent of clients said the program kept them out of the emergency room.
At least one local homeless man credits the program with saving his life.
"If it wasn't for them, I'd probably be dead," said Martin, a resident at the Salvation Army shelter who is on 13 medications for heart problems, high cholesterol, hypertension, depression and anxiety. "They're great people. I tell them every day how much they've helped me." 
###
By James Heffernan ('96), JMU Public Affairs
Published: Friday, January 11, 2013
Last Updated: Thursday, October 20, 2016