JMU in the Community
A partnership of experience and expertise
---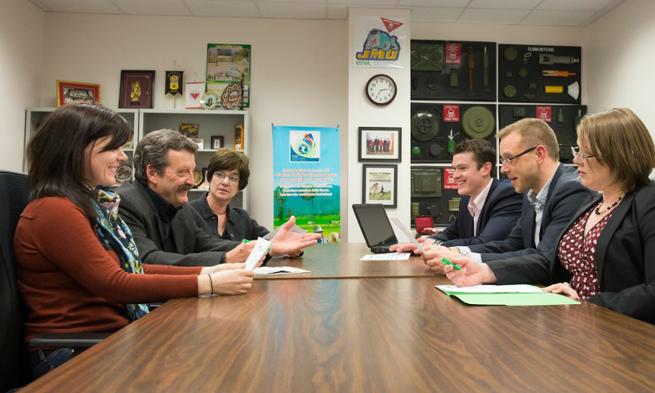 The Partners in Community Leadership Program gives JMU students real-world experience and gives local communities the expertise they need
By Kelley Freund ('07)
James Madison University President Jonathan Alger has a goal. He wants JMU to be the national model for an engaged university. He says that, "a community that combines a commitment to learning with a conviction that all humans are interconnected has the potential to solve any issue..."
The JMU Department of Political Science has already started on this mission. The department launched the Partners in Community Leadership Program, part of the Public Policy and Administration program. This program was formed to better connect with the greater community by making available the expertise of the program's faculty and students. The PCLP offers a variety of assistance to public service organizations. Government agencies, city and county governments, and nonprofit organizations have benefited from expertise offered by program faculty and students.
Projects have included program evaluations for Mercy House, the Harrisonburg Volunteer Fire Company, and the Elkton Area Community Center and the Elkton Police Department.  For the fire department, students produced new fundraising initiatives and created a residency program. For Elkton, students created an economic development plan for the town.
The program allows such organizations to receive free or cheaper services. "We are serving the Valley. A lot of theses organizations' resources are strapped. We're helping them to better meet their mission, " says Dr. Nicholas Swartz, the program's director. "The organizations are getting access to faculty and students at a reduced or free rate, and getting products like a development plan, needs assessment and other things that help the organization improve."
The program is a win-win, in that it also benefits the faculty and students. "By helping the organization, it provides faculty the opportunity to apply theory to practice and it keeps us current in the field," says Swartz. "Students are able to develop more skills and gain real-world experiences."
One of the students in the program had a job opportunity and gave the employer a portfolio of the plan they had done for the class. That student was offered the position and was told it was because of the direct involvement of the project.
"Reciprocal—that's what a partnership is all about," says Swartz. "Seeing that partnership is the most rewarding part of being head of the program."
Programs like PCLP are what set JMU apart from other universities. "This program is innovative," says Swartz. "Other universities might provide internships, but there's no formal program and that makes us unique. It's what Alger is talking about with being an engaged university. We're at a place where engagement is truly valued. It will be great to see JMU as the national leader for engagement as we move forward."
Published: Monday, January 21, 2013
Last Updated: Thursday, October 20, 2016