Science and Technology
Undergraduate research put Wallace on path to medical school
---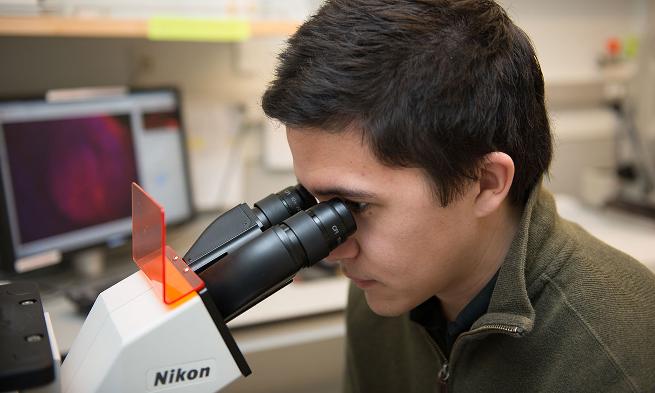 Looking through a microscope and figuring out the mysteries is what Matt Wallace likes best about research. The research Wallace performed as an undergraduate in the JMU biology program may one day lead to advancements in treating people with hearing disorders. In the near term, one result is certain, the experience has set Wallace up to attend medical school, even if the research he does there is different from what he is doing at JMU.
The skills he has learned—microscopy work, lab techniques, learning from the literature and then applying it—are transferrable, said Wallace, a member of the Phi Beta Kappa and Phi Kappa Phi honor societies. Wallace graduated magna cum laude in May 2012 with a bachelor's degree in biology and will continue his studies at the Virginia Commonwealth University School of Medicine. The Loudoun County native is spending this year working as an NIH Outstanding Scholar at JMU for his mentor, Dr. Mark Gabriele. Wallace's position is funded by a grant he helped procure from the National Institutes of Health.
His research has focused on the development of the auditory system, specifically looking at how a family of receptor tyrosine kinase proteins called the Eph-ephrins, assist in the formation of neuronal circuitry. Wallace's thesis, which received the Phi Beta Kappa Award for the Best Undergraduate Honors Thesis, clarified the role ephrin-B2 plays in the development of pathways between brainstem and midbrain nuclei by comparing a normal system to that of a compromised system.
Interested in using his research as a medical doctor specializing in neurology or otolaryngology (ear, nose and throat), Wallace said he didn't know much about neuroscience coming out of Loudoun Valley High School, but he knew he wanted to do research as an undergraduate and felt JMU gave him the best opportunity to do that.
"I came to the spring CHOICES event and talked to the honors program and talked to the pre-med coordinator and spoke to some of the biology faculty and I really liked their message about getting undergraduates involved in research early, whereas, when I went to some other universities, bigger research schools, they really didn't feel undergraduates should be involved in research to the extent that it is here," he said.
Wallace wasn't disappointed at JMU. He started getting involved in research toward the end of his freshman year and picked up the pace his sophomore year. "I've had a lot of great opportunities with Dr. Gabriele and taking our research and presenting it at different conferences around the country," he said.
Among conferences he attended were the 2012 annual conference of the Association for Research in Otolaryngology (ARO) in San Diego, the Society for Neuroscience in New Orleans in fall 2012, the 2011 annual conference of the ARO in Baltimore and the Central Virginia Chapter Society for Neuroscience in Richmond, where he won the best undergraduate presentation award.
Another highlight will be having his first paper published in a highly respected scientific journal, the Journal of Comparative Neurology, which went into print in January. The paper, Wallace's honors thesis, is based on his research with a signaling protein called ephrin B-2. The paper quantifies the anatomy and biological significance of neuronal circuitry changes that result from abnormal ephrin-B2 expression.
Wallace said his favorite part of the research is looking into a microscope and collecting data to analyze. "Forming a story. That is what really gets me excited," he said. "Actually understanding what's going on because sometimes you'll be looking through the scope and not really understand what you're looking at until the data is compiled and all of a sudden you've got something big."
By Eric Gorton ('86, '09), JMU Public Affairs
Published: Wednesday, January 16, 2013
Last Updated: Thursday, October 20, 2016