News
King's courage inspires today
---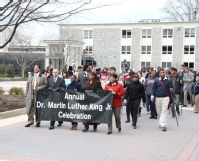 After months of hard work, James Madison University graduate student Alan Jones ('12) is ready to celebrate.  As a program coordinator for JMU's annual Dr. Martin Luther King Jr. Celebration Week, Jones is feeling inspired by this year's theme: "His Courage Will Not Skip This Generation."   The theme was created through the collaborative efforts of five student committees who brainstormed a variety of different ideas that they believed would encompass King's legacy and how it relates to a contemporary world.
"Being African-American with a college degree and afforded the opportunity to pursue higher education, it is a privilege to walk in the legacy and dream that Dr. King left for everyone," said Jones.  "The theme demonstrates that as a generation we have enormous shoes to fill. We still have a long way to go and it will take courage from each of us to be that agent of change for future generations."
Sponsored by the Center for Multicultural Student Services and planned by student-led committees, the week focuses on King's legacy of social justice, civic engagement and community service.  "The whole week we should see the past, reflect on the present and feel encouraged about the future," said CMSS Director Valarie Ghant. 
One of the highlights of the week is the March and Speak Out on Jan. 17.  Ashley Stovall, a second-year graduate student studying college student personnel administration, leads the student team planning the March and Speak Out.  Stovall said that during the March, students will perform scenes to demonstrate what King stood, lived and marched for.  "At the end of the March, we will have the Speak Out portion which gives students, staff and faculty a safe place and opportunity to reflect on MLK, his impact and the contributions he has made to us as a people," she said.
The formal program will take place in Wilson Hall on Jan. 21 at 7p.m.  This year's keynote speaker, Marc Lamont Hill, Ph.D., was named one of America's top 30 black leaders under 30 years old by Ebony Magazine.  A graduate of the University of Pennsylvania, Hill is now a successful mentor, television show host of "Our World with Black Enterprise," associate professor at Columbia University and award-winning author.  Hill is heavily involved with his community and is a longtime social justice activist.  "He is sort of a hip-hop Renaissance man," said Jones.  "I believe students will find him engaging, impactful and a phenomenal speaker."
CMSS and the students involved in the planning for the week think it is very important to celebrate King's legacy today.  "What I want most for the students that I work with is to be courageous—even in the small facets of their lives. If we remember the big things MLK did, it shouldn't be too hard for us to make little steps towards that same vision," said Stovall.
The community is invited to join JMU in honoring King's work at the following events:
Jan. 14-18: Commons Days, 10 a.m.-2 p.m. Monday through Friday on The Commons: Several student organizations sponsor booths and events in the spirit of service embodied by Dr. Martin Luther King Jr.; activities include canned food and clothing drives, arts and crafts and other philanthropic opportunities.
Jan. 16: Community Service, 3-5 p.m., Generations Crossing Adult Day Care, Harrisonburg.
Jan. 17: March and Speak Out, 4-6 p.m.: Members of the university community are asked to gather at 3:50 p.m. at the James Madison statue in front of Varner House for the march through campus that ends in Transitions in Warren Hall.  Along the route, participants will witness several interactive scenes that depict past and present injustices that touch the civil rights movement.  During the Speak Out, people are encouraged to share their reflections on King, his dream and legacy.
Jan. 18: Community Service, 3-6 p.m., Second Home Child Care Center, Harrisonburg.
Jan. 20: Unity University Sunday, 11 a.m.-1 p.m., Transitions: Sponsored by Alpha Kappa Alpha Sorority Inc., Delta Sigma Theta Sorority Inc. and Zeta Phi Beta Sorority Inc.
Jan. 21: Formal Program, 7 p.m., Wilson Hall Auditorium: The program will honor the life of King through words, drama and music.  Keynote speaker Dr. Marc Lamont Hill is a hip-hop intellectual, mentor, television show host, professor and journalist.  His thoughts on education, politics and culture have appeared in multiple media sources.
Jan. 26: Community Service, 7 a.m.-5 p.m., Habitat for Humanity, Franklin, W.Va.
For more information contact the Center for Multicultural Student Services at (540) 568-6636 or visit http://www.jmu.edu/multicultural.
###
January 14, 2013
Published: Monday, January 14, 2013
Last Updated: Thursday, October 20, 2016