Being the Change
Give and Surf, Inc
---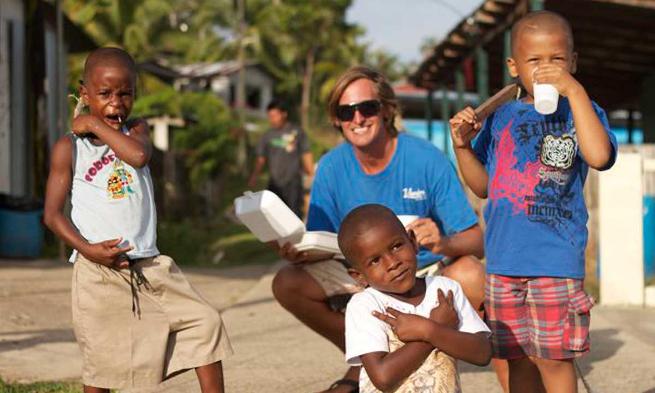 By Gabrielle Piccininni ('11)
Volunteering around the world was something Christiansen always knew he wanted to do, but the idea was always silenced by larger questions of how? when? money? and where? "I knew I wanted to do it," said Christiansen. "It was just a matter of time and building the courage to leave a life that all those closest to me thought was ideal."After graduating from JMU with a marketing degree, Neil Christiansen ('06) sold medical devices in North Carolina. Five years later, instead of waking every morning to an alarm clock and the prospect of a hectic commute, Christiansen now wakes to a salty sea breeze, only steps away from Caribbean-blue water. How did he get here? He simply quit his job.
The hunt for the perfect volunteer program began. When Christiansen could not find a nonprofit that was right for him, he decided to create his own. Marrying his biggest passions—helping others and surfing—Give and Surf, Inc. was born.
Located in a small island chain called Bocas del Toro off the northeast coast of Panama is the kite-shaped isle of Bastimentos. From here, Give and Surf works with the indigenous community, the Ngöbe-Buglé people, in Bahia Honda as well as the Afro-Caribbean townspeople of the Old Bank. Give and Surf works to improve the sanitation and hygiene of these communities to evade disease and to improve their overall standard of living.
Ngöbe-Buglé is Panama's largest Indigenous group. Once known as fierce warriors, the Ngöbe people have steadily lessened their contact with neighboring communities. "In a world that requires economy," as Christiansen put it, the Ngöbe resist acclimating to the modern changes around them, which poses a threat to their survival. With help from La Loma Jungle Lodge, an eco-friendly resort that employs some members of this community, Christiansen went to work with plans to improve their way of life without compromising their culture.
The plans included playground/community construction projects, water catchment tank installations, beach cleanups and educational programs—specifically a preschool.
There is little sense of community among the Ngöbe because they are traditionally an isolated people who interact exclusively with their immediate family. This began to change however, as Christiansen, his girlfriend and speech pathologist, Jackie, and a team of Give and Surf volunteers arrived on the scene.
"Bringing the families of Bahia Honda together is such a rewarding feeling," Christiansen said. Describing the unveiling of their first building project—a playground—he recalled, "We had all the children playing on obstacles they had never seen before while parents could not help, but smile and laugh with one another. It was a sight to behold; the community was coming together to share good times with one another. This is something that comes so natural to us but is so foreign to them. Their daily concerns are not what they should bring or wear to the neighbor's barbecue, but rather how they can provide food and shelter to their children."
A typical day for a Give and Surf volunteer "starts with a family style breakfast at our home, then going to Bahia Honda to participate in one of our educational/recreational/environmental programs until lunchtime," Christiansen said. "For lunch we usually eat a local Ngöbe meal after which volunteers may participate in the after-school recreation program with elementary school children. Before dark is the time for volunteers to enjoy the islands with a surf session, snorkeling, late afternoon on the beach, cave tour or sightseeing. Before dinner Jackie will do yoga on the porch with the volunteers."
Since the nonprofit's birth, adults and children in Bahia Honda are increasingly more comfortable and open to change. "As a reserved, primitive indigenous community they have let their guard down," Christiansen said. "They express themselves in ways they are not used to and are embracing changes particularly with education."
In September, Give and Surf opened Bahia Honda's first preschool and library. "I have a feeling this is going to mean huge things for the newest and youngest generation of Bahia Honda," Christiansen said. "Starting this organization is a healthy passion full of ups and downs, but I love every minute of it because the headaches are my own, created by something I can call my own."
Give and Surf, Inc. is a small organization that "relies heavily on having individuals or groups come down for the experience," Christiansen said, "that is why it is so important to build an unforgettable experience for the volunteer." To learn more visit: Give and Surf.
Published: Monday, October 1, 2012
Last Updated: Tuesday, February 27, 2018