Happy Birthday, Duke Dog!
---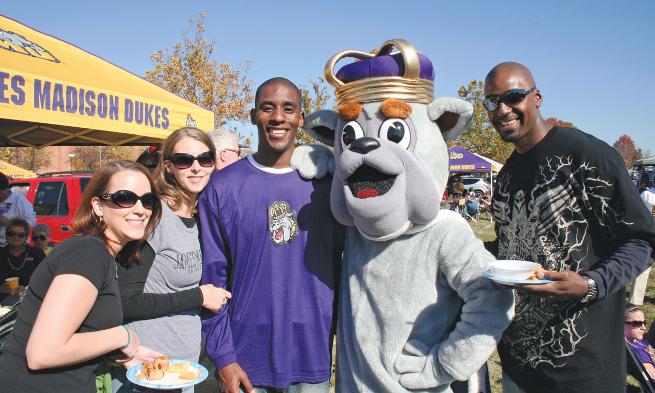 This lovable furball has given out countless high-fives and hugs, posed for pictures and personified the JMU spirit.
By Kelley Freund ('07)
Contributors Michelle Hite and Catherine Martin

There he was. The Duke Dog. THE DUKE DOG!I attended this year's homecoming football game with my dad (Buddy Freund '79). As we were walking to our seats, talking about the Dukes' season, we rounded a corner and what we saw made us stop short.
Perhaps I should preface what I said next by telling you that I'm 28. "Let's get a picture with him!" I giggled, sounding like a six-year-old.
"OK!" my 55-year-old father agreed.
Our lovable Duke Dog is turning 30 (210 in dog years)—it was 30 years ago he made his first appearance to a capacity crowd at the Convocation Center. The idea for Duke Dog came from Ray Sonner, former JMU senior vice president and JMU Foundation President. Sonner's rationale was that the stereotypical pet for British royalty, such as a duke, would be an English bulldog. An actual bulldog first debuted as the official Madison mascot years before, but a live canine was not naturally amenable to the mascot lifestyle. So after Dukes II, III and IV, JMU unleashed a more magnanimous mutt. Serious thought went into creating the new and improved mascot, which Sonner said needed to be "lovable and cartoon-like, not something that was fierce or would scare children. He had to be approachable."
Bringing magic
All 6-feet, 3-inches of JMU's purple and gold festooned furball made his debut in crown, cape and studded collar at the Nov. 30, 1982, JMU/VMI basketball game, the first game played in the Convocation Center. Even though students were on Thanksgiving break, the Convocation Center was packed for the V.M.I. game and the crowd erupted when Duke Dog made his first appearance. Duke Dog brought the same magic as bulldogs Duke III and Duke IV in producing a win in his first appearance. JMU won 58-33.

Student and community reaction to this larger-than-life showman has only grown more enthusiastic through the years. Today, Duke Dog crashes into stadiums on motorcycles, dances to popular tunes, hams it up with cheerleaders, sits in spectators' laps and "dogs" the opposing teams. This top dog has cavorted with Bob Hope, skied in Colorado, ridden an elephant, sauntered down the streets of New York City, ran for the 2004 Capital One mascot of the year and created a Gangnam Style video. With a wag of his stubby tail and a dash of his purple cape, this boisterous bulldog dogs opponents, pumps up fans and serves as a goodwill ambassador for JMU.

Playing the role
Past Duke Dog mascot Jerry Blaze ('87) says "Duke Dog is there to create awareness for JMU, gain positive recognition and serve as a public relations icon." This is one of the reasons JMU alumni who served as Duke Dog took the role so seriously, he says. "I'm a clown at heart, but didn't want to do anything disrespectful that would embarrass Madison. Everyone is looking at you."

Brothers Karl ('85) and Eric Schnurr ('85) shared mascot honors and the identity of JMU's first Duke Dog, whose costume, Eric says, resembled a bear more than a bulldog and whose ears had to be coerced into a "floppy dog look." Duke Dogs past and present have also bred traditions and strict codes of decorum. According to early Duke dogma the man inside the suit remained anonymous. The secrecy was taken seriously by the Schnurr brothers, who concealed their identities from fraternity brothers and friends alike.

The duties of man's best friend stretch beyond the center of attention at football and basketball games. Duke Dog tries to appear at least once a season for each of JMU's different sports. In the past, he even made appearances at birthday parties for Harrisonburg-area children.

But the demands on Duke Dog had to be curtailed as requests became too numerous to meet. To meet demands of those fabulous fans, the JMU Division of Athletics created the JMU Dukes Puppy Pound in 2003. This exclusive kids club for ages 4 to 12 features a Puppy Pound T-shirt, coloring book, prize pack, membership card, an autographed birthday card from Duke Dog, discounts at local businesses, invitations to members-only parties and use of the "club house" at www.jmusports.com/.

Despite the responsibility on his haunches, nothing can slow this popular pooch down. Even when his team is losing, Duke Dog doesn't retire to the doghouse.

"You took responsibility upon yourself to stay up," 1984-87 Duke Dog John Love ('86) explains.

"Put Up Your Dukes"
As part of JMU's yearlong Centennial Celebration in 2007-08, uniquely painted and decorated versions of the Duke Dog statue were created and displayed throughout the JMU campus and Harrisonburg. Many of the "Put Up Your Dukes" Duke Dog statues are still on display around campus. The statues were made by Lee Leuning, the South Dakota sculptor who created the James Madison statue near the Quad.

Many students can say they were student-athletes or academic scholars, but only a few can say they were Duke Dog and that they passed along happiness, joy and kindness to crowds of Dukes.

Last month, as my father and I found ourselves in a rapidly growing line (of mostly six-year-olds), waiting to get a picture with JMU's beloved mascot I thought to myself that we probably should feel silly for doing this. But we didn't. To love Duke Dog is to love JMU. He embodies the purple and gold spirit.

What else would have made me vote obsessively every day for Duke Dog as the 2004 Capital One mascot of the year? (We were SO robbed of that, by the way! Monte? Really? Come on!) Why does my office contain pictures of Duke and Dog and why do I have a Duke Dog sticker on my car? Why do I find myself randomly chanting "J-M-U wish you had a Duke Dog!" Why else would my dad and I have stood in that line?
For thirty years, Duke Dog has personified JMU. He exudes the JMU spirit that alumni, like my dad, come back to experience. It's the spirit that current students want to hold on to as long as possible, that they don't want to let go of on graduation day. It's what I've been lucky enough to experience as a student, as an alum and as a current staff member. The Duke Dog IS our JMU.
Happy Birthday, Duke Dog! We love ya!
Published: Monday, October 1, 2012
Last Updated: Thursday, October 20, 2016