Being the Change
"Building the dream"
---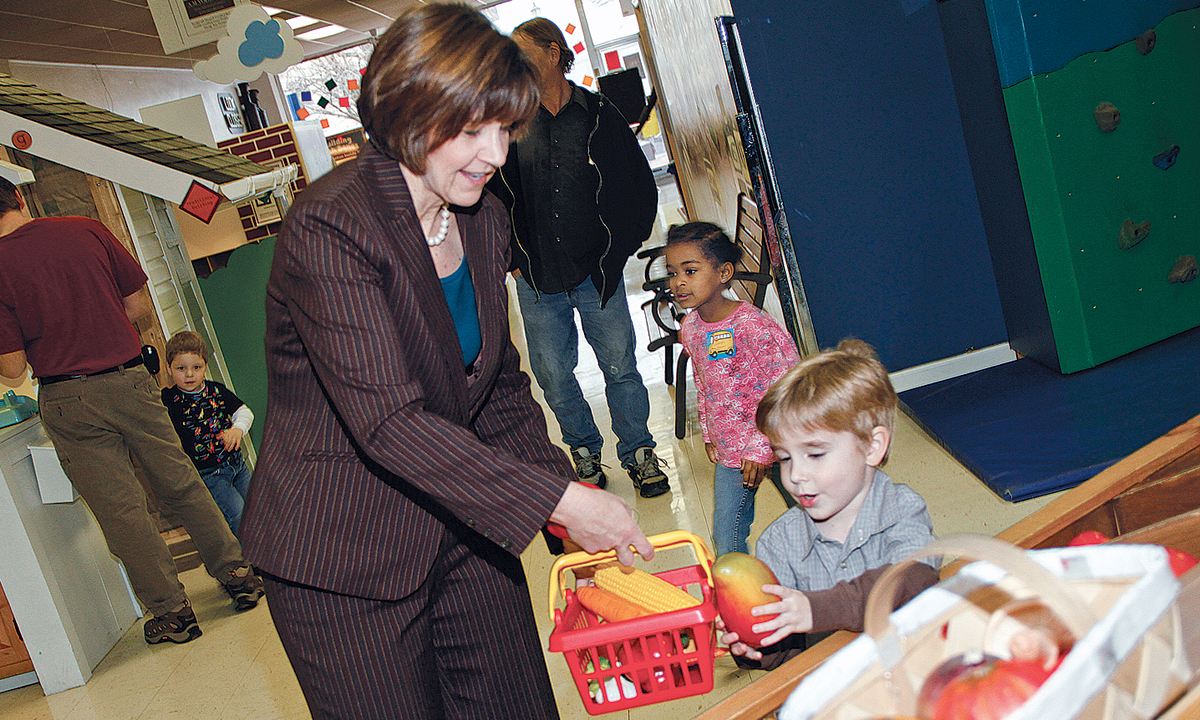 The Explore More Discovery Museum is the result of a dedicated group of Shenandoah Valley volunteers who joined together and made an educational dream come true for the greater Harrisonburg community
Editor's note: What's at the heart of change? While many seek governmental solutions, others identify volunteerism as the key to positive transformation for America. Many service veterans have seen firsthand the power of a group of people committed to a cause. It happens in neighborhoods and communities around the nation — it happens in JMU's community every day. Name a problem, and you'll find a group of people working on a solution. Take a stroll through the neighborhood, and you'll find ample evidence that volunteers bring dreams to life. In the following article for Winter 2011 Madison magazine, JMU's Be the Change Coordinator Martha Bell Graham explores the volunteer spirit at the heart of change.
A children's museum for Harrisonburg
After discovering the joy and educational wealth in children's museums with their two children, Lisa Shull ('85, '91M), formerly an elementary school teacher and supervisor of student teachers for JMU's College of Education, and her husband Brian, economic development director for Harrisonburg, asked themselves, "Why not here?"
"My husband and I decided that we were going to gauge interest in starting a children's museum. It just wouldn't go away. The passion was so strong," Lisa Shull says. "We invited people we knew with varied interests and skill sets."
Together they formed a confederacy of dream builders.
An overwhelming volunteer response
Out of an initial meeting in January 2002 at Massanutten Regional Library, the Explore More Discovery Museum (formerly Harrisonburg Children's Museum) was born. "When we started reaching out to others, it started to snowball," Shull says. "In a whirlwind fashion, we started drafting a mission statement, completing nonprofit paperwork and developing an official name and logo." Three months later, the museum began as a traveling show. "Our first week, we hosted an exhibit called Sheep to Sweater, at the library," Shull says. "Kids could spin and dye wool and there was even a sheep shearing demonstration. "I recall our uncertainty on opening day. We had no idea how many participants might show. Much to our delight, there was a line winding down the street before the doors were open," she remembers.
During seven weeks of that first summer, thousands of children participated in a series of traveling museum opportunities appropriately named Where in the world is the Harrisonburg Children's Museum? "We traveled from location to location," Shull says, "showcasing the many aspects a museum would incorporate, including the performing arts, science, communication, and health and wellness. At the end of the summer, we were overwhelmed with requests asking us to consider opening year round."
So, they found a building. Once again volunteers sprung into action. As Shull looks back, she is amazed at how much work volunteers did and how timely their help was. Shortly before opening the downtown museum, she recalls, the bathrooms desperately needed cleaning. "A man came in off the street. 'I'm a professional cleaner,' he said." The man, whom Shull had never seen before, got right to work. "I've never seen anything sparkle so."
On Oct. 15, 2003, the museum opened on Court Square. Seven years later, the Explore More Discovery Museum hosts more than 35,000 annual visitors, including curriculum-driven field trips in conjunction with many area schools.
A reflection of the community
At the beginning no one — not even the Shulls — knew if the dream would grow wings or how much work it would entail. "I did know that it would be essential to pull others with varied talents together to make it happen and that our museum should be a reflection of our community," Shull says.
Fortunately, the Shulls were surrounded by a cadre of volunteers quickly committed to the vision for a museum designed just for children. Among those volunteers were Tammy ('94) and Ted Brown ('93). Tammy served as volunteer coordinator for the museum until stepping down this year to open a new downtown restaurant called Pennybackers. Brown is unequivocal in her praise for the museum's volunteers. "Without them we couldn't operate."
Shull agrees, adding that volunteer support from JMU has been critical to the museum's success. In fact, the list of JMU supporters is long. In addition to hundreds of students who volunteer, support comes from all quarters of the university including President Emeritus Ronald E. Carrier and Edith J. Carrier, who serve as honorary chairs of the museum's current capital campaign; Harrisonburg Mayor Kai Degner ('03, '05M); board of visitors member, Judy Strickler ('60); Glenda (former JMU staffer) and Pat Rooney, former Marching Royal Dukes director; and dozens of local alumni like Laura Conklin ('86, '93M), Paula Polglase ('92, '96M), and Scott Rogers ('02, '00M).
Academic enrichment for JMU students
Every academic year, JMU's Community Service-Learning Center contacts the museum to organize volunteers, Brown says. Circle K, a service organization on campus, is another significant source of student volunteers, as are academic departments.
"I volunteer because I want to get involved in the community," Jessica Strawn ('12) says. "I missed working with kids. The museum offers a great outlet for this experience." The history major from Roanoke hopes to work in a museum. "I have learned a lot about educational tools and techniques from my work here."
Sophomore Gail Grusler ('12) earned valuable academic enrichment. "The museum has definitely given me more experience working with children. It has further enforced my desire to be a teacher." Grusler, from Cinnaminson, N.J., is studying exceptional education in the Interdisciplinary Liberal Studies program.
A benefit that goes beyond children
The museum's impact on children was a powerful motivator for the volunteer effort. "In the beginning I got involved in volunteering for the museum because I so appreciated what it did for me. I had three small children spanning five years, and it was a place we could all go and everyone could find something to make them happy," explains Polglase, who has served on the museum board for four years. "I now volunteer because of what it can do for our whole community, for what it can do for other children, for the number of school children it can reach each year through field trips, for what it can do for downtown revitalization," she says.
In fact the Explore More Discovery Museum is consistently cited as one of the most positive draws to downtown, and therefore, is an important factor in Harrisonburg's successful downtown revitalization. Museum volunteers are often asked to share the story of their grassroots efforts with other organizations. Area businesses, including real estate agents, regularly arrange visits to the museum for families of prospective employees and potential retirees.
"The children's museum has served as a key attraction to downtown," says Eddie Bumbaugh ('73), director of Harrisonburg's Downtown Renaissance. "Increasingly local citizens and visitors are discovering that downtown offers outstanding attractions such as the Explore More Discovery Museum, plus awesome restaurants and specialty retail shops."
Last year Shull embarked on another adventure almost as daunting as creating the museum. After moving to a renovated Main Street building through a lease/purchase agreement in partnership with the city, a three-phase renovation process began to transform the building into a Mecca for children. The museum's new 36,000-square-feet location will increase the museum's usable space six-fold when all phases are complete.
"Build a [big] dream"
Quite an accomplishment for "just" a group of volunteers. "When I was approached to join the Build the Dream team I had no idea how much work it would be or how long it would last," says Polglase. "We had lofty goals, a ridiculously short timeline and no real experience with fundraising. The first floor of the museum shows both the reality of what can be accomplished and the potential for the next two floors. It's an exciting time to be involved in a project whose sole end product is to bring joy and learning and laughter to the children of the community."
Looking at the effort, the accomplishments and the potential yet to be realized, Shull says, "Dream big and follow your vision. Don't let every detail sideline your ability to move forward. Surround yourself with great people and encourage them to add their gifts to make the project the best it can be."
"Nothing great was ever achieved without enthusiasm," reads a plaque over Shull's desk. Undoubtedly, she would add: "and enthusiastic volunteers."
You could call it a perfect motto for change.
Published: Monday, October 1, 2012
Last Updated: Tuesday, February 27, 2018