Being the Change
A taste of the Appalachian Trail
---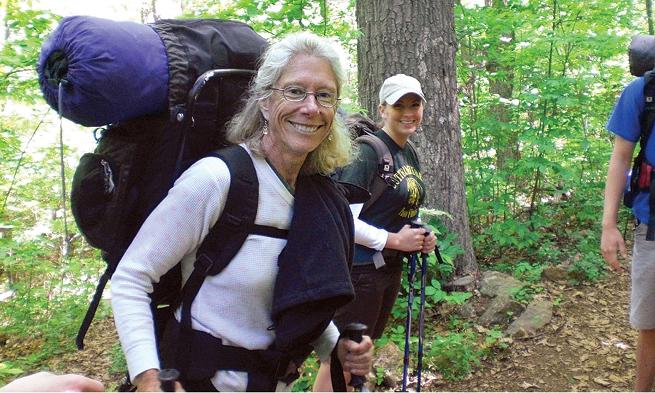 Honors Seminar 302 stimulated my students and me physically, emotionally and academically
By Kate Kessler, honors program

Academic freedom and adventure 
It is extremely rare to be able to teach a class that offers tremendous academic freedom in an adventurous setting — and to be able to combine that freedom and adventure with serious research expectations and academic rigor is exciting. That is exactly what I was able to do last summer with Honors Seminar 302: A Taste of the Appalachian Trail. My course syllabus interwove multiple disciplines — economics, geography, history, sociology and psychology. The course fostered tremendous growth in my students — and in me.
My students — all part of the JMU Honors Program — were able to experience a combination of seminar and geography when they studied and lived on part of the Appalachian Trail.
Experiential and multidisciplinary
We hiked and camped on nearly 70 miles of the Trail around the Shenandoah National Park. My students learned about the history of the Trail, including politics that affected its original creation; studied the flora and fauna along the trail; and learned about the politics that currently affect its preservation.
The JMU honors seminar, A Taste of the Appalachian Trail, engaged students in experiential and multidisciplinary approaches to learn about the national park right in Harrisonburg's backyard.
Community and communication
Throughout the seminar, my students encountered a variety of trail folk, from section hikers to thru-hikers, from ridge runners to trail angels. (Section hikers hike sections of the Trail, and thru hikers hike the entire Trail until finished. Ridge runners are volunteers who patrol sections of the Trail, and trail angels provide the things hikers crave: beverages, snacks and rides into town). The long, linear family of Appalachian Trail hikers is one of the more unique communities in the world.
I also arranged for the author of three of our seminar texts to hike with us for a week. Leonard Adkins, author of 13 books about the Appalachian Trail, was a wealth of information. He knew every plant, animal and mineral along the way.
Students also engaged in one of the world's more unique communication systems: Appalachian Trail shelter registers. Each shelter — and there are hundreds in Virginia alone — contains a register. Hikers, using only trail names, record everything from reflections on the day to dreams of their next pizza. Each shelter has a volunteer caretaker who monitors its register, taking it home for safe keeping when filled.
Defining experience
As a testimony to how much JMU students enjoyed their trail seminar experience, several of them went hiking during this year's Spring Break. Many have also shared their seminar and other hiking experiences with me. "I consider A Taste of the Appalachian Trail to be the defining experience of my undergraduate Madison Experience," says Steven Irons ('10). "Professor Kessler is a quiet, strong presence, which made her ideally suited to lead a hiking seminar. Because of her experience hiking the entire Trail, she was able to offer us a lot of individual freedom to explore our own hiking styles without compromising safety. Our seminar agenda was structured, but also allowed for flexibility. After hiking through our second week in pouring rain, she asked if we would like to return to campus. We unanimously voted to continue on. This fellowship developed because of the respect and trust we had in our professor."
Published: Monday, October 1, 2012
Last Updated: Thursday, October 20, 2016