Faculty and Staff
interior design parklets project
---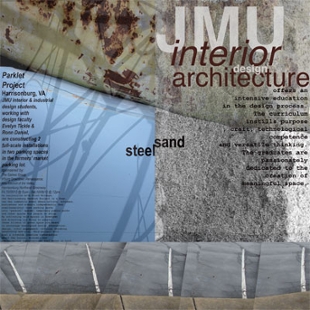 Downtown parking spaces will be transformed into temporary parks this weekend as part of a community benefit event.
The first Harrisonburg "Parklet" Project will take place Friday and Saturday, Oct. 5 and 6, in conjunction with First Fridays in Harrisonburg. The event, which is open to local artists, community members, businesses and schools, includes the work of two teams of JMU interior design students who have constructed full-scale portable installations that will be on display in the farmer's market parking lot.
The project, a collaboration between JMU Kappa Pi, Arts Council of the Valley and Harrisonburg Downtown Renaissance, is intended to show what the city would look like if more public space was allocated for urban parks, recreation, social interaction and other people-centered activities.
"It's a great benefit for the community, and for us it offers the opportunity to showcase the potential of design in the public realm," said Ronn Daniel, coordinator of JMU's interior design program in the School of Art, Design and Art History.
Daniel's team will display a desert landscape. "The students came up with activities associated with the desert such as sun, sand, water, riding a camel, and they abstracted those and brought all the elements together," he said.
A second JMU team under the direction of visiting assistant professor of interior design Evelyn Tickle has produced a steel scape exhibit.
The "parklets," which will be scattered throughout downtown, will be open Friday from 5 to 8 p.m. and Saturday from 8 a.m. to noon.
All proceeds from the event will go to the Harrisonburg Northend Greenway, a community project that will create two and a half miles of green park space throughout downtown Harrisonburg and beyond.
For more information, visit http://northendgreenway.org/2012/07/parklet/
###
Published: Friday, October 5, 2012
Last Updated: Thursday, October 20, 2016