Being the Change
Learning in a community
---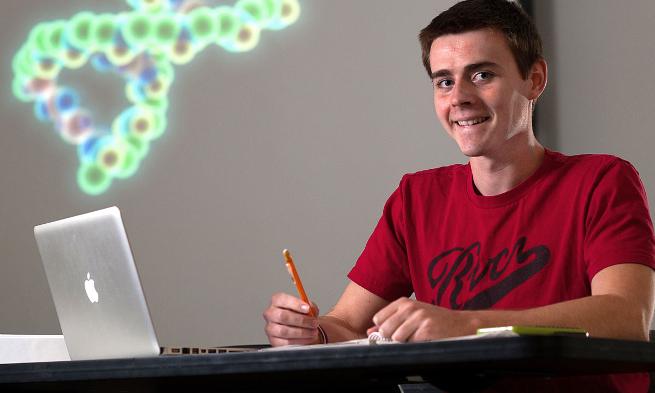 Michael Rudloff ('15)
Williamsburg, Va.
Why JMU?
I liked the campus. When I toured, I got a really good feeling. And I knew a good many students from my high school who are Dukes.
Why did you choose the Huber Learning Community?
I learned about the Huber Learning Community at Choices. I did research on the community and then applied. I'm pre-med, so it's a good fit.
Describe the academic life at JMU.
Rigorous and challenging. I took AP classes in high school and was a serious student. So, I entered JMU with the intent to do well, but I had to work hard. I take academics seriously. I study, put a lot of time into it. What I like about JMU is that the help is here. You can go to a professor, a help center; but you have to apply yourself. My advice is—want to do well. If you do, you'll find the help to succeed.
What is your service-learning experience?
I volunteer with the Valley AIDS Network. There are only three people working in the office, so I pretty much help with everything I can. They work with clients, conduct national surveys and AIDS-awareness programs, and organize events to help raise funds. I created a volunteers' manual. I also helped update medical files ensuring the accuracy of written medical records and electronic files.
 This has been an eye-opening experience. I've come to realize the complex financial and governmental processes involved in HIV/AIDS programs. It is really expensive to treat the disease. You can set up plans and support for someone, and then they decide not to avail themselves of the help. It makes you realize the true complexity of this health issue as you see the effects of individual decisions, financial concerns and economic realities all wrapped up together.
What's your life like outside of class?
I took club swimming my first semester and really liked that. I belong to the American Medical Students Association. It's been really helpful for a pre-med student. You get to know sophomores and juniors who are ahead of you in the program and offer good advice. We also have a number of speakers come to our meetings who really help you understand the breadth of the health career field.
Published: Wednesday, August 1, 2012
Last Updated: Tuesday, February 27, 2018