Arts and Culture
Student films document Bosnia's struggles with reconciliation
---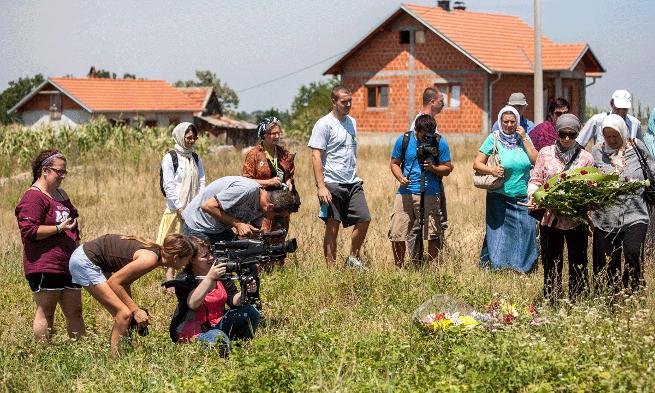 Study-abroad program gives students autonomy to interview, shoot, edit and produce
By James Heffernan ('96)

Twenty years ago, both reports would have been unthinkable. The city of Sarajevo was under siege, its major ethnic groups—Serbs, Croats and Bosniaks—engaged in a violent struggle for territory and sovereignty following the breakup of the former Yugoslavia, and the paper's staff was operating out of a makeshift newsroom in a bomb shelter after its 10-story office building was destroyed. Before it was over, the Bosnian War would claim more than 100,000 lives, many of them under the pall of genocide and other war crimes.On July 5, one of Sarajevo's daily newspapers, Oslobodenje, ran a front-page photo of Bosnian and Serbian officials standing side-by-side, ceremonial scissors in hand, at a ribbon cutting for the opening of a border crossing along the Drina River. On the back page was a brief account of a visit to the newspaper's offices by a group of students from James Madison University.
For five weeks in June and July, eight students with an interest in documentary filmmaking and social justice participated in the first JMU summer study-abroad program in Bosnia and Herzegovina. Their journey produced two short films: "Future Tense," which offers a youth perspective on the deep divisions that persist among the region's various ethnic groups and what can be done in order to move forward, and "A Mother's Walk," which follows the Mothers of Srebrenica on their yearly visit to the fields where their sons, husbands and fathers were massacred by Serbian troops under the command of Gen. Ratko Mladic.
The study-abroad program was developed by JMU assistant professor of media arts and design Shaun Wright and his friend Emir Nurkic Kacapor, who teaches at the University of Zenica in Bosnia. Kacapor serves as executive director of a nongovernmental organization (NGO) that sponsors an annual youth camp in Srebrenica that attracts students from all over Europe. The camp, whose mission is to improve the living conditions of post-war returnees to the region and to educate young people on the importance of peaceful conflict resolution, served as the basis for "Future Tense."
Wright said the goal of the summer program is to examine the role of media in a post-conflict society and to show how documentary films can be used as tools for social and political change.
"We watch these conflicts unfold on television, we experience them through the media, but it's totally different when you see the aftermath firsthand," Wright said. "Bosnia is a very remote, relatively poor country. Most of its industry was destroyed during the war, and they haven't been able to reconstruct. There was no Marshall Plan. To see a city that at one time was as beautiful as Sarajevo still riddled with machine gun bullets and mortar shells ... it's sobering."
For the students, who aren't old enough to remember the Bosnian War (1992-95) or the U.S.-led intervention, it was an experience that will forever live in their memories.
"I had definitely heard about [the war]," said senior SMAD major Alice Nelson, who, like her colleagues, researched the conflict prior to the trip. "But it was still kind of a shock when we got there. You could feel the tension between the people."
"We were driving through Sarajevo on the way to our house, and every building we passed had bullet holes," senior Annie Long said. "It was easy to imagine a war going on. It did get to me."
During the filming of "A Mother's Walk," the students were struck by the sight of bullet casings and wrist ties on the ground in Srebrenica, a full 17 years after the mass killing of 8,300 Bosnian Muslim men on a single day in July 1995. "People were picking them up and collecting them like candy," Nelson said. Many of the unidentified bodies lie in coffins, awaiting proper burial.
"I don't think you realize how little you know about a conflict like that until you go there and see it," said SMAD alumnus Peter Jackson. "The stuff I read now [about Bosnia] seems watered down."
Wright traveled to Bosnia and Herzegovina in the summer of 2011 to lay the groundwork for the program. "I wanted to do it right and make sure we had a lot of support," he said. "I tried to set it up like we were a professional film crew going into a foreign country." Wright was there to assist students as needed, but the interviewing, shooting, editing and production were largely their responsibility.
"I liked the amount of autonomy we had," Jackson said. "We were given leads, but beyond that we were on our own to make it work. That type of hands-on, trial-and-error experience is better than anything you can get in the classroom."
The JMU crew was the first media outlet ever to be allowed to ride on the bus with the Mothers of Srebrenica. "That was a huge honor and extremely humbling," senior Dan Whelding said. The students also conducted an interview with the group's president, Hatidza Mehmedovic, at her home.
"It was such a powerful experience," said Erin Mahoney ('10), who is working toward K-12 teacher certification in art. "They wanted us to see it, to film them, to capture their stories and then to come back to the U.S. and tell people what we saw."
At one of the sites in Srebrenica, Mahoney walked hand-in-hand in silence with a mother as she paid her respects. "We shared a moment without ever saying a word," she said.
The study abroad experience also included documentary film screenings, panel discussions and workshops at the Sarajevo Film Festival as well as meetings with the staff at Oslobodenje, which won an international journalism award for its coverage during the war. The paper managed to publish every day but one during the nearly four-year siege of Sarajevo, the longest of a capital city in modern military history.
The students say despite a certain cautious optimism among the young people in the region—"Future Tense" features Melitca, a young woman from Belgrade who is studying to become a human-rights lawyer—change is likely to come slowly in the Balkans, where ethnic groups are largely segregated from an early age and the political structure can act as an impediment to progress.
"The people are still carrying the cycles of the past with them," Long said. "They're idealistic, but they're realistic at the same time."
Nevertheless, the group says they are excited that their films may be used on the road to reconciliation.
Wright said he was "blown away" by how his students responded to the first-year program. "They really stepped up to the challenge," he said, and he looks forward to taking another group of students filmmakers to Bosnia and Herzegovina in the summer of 2013.

Published: Wednesday, August 1, 2012
Last Updated: Thursday, October 20, 2016