News
JMU prepared for changes to MCAT
---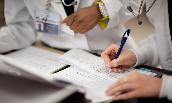 With its strong general education program, its many undergraduate research opportunities and its extensive programming in health and human services outreach, James Madison University is well positioned to prepare its premedical students for the coming changes to the Medical College Admissions Test.
Beginning in 2015, the MCAT will assess not only candidates' knowledge of the natural sciences essential to the practice of medicine, but also the social and psychological foundations of human behavior that affect health. Aspiring physicians will also be tested on their critical analysis and reasoning skills.
The changes, the first to the MCAT since 1991, were developed by an advisory committee that spent three years studying health care trends in the United States and analyzing 2,700 survey responses from college and medical-school faculty members, medical residents, students and advisors. The Association of American Medical Colleges approved the panel's recommendations in February.
JMU currently has 1,015 declared premedical students, and their numbers are growing at a rate faster than the student population at Madison as a whole. The new exam should help encourage students from diverse academic tracks to pursue careers in medicine, said Dr. Sharon Babcock, coordinator of preprofessional health programs. "There have always been psychology majors, anthropology majors and economics majors who have gone on to medical school," she said, "but what this new test will do is really underscore students' experiences in the behavioral and social sciences in looking at human beings, both as individuals and in groups, and some of the decisions they make regarding their health."
The 2015 launch is designed to give current premedical students time to broaden their course loads. In addition to the core requirements for medical school such as cellular and molecular biology, general and organic chemistry, and physics, pre-med students are now strongly encouraged to take courses in critical thinking — a section of the new MCAT — psychology and sociology. Upper-level coursework in biochemistry, genetics, microbiology and physiology as well as in the behavioral and social sciences is also recommended.
Babcock, along with Dr. Herb Amato, associate dean of university studies, have worked with deans and department heads for the past eight months to ensure that premedical students at JMU, and incoming freshmen in particular, have timely access to the courses that will best prepare them for the new MCAT. The most immediate challenge, Amato said, involved opening up more seats in CHEM 131 (General Chemistry I) — the first in a rigorous five-semester sequence of chemistry courses for pre-med students — in the fall semester and adding sections of GPHIL 120 (Critical Thinking).
In an email to JMU's 343 freshmen who have declared pre-medicine, Babcock stresses the importance of establishing a pattern of excellence in the classroom as well as in service and leadership. JMU's Institute for Innovation in Health and Human Services serves as a valuable resource for pre-med students by connecting them with volunteer and service-learning opportunities in the surrounding community. Additionally, pre-med students can benefit from a wealth of collaborative undergraduate research projects available at JMU.
Admission and progression standards are in place to catch those second-year pre-med students who either have good grades but need to be reminded of the value of interning or volunteering in a clinical setting and developing quality relationships with faculty members, or those students who are falling behind academically and may need a change in career focus.
Because the medical-school application process generally requires 12 to 15 months, good academic planning and quality advising are imperative. Those freshmen who plan to go directly to medical school after graduation should plan to take the MCAT in the summer following their junior year. However, Babcock said most candidates — almost 60 percent nationally — choose to take the test in their senior year or later. "Academic success is crucial," she said. "Timing can be flexible."
JMU's commitment to undergraduate education is well suited to the changing needs of the medical profession. "It's my dream that these students go off and carry that perspective with them because that's the basis for some slow, steady, advancements in medical education," Babcock said.
For more information on the new MCAT, visit https://www.aamc.org/students/applying/mcat/mcat2015/
###
By James Heffernan ('96), JMU Public Affairs
Published: Thursday, August 30, 2012
Last Updated: Thursday, October 20, 2016