News
2012 Seismometer Siting
---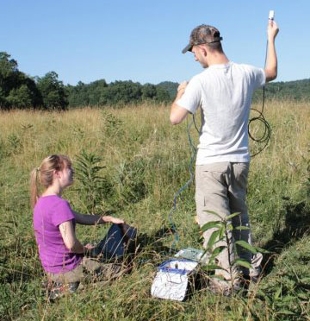 Finding ideal locations to place seismometers may not be quite as difficult as finding a needle in a haystack, but it isn't easy.
Bethany Meier, a 2011 JMU graduate with a bachelor's degree in geology and environmental science, can attest to that. Meier traveled about 8,000 miles through Virginia and West Virginia this summer in search of suitable spots for the instruments that will help scientists get a better understanding of the earth's movements and its history.
Aside from an intimidating bull or two, a landowner who wasn't particularly happy about her visit and a lot of 12-hour workdays, Meier said she was elated to be part of the EarthScope program, which is funded by the National Science Foundation.
"It was an awesome experience," she said. "It's such a big part of geology and the earth science field."
Meier was the leader of a three-person team that was responsible for finding suitable locations in most of Virginia and all of West Virginia.  Meier's teammates were Tim Kropp, a JMU senior majoring in geology and environmental science; and Peter Steele, a William and Mary student. Steve Whitmeyer, an associate professor of geology and environmental science at JMU, teamed up with a William & Mary faculty member to get a grant for the siting project. Whitmeyer is also chairman of the EarthScope education and outreach subcommittee and a member of the EarthScope steering committee.
Each siting team was provided a map of the areas they were to work in. The maps included a grid with dots marking the ideal locations for the seismometers. The teams could mark suitable locations anywhere within 10 kilometers of the dots. They marked the locations by placing stakes in the ground.
Among the valuable experiences, Meier said, was approaching landowners and requesting their permission to locate the seismometers on their property. "You have to be able to talk to people to do research on their land," she said. "It takes a lot of patience and shows an ability to work in teams. It's such a big project."
Most people were willing to listen, she said, but one did get angry. And a bull didn't seem too pleased by their presence either. The farmer stayed with the team and carried a 10-foot stake just in case, Meier said.
It also took some patience to find just the right spots. The seismometers can't be more than 50 miles apart and the criteria for suitable locations, which lists about 20 or so things to avoid, adds to the difficulty. The instruments are so sensitive that they have to be placed well away from houses — they could detect flushing toilets and shifting foundations — and away from driveways and roads. They also can't go too close to trees because roots vibrate. "And then railroads, forget railroads," Meier said. West Virginia's mountainous terrain and lack of cell service in some places also added to the difficulty, Meier said. The instruments have to have cell service.
The most difficult place to find a location was in the city of Charleston, W.Va., Meier said. The team spent three days there and was fortunate to talk to someone who helped convince a neighbor it would be OK. There was one day, she said, where they found a location in 2-1/2 hours and called it a day.
Different groups will install the seismometers, which will stay in place for about two years before being moved to Alaska. The first EarthScope seismometer in Virginia was installed Wednesday, Aug. 8, in Mineral, nearly a year after the Aug. 23, 2011 earthquake there that rattled central Virginia and was felt all along the mid-Atlantic. The rest of the Virginia seismometers will be installed in the spring. The West Virginia instruments will be installed this fall.
Meier is now headed to West Virginia University to pursue a master's degree in geology. After that, she said she wants to work in the field for a time before returning to school for a doctorate and then teaching at a university.
By Eric Gorton, JMU Public Affairs
Published August 2012
Related Information:
Published: Thursday, August 16, 2012
Last Updated: Thursday, October 20, 2016