News
JMU invites adult degree-seekers to 'Return to Madison'
---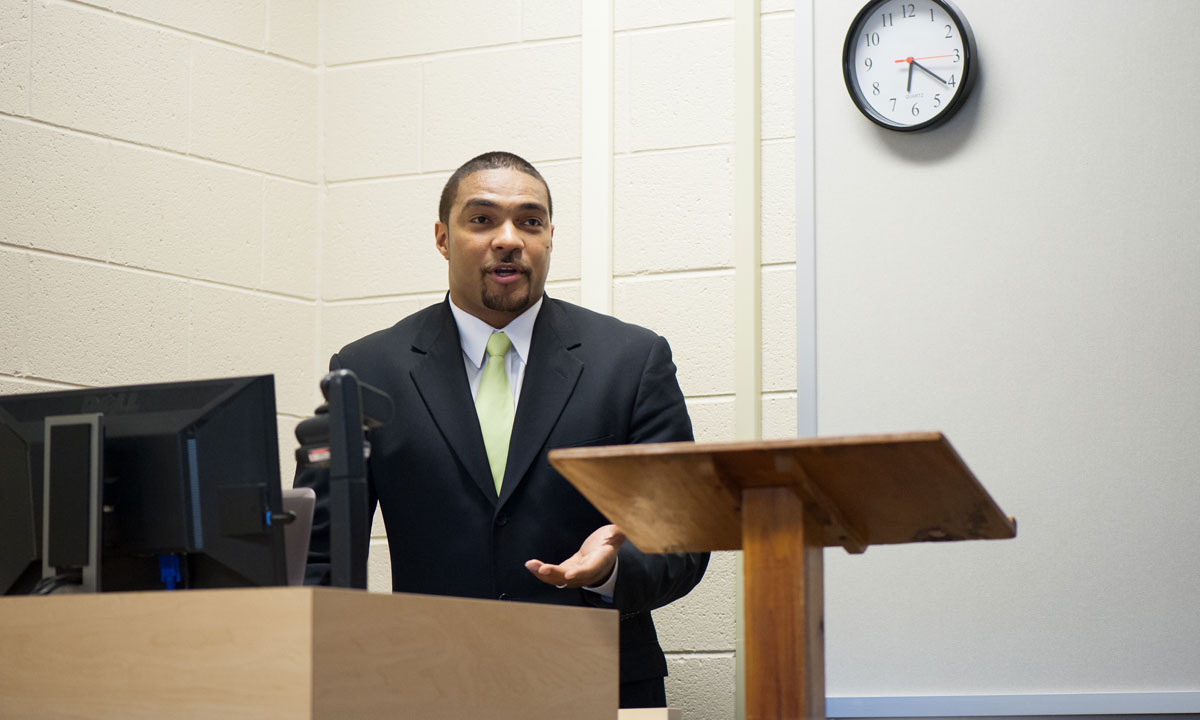 Former JMU football player Anthony Little was one of three Adult Degree Program students to present their senior capstone projects last month.
In 2010, Anthony Little was robbed at gunpoint during a sales pitch for a cable provider at a home in New Carrollton, Md. The traumatic experience led the former James Madison University football player to take stock of his life and career since leaving Madison more than a decade earlier on academic suspension.
While on a one-month leave from work for counseling, Little was awakened to a newfound passion for music. "During that time, I started singing songs to the Lord, and that really helped with my recovery," he said. "I had already made huge strides in my life as far as my relationship with God. I prayed that he would provide me an opportunity to go back to school and get my degree."
Little's prayer was answered by the Adult Degree Program at JMU, where he had begun his collegiate career in the fall of 1997 and was a defensive back for the Dukes for two years before being sidelined by injuries. But with the support of family, friends and his wife Andrea, Little returned to JMU in January 2011, focusing his studies in music marketing and video production. He joined the staff of the student-run campus radio station, WXJM, became a minister with the local chapter of Baptist Collegiate Ministries and assisted current JMU student-athletes with their studies through the Zie Rivers Academic Mentoring Program. Little, 33, will receive his degree this month — 15 years after his journey began.
"When I left before I felt like a failure, but many successful people have failed many times. You only truly fail when you stop trying to succeed," Little said. "By completing this program, in some ways it's a fulfillment of a promise I made to myself. Having this opportunity to return has just been a blessing."
Little, along with fellow Adult Degree Program students Sarah Auclair and Martin Wanner, presented their senior capstone projects in July. They are an example of the type of student that JMU is targeting as part of a statewide push to encourage adult learners to complete their baccalaureate degrees at four-year Virginia institutions. Madison has had an adult degree program in place since 1977, and JMU Athletics has a similar initiative aimed at former student-athletes who left school to pursue a career in professional sports. More recently, JMU partnered with Virginia Tech, the University of Virginia and George Mason University on the 4-VA collaboration to increase all Virginians' access to higher education.
Continuing that trend, JMU Outreach and Engagement has launched a new campaign known as "Return to Madison." The campaign, to be funded by a $50,000 grant from the State Council of Higher Education for Virginia, will identify those students who were enrolled at JMU between 1995 and 2008 and earned at least 30 college credits, and invite them to come back to Madison to complete their degree.
Target populations include traditional JMU students, working adults who had to drop out of ADP and former student-athletes. "Our theory is that the students most likely to complete a degree from JMU are those who have already begun a degree at JMU, but for whatever reason faced obstacles that made it seem difficult to complete that process," said director of outreach and engagement Carol Fleming.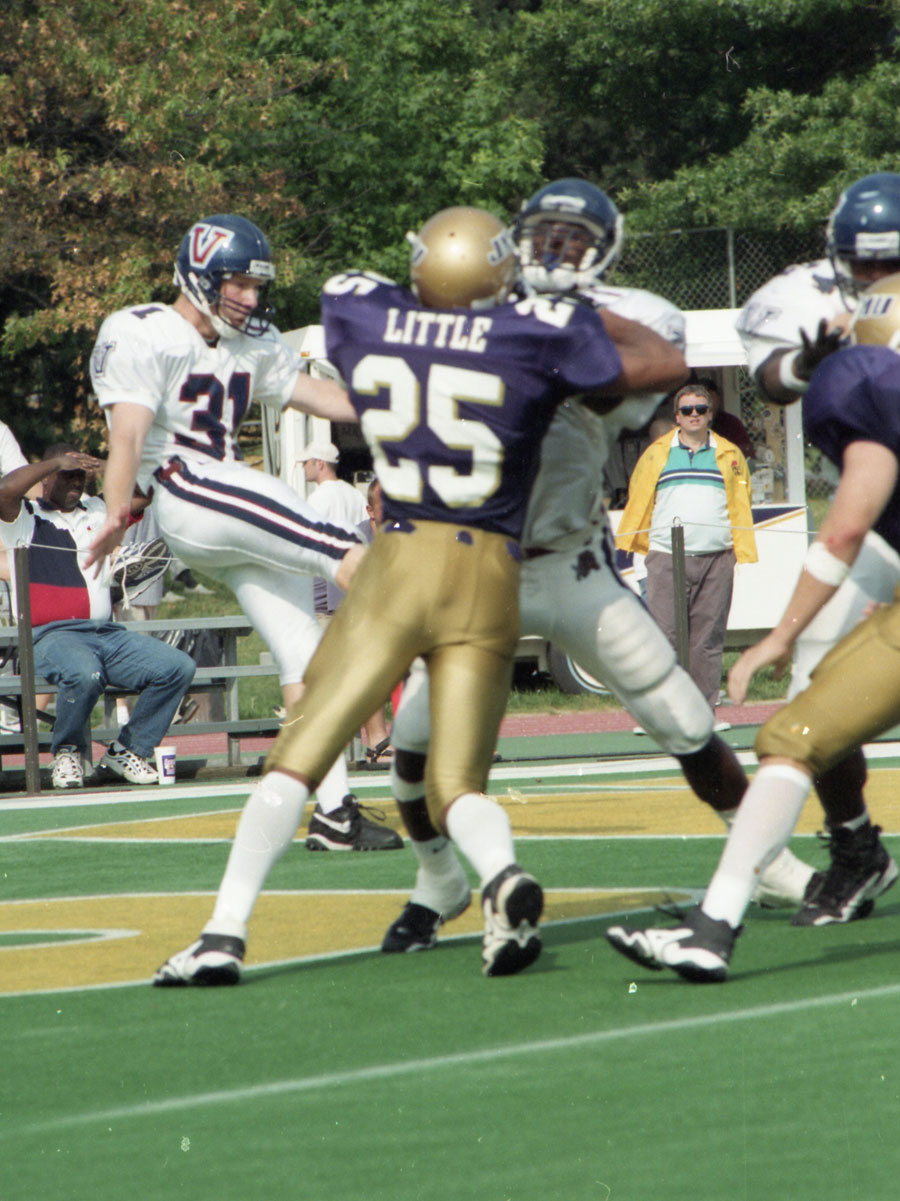 Little goes after a punt during his playing days in the late 1990s. 
The JMU Registrar's Office has identified about 6,200 candidates, and Outreach and Engagement is in the process of developing a marketing plan to reach out to those students. "We want the invitation to be as personalized as possible," Fleming said.
The next step will be to work with these students one-on-one to develop a curriculum that meets their career goals. ADP students earn a Bachelor of Individualized Study degree. They can take courses online, earn credit by completing a prior-learning assessment or passing college-level proficiency exams in specific subjects, or by coming to JMU for short-term courses during the summer and winter intersessions. Part of the grant money will be used to enhance efforts to shorten the time to degree completion for these students.
Because the campaign is grant-based, success during the first 12 months will be measured not by the number of returning students who graduate, Fleming said, but rather by the percentage of targeted students who return to JMU to complete their degree.
With the skills he has acquired in the classroom, Little is developing his own multimedia marketing company for Christian musicians, Xceol. "The education I got has been phenomenal, from creating the music to marketing it, packaging it and developing a website. It's basically starting over from scratch, but now I'm ready to go forward in faith."
Related links:
• JMU Outreach and Engagement, http://www.jmu.edu/outreach/
• Adult Degree Program, http://www.jmu.edu/adultdegree/index.shtml
• Xceol, http://www.xceol.com
###
By James Heffernan, JMU Public Affairs
August 3, 2012
Published: Friday, August 3, 2012
Last Updated: Thursday, October 20, 2016