Being the Change
Building connections at home
---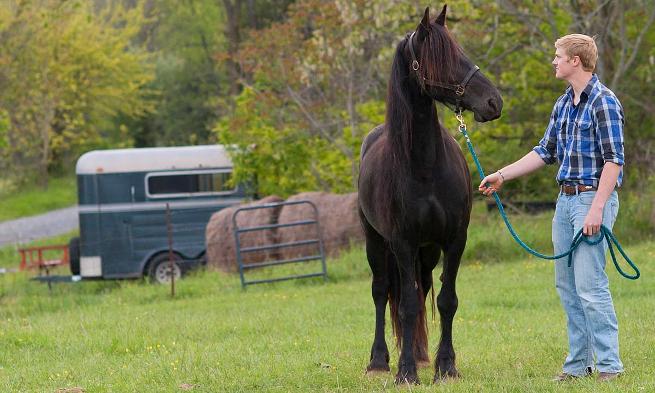 Clayton Poffenberger ('15)
Suffolk, Va.
Why JMU?
I loved the campus and the people here are much more genuine than I found anywhere else.
What's your career goal?
I want to be a veterinary and work with large animals. For me, it started in kindergarten when our family got our first horse. A guy gave us the horse and lessons; but, unfortunately, the horse had laminitis — the disease causes lameness, inflammation, and is very painful. Our horse simply fell over dead one morning. Ever since then, I've wanted to become a large animal vet so I can help animals and take away their pain.
Why did you choose the Huber Learning Community?
Apparently I'm their first pre-vet student. I think the real benefit is you get more one-on-one time with upper-level biology and health science professors. I've gone to Dr. Babcock's office just to talk — about horses, life in general. You build relationships with professors who will offer you guidance as you progress in your field. You're with a comfortable core group of people to take classes with. You learn a lot.
Describe your service-learning project.
Ride With Pride is an organization that provides a therapeutic riding clinic for disabled or troubled kids. Being on a horse gives you a whole different perspective, and its very healing. I remember one autistic kid that was all over the place. Once he was on the horse, everything changed. He was paying attention, willing to learn. The coordinator works with the riders on their motor skills. It's truly therapeutic and very soothing for people with disabilities.
I muck stalls, do barn chores, ride the therapeutic horses to keep them in good condition, de-sensitize the horses by throwing balls at them and prepare them for the games the kids will play on the horses.
The service-learning experience has helped me build connections in many different ways. You get to know the farriers who come to work on the horses.  A vet even showed me how to float a tooth. Being around so many different horses is great experience. Each horse has a different personality. It's great experience for a future vet. You will have to be able to judge an animal's personality so you don't get kicked!
Would you recommend JMU to other pre-veterinary students?
Definitely. JMU's biology major focus gives you what you'll need to get into vet school and also prepares you for other careers in the biology field. This area has so much to offer. There are tons of vet clinics, and it's big horse country.
What's been the highlight so far?
One mom told me her autistic son never showed emotion, never demonstrated that he cared, never said he loved her. Then he began working with a horse. A real relationship built between him and the horse. That in turn led to a moment she'd been waiting for — her son being able to tell her he loved her.
Published: Sunday, July 1, 2012
Last Updated: Tuesday, February 27, 2018